Crappie fishing is often overshadowed by the state's reputation for trophy largemouth bass fishing. However, never let that stop you from planning a trip to catch a mess of tasty slabs.
Florida is consistently at the top crappie states in the nation, due in large part to its abundance of lakes and rivers, as well as warm seasonal weather.
This article will share how to catch crappie in Florida and where the seven best places to go fishing are in Fl.
About Speckled Perch
fishing in Florida
Crappies are found everywhere in Florida. Crappie can sometimes be called speck. Also, they have been called perch and sometimes called speckled perch. While crappies are often found around fallen trees, they are also well adapted for aquatic habitat, which Florida lake has abundantly.
Crappies spawn during winter in Florida. The same week varies according to the region in which the county you are fishing. It could be as early as January in the southern part, while in Tallassee, Crappie spawns in March near the border.
They are so acceptable to be caught that they usually school in larger groups in shallower waters then go near the bank or shallow bottom to spawn. An excellent chance for anglers to catch them!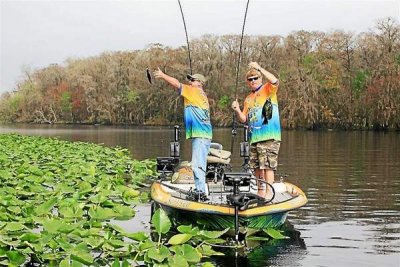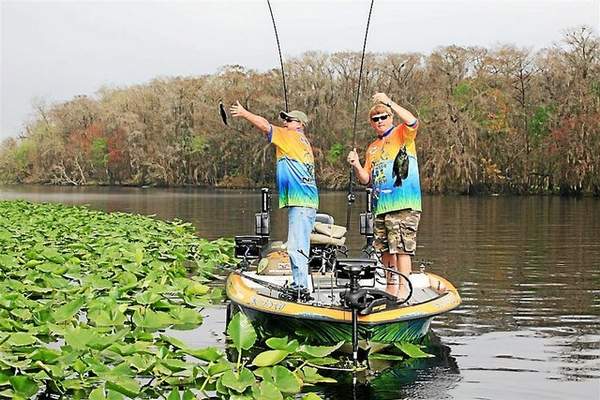 Top Florida Crappie lakes
Top speckled perch crappie lakes in Florida were the most common popular panfish before introducing Cichlids species. Even though Florida crappies are caught year-round, they're really at their peak between the end of the summer and early spring.
Great time to bring family and friends to enjoy the most affordable fishing for Crappie in Florida. Florida was once known as the Speckled Perch Capital of the world. This vast state and all the lakes have abundant crappie-producing slab-sized crappies. While states like Texas and others also have great fishing for crappies, Florida has the most variety of fishing styles. Let's talk about some of the prime areas!
NORTH REGION
Tallahassee, FL
Look no further than the state capital for an excellent crappie experience in a beautiful setting. Lake Talquin is the regional favorite here, and it's where a state record crappie weighs in at a whopping 3.83 pounds.
Rolling hills, moss-draped oak trees, and a slow pace make the Tallahassee area admired by many. Other famous lakes for crappie include Lake Miccosukee, Lake Seminole, and Lake Jackson.
The north region is an excellent destination for striped bass, catfish, and crappie in the area, especially near the dam. In addition, the Ochlockonee river offers excellent fishing opportunities for all the above!
In Alachua County, Orange Lake is the most significant public lake. The shallow lakes are designated fish management areas about 20 miles southeast of Gainsville, Florida. Orange lake public boat ramps offer quick access to Marjorie Kinnan Rawling Park. The vast open water area is enclosed in shallow, dense vegetation with extensive marshes great for Florida black crappie. As a result, Orange lake has a diverse habitat plentiful, and these fishing activities have been flourishing recently.
NORTHEAST REGION
Palatka, FL
If you are familiar with Crappie USA events and other large crappie tournament circuits, you've likely heard of Palatka, FL. Situated on the St. Johns River, this historic town offers river fishing and access to a chain of lakes that are known to produce big specks.
Speck is the term locals often use to refer to Black Crappie in Florida.
Famed trophy bass Rodman reservoir, known for its bass fishing, also has many good crappie fishing opportunities. In addition, St Johns River, Lake George, Crescent Lake, and Dunns Creek are popular areas and hold plenty of hungry fish.
The mighty St. Johns River is the lifeline to this area and makes for a beautiful setting to fish for crappie with no shortage of fish camps and rentals.
For years now, Lake Marian – Osceola County has been known for its crappie populations and crappie size. Anglers usually catch crappie trawling minnows off of Whiskey Point. Jig fishing is excellent on nearby native vegetation, shrubs, and flower beds while the crappie spawns. Most crappies that have been from Marian are more than 10 inches long.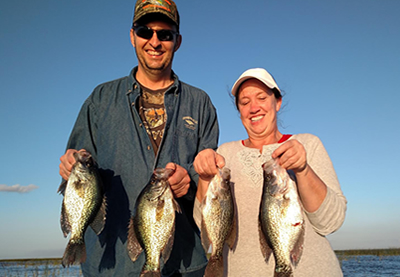 SOUTH REGION – LAKE OKEECHOBEE
Okeechobee, FL
Lake Okeechobee is so giant it made our list twice. First, the small hometown of Okeechobee City is situated in the North part of the lake. It offers a distinctly different atmosphere and environment than the south end of the lake.
It is not uncommon for anglers to get their per-person bag limit of crappie and then transition to largemouth bass or bluegill fishing. So you'd be hard-pressed to find an article about fishing for Crappie in Florida that doesn't mention The Big O.
Okeechobee has always featured trophy largemouth bass, and Trophy Catch submissions by bass anglers prove that. In addition, the crappie numbers are often recognized nationally and internationally as the most popular tourist attractions. As a result, Okeechobee is among the best waters to qualify for qualifying submission during the nine completed Trophy Catch seasons.
Clewiston, FL
Clewiston is a small town on the world-famous Okeechobee lake situated on the southwest banks. Here you'll find the Jolly Rogers Marina and no shortage of experienced black crappie anglers going fishing.
The Big lake supports a robust commercial and recreational fishery. The lake has a shallow average depth of 8 feet. Fishing for crappie is commonly in the weeds, channels, or rivers. Bait of choice is small jigs and Missouri minnows.
If you've never been, do yourself a favor and check it out!
CENTRAL REGION
Sanford, FL
Just a stone's throw away from Orlando and the Spacecoast, this river town is known for Lake Monroe and Lake Jessup. Both lakes are within the Upper St. Johns River system, which offers spectacular scenery.
When planning your trip, pay special attention to water levels- low water levels on the river can concentrate fish and make for phenomenal fishing. Lake Monroe has been a staple black crappie lake for years!
Lakeland, FL
Polk County host, the city of Lakeland, is situated roughly between Orlando and Tampa Bay off I-4. As its namesake suggests, there are plenty of lakes to choose from in this area ranging from small ponds to 2,000+ acres lakes.
Check out the Tenoroc Fish Management Area for a unique spin on fishing for crappie. It's a series of reclaimed phosphate pits managed and stocked by the state for 20+ years.
Lake Parker, Banana Lake, and the Saddle Creek Recreation area are other famous lakes.
Kissimmee, FL
On the heels of Disney World and other central Florida attractions lies the historic cattle town of Kissimmee, Florida. The Kissimmee river flows through this area, and the chain of lakes along its path are known as Prairie lakes.
These shallow, grassy, and sand-bottom lakes make for excellent crappie habitat. Famous lakes include Lake Kissimmee, Lake Toho, Lake Hatchineha, Lake Cypress, and East Lake Toho. But don't overlook smaller lakes such as Lake Marian, Alligator Lake, or the Kissimmee River.
Why Fish for Florida Panfish and Crappie
The article is primarily about Florida fish and crappie species. Both crappie fish offer anglers a great sport with light tackle with great food! In addition, freshwater panfish is very popular around the country. The Florida panfish population includes several different species.
Next to crappie, the bluegill, warmouths, and redear are most popular. In recent years many other types of cichlids have become very popular. The crappie is the most populous panfish, and perhaps it's favorite. All panfish varieties are delicious. In South Florida, the Oscars and Mayan cichlids have become popular with anglers that target crappie because they are tasty panfish.
How to Catch Florida Panfish?
Speck anglers who are fishing will usually use floats at least two feet above the water surface. The rig will be fished towards the weed line, over submerged vegetation, and may also be close to an underwater tree stump. In the summer months, your fish without a float and fish deeper, which could consist of 6 to 15 feet of water.
The bait should remain in the water while it's waited for some time so the fish can see it. The slackline is tightened when the float disappears until the hook is firmly in the fish's mouth. Artificial lures and flies also can be thrown in similar locations. During your preparation, be sure to research the correct types of fishing hooks, this will land you additional fish. Generally, panfishing is a slow, steady, and efficient retrieval process no matter the lure or bait.
Best Florida crappie fishing lures and baits
Most anglers target crappie with small baitfish. So known as Missouri minnows or baits that resemble them are ideal for the future. Live minnow is a typical breed used for Florida crappies as live bait, most often for commercial use.
These are available for fishing in shallower waters on rigs deep below the surface. We love using jigs to catch crappy. Whether vertically cast or trolling a waterway, it is a versatile bait to use. The 1/8 ounce jig works perfectly. Chartreuse is a color of high intensity on dark-colored waters. However, the crappie lies near the river's edge in cleaner water during the spawn seasons, so white, silver, and other natural colors will work.
Fishing for all Florida Panfish
Fishing for panfish is easy for most Florida anglers and most anglers in general. Many people grab an 18-foot cane pole with a light line. A certain kind of bait such as worms, Missouri minnow, or crickets is expected, and they head to the fish hole. These types of fishermen have a great relaxation and are still very effective today.
While cane poles can be helpful, spinning tackles can be more versatile. Spinning rods give anglers a reasonable distance for casting very light baits and lures. In addition, a spinning rod can be pretty inexpensive these days. A reliable rod is available for around $70. Below are links to some suitable spinning outfits.
Crappie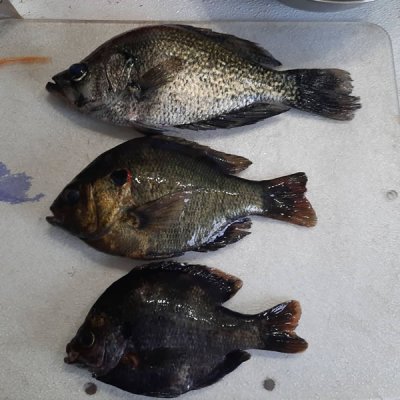 Black Crappie, commonly known as the speckled perch and the speck, is a favorite of the Florida summer. Occasionally crappies can weigh more than three pounds. Florida state record books show Lake Talquin produced 3.82-pound crappie. The following areas listed in this article are considered the high potential for black crappie production during 2022.
Bluegill was the most common and most abundant species of panfish before the cichlid families came to Florida. Usually, southern fishermen call it the "bream." The name means "brim." They are very excited to catch and fight for their size, whatever your name. If bluegill weighed 5 pounds, you could never land it!
Bluegills are highly aggressive and easily caught with most bait and fly equipment. These species are like deep weeds in sandy soil, and they love wood. Among others, they like trees and the dock. Depending on location, Florida bluegill spawns during the full moon from May to July.
Spotted Sunfish (stumpknocker)
Sunfish or "Stumpknocker' is also an incredibly common Florida panfish. This explains their love of woody structures. Spotted Sunfish mainly feed on plant material, and however, their aggressive nature makes them easily captured with any lure. These are smaller than the bluegills and have firm white meat.
Redear Sunfish (shellcrackers)
Redear Sunfish (also called shell crushers) is a prominent family member. They prefer shallower waters than most panfish. Despite hitting artificial lures, anglers aiming at redear Sunfish are more likely to use live minnows or worms as bait.
Warmouth
Warmouths can be highly aggressive and are more isolated than some fish. However, they're broad and have an excellent fight. The warmouth generally prefers small bodies of water, notably streams or wetlands. They are a distance from their cousins in taste because they are eatable.
Frequently Asked Questions
Where Is The Best Crappie Fishing in Fl?
Many locations throughout the sunshine state could claim the best crappie location in Florida. The 310 miles along St. Johns river and its numerous lakes are world-renowned for crappie fishing and very popular with residents and non-residents. Overalls would be on the top of the list because of their vast size and variety of waters.
Where To Catch Crappie In Florida?
Crappie can be caught through Florida, as we have written about, from the Everglades in South Florida to the extreme tip of Florida lakes in the panhandle. We have discussed many popular areas, including the Rivers, the Kissimmee River, and countless lakes throughout the state.
Try contacting a local guide, tackle shop, or Florida Fish and Wildlife Conservation Commission regional office in your area to find out about local crappie fishing near you.
How deep should I fish for crappie?
Crappie is known to spawn near shallow waters, usually around two feet in-depth, covered by sand or weeds, and easy access to deeper waters. I often found these near shore in areas where the water was murky and stained.
In the hotter months, anglers troll around deeper holes with spider rigging at varying depths in the water column. Anglers catch with this method is good for the black crappie management plan and white crappie for quality fish.
When Is Crappie Fishing Season In Florida?
Due to the warm climate, crappie can be caught year-round in Florida. Peak season coincides with the spawning cycle of crappie, which typically runs from December to early March.
What's the best month for crappie fishing?
Crappie's best seasons are in spring. The weather is good to hunt crappies moving from the deep water to spawning areas. In many Florida lakes like Lake Talquin, Lake Arbuckle, Lake Istokpoga, and Winter haven Chain, the fish move in large groups to feed, spawn and help each other protect the eggs.
Does Florida have size limits on crappie?
All states and fisheries have black crappie and white crappie limits. The limits are the same no matter the technique you use to produce fish, artificial bait, spinnerbaits, Hal flies, or fly fishing.
And sunshine bass (only five are allowed in the total length to be 22 inches); 50 crappies (specked perches must be at least 9 inches; 58 fish.
Do you have a favorite crappie tip you'd like to share? Is there something we missed? Which waterway would you recommend for a productive fishing day?