Ft Lauderdale Shared Fishing
★★★★★

based on

54

reviews.
Overall rating:
Ft Lauderdale Shared Fishing Charters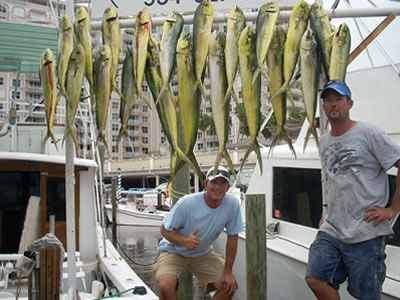 Shared Fishing Charters in Ft Lauderdale
Do you have a one or two people wanting to go fishing but don't want to split the full cost of a fishing charter? We now can offer you a Shared Fishing Charter out of Fort Lauderdale, FL. Our Ft Lauderdale Shared Fishing Charters are the perfect match for the anglers that want to get offshore or deep sea fishing at an affordable rate. If you want to catch all the deep sea fishing species without breaking the bank, this is for you. You can most certainly have the time of your life while everyone is reeling fish while making new friends right here in sunny South Florida.
Hop onboard a Fort Lauderdale Sportfishing vessel for your deep sea fishing that you can share with other anglers. Most sportfishing and deep-sea boats can accommodate up to 6 people. If you only have 1, 2, or 3 people and don't mind sharing a trip with a group of people, you should try an Ft Lauderdale Shared Fishing Charter. Don't worry about the Florida heat as this boat is fully air-conditioned inside its cabin. Deep-Sea Fishing on our vessels in Fort Lauderdale is an activity you can do every day. The boat leaves at 2 different time slots starting at 8:00 AM or 1:00 PM for a duration of 4-hours. An 8-hour tour and charter are also available for you.
The main targeted species on this fishing trip include Mahi-Mahi, Kingfish, Bonito, Sailfish, Wahoo, Tuna, and so much more. Your Ft Lauderdale Shared Fishing Charter can help you learn new techniques and tips to help you land more fish. You can ask all the questions you like on your fishing adventure. Each species will bite differently depending on the time of year. Whenever you adventure out, you can be sure that you will have a great time catching fish all trip long.
Exploring the beautiful waters of South Florida on an Ft Lauderdale Shared Fishing Charter is a great start to a vacation. After getting a feel, don't count out a more intimate adventure with the family on our private freshwater bass fishing, inshore, or deep-sea fishing trips. All can happen close to your destination and resort. We look forward to assisting you and getting you on a saltwater fishing adventure today!
Search iOutdoor, Compare & Book the Best Ft Lauderdale Shared Boat Fishing Charters Trip Today.
We are Florida's Largest Charter Operation · No Reservation Fees · 7 Day Customer Service · Verified Reviews & Photos
Ft Lauderdale Shared Fishing Charter Options
Searching Availability...
iOutdoor Ft Lauderdale Reviews
Family Favorite!
★★★★★
"
Compliments to Capt. Dave Rhoden, so good that we booked him twice. Six months ago we came to Florida for a medical treatment and had a great time with Capt. Dave. Coming out here again, I asked my kids (ages 5 and 6) what they wanted to do, my little son didn't think twice, "Fishing with Capt. Dave!" Sure enough, Capt. Dave got us on even more fish than on our last trip. My kids had a great time! Thank you so much! God bless!
"
Morning Bass Fishing Trip
★★★★★
"
Had a great time with Captain Wayne, he was very easy to talk to and it was clear he knew what he was doing! Despite getting caught up in a few trees he was very patient and always willing to help out. It was a colder morning but he still put us on the fish!
"
Fun day Fishing
★★★★★
"
My husband a wonderful time and caught lots of fish a trophy mounted sailfish Captain JB did a great job and his mate
"
Ft Lauderdale Shared Fishing Trip Details