Inshore Fishing Mississippi
Back to: >>Mississippi Fishing

Mississippi Inshore Fishing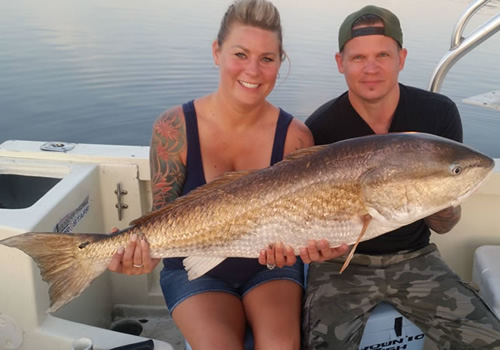 With 400 miles of shore line, Inshore saltwater fishing in Mississippi is endless. From fishing along one of the beautiful sandy beaches of the Gulf Coast to sight fish for Redfish and Trout and experience the explosion of a good topwater bite breaking the surface of the shallow pristine inshore grass inlands. Try your hand at fly fishing or light tackle spin fishing at one of the great coastal cities offered. iOutdoor will show you the best inshore fishing spots that Mississippi has to offer!
1-888-412-1117.
The Gulf Coast fishing is world-famous, locations like Biloxi and Gulfport located near National Wildlife Refuge at the Seashore. This is Mississippi's beautiful Gulf and minutes from all your favorite Casinos. Known for its great inshore fishing for Redfish all over the world, fish the Grass Flats and old River Canals to catch Redfish and Trout any time of the year. These waters are the best light tackle inshore in Mississippi. Inshore flats fishing in this unaltered estuary using fly or light spinning tackle is unparalleled anywhere.
Best in the Business
Our Inshore Captains are driven to provide you with the best and most successful Mississippi Inshore fishing experience. First and foremost, safety is of utmost importance. All of our Captains are Coast Guard Certified; and are selected based on their fishing success, safety at sea and condition of boat and equipment. Our Mississippi Inshore fishing charters will provide all the fishing tackle, bait, and gear required to catch the trophy fish you want. If you have a special lure or fishing rod you would like to use, bring it along!
Mississippi saltwater fishing license(s) are included in your fishing packages. We want your trip to be a safe, successful, and exciting adventure that you will enjoy telling your friends and family about -with the pictures to prove it.
Get your Mississippi Inshore Fishing adventure started today. iOutdoor friendly and knowledgeable staff will answer any questions you may have; including where to stay if overnight is necessary, what fishing areas will yield the results you are looking for, appropriate boat size, etc. Whatever your needs may be, iOutdoor will make it happen!