Tarpon Fishing in Florida
Back to: >>Florida Fishing
Tarpon Fishing in Florida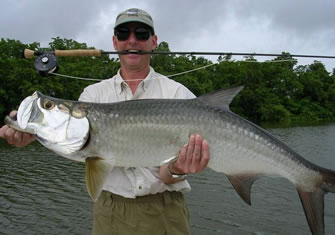 Florida is the Tarpon Fishing Capital of the world!
Tarpon are everywhere
in Florida: back waters, estuaries, mangroves and flats. Juvenile Tarpon eat insects and smaller fishes, while the adults are strictly carnivores- eating their prey in one giant gulp!
You'll know when you have one of these silver beasts on the end of your line! They are known for their fighting savvy and exceptional leaping and flipping! Tarpon's are boney and not edible- so iOutdoor Captains practice "catch and release".
Your trophy Tarpon will live to fight another day- but you'll have a thrilling adventure to talk about for a lifetime! If you want a real challenge with a large, aggressive Tarpon; iOutdoor Tarpon Captains will show you the way!