July Marathon Backcountry Fishing
Are you wondering what to explore when visiting the Florida Keys? The Florida Keys, especially the island community of Marathon, FL is one of the best destinations to visit. It is a 10-mile-long hardcore family-oriented destination. This island community offers you some of the best fishing in the Florida Keys. Hop on board for a July Marathon Inshore Fishing Charter of a lifetime with our local experts.
Marathon Backcountry Fishing is by far one of the most unique methods to experience the Florida Keys. Many travel to the Keys and strictly think either Tarpon or Deep Sea Fishing. We are here to inform you that Backcountry and Inshore Fishing has a wide range of offerings. You can catch a variety of different species including Tarpon, Permit, Bonefish, Snook, Trout, and so much more.
Marathon Florida fishing species tend to be seasonal with changes in conditions. One of the best ways to experience the Florida Keys is with a local expert. They are integral to the success you have on the water. Captain Robert Horachek is an expert in Marathon Backcountry Fishing and Inshore Fishing. He can tailor to your needs and provide you with the fishing adventure you are after.
Check out this July Backcountry Fishing Report out of Marathon, FL: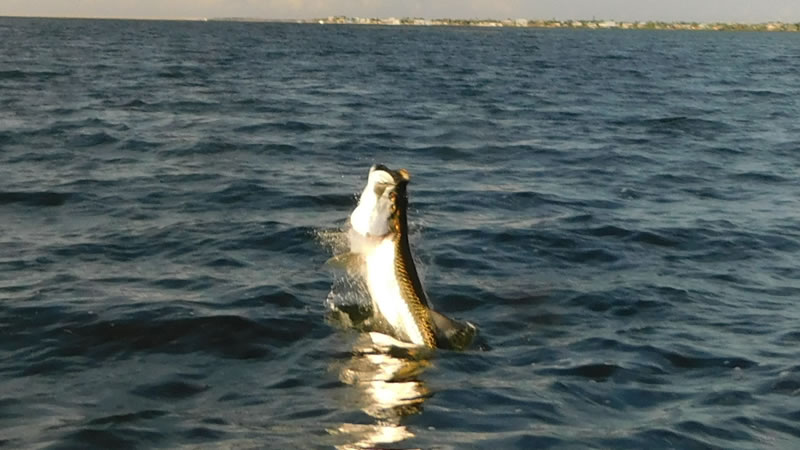 "Recently I had the opportunity to show Scott and his son Chad a great time on the water for a full day Charter here in the Florida Keys. Their plan was just wanting to get out on the water and catch fish, have a good time, and possibly have some for dinner. I told them the game plan would be getting out early in the morning at first light due to the high water temps in the afternoon and getting on a good early morning Tarpon Bite.
The main Tarpon migration season that occurs here in the Keys April, May, and June. Our first spot we stopped at was one of the local bridges. The first 30 minutes were quiet as I expected and told the guys that we would spend at least another 40 minutes to see if we would get a bite.
15 minutes later we were hooked up with a big Tarpon estimated to be a 100+ lbs. The fish itself gives us some really good photos of the fish coming out of the water. After about a 30 min battle, The fish wore through the fluorocarbon leader.
At that point, the tide went slack at the first spot so we made a run to a different spot in order to catch the end of the tide on the edge of a channel. We deployed some chum out into the water which shortly after we had some nice Mangrove Snapper behind the boat. Usually, you would most likely find snapper out on the reef this time of year getting ready to spawn.
In this case, we ended up 4 keepers sized Mangrove Snapper and a Yellow Jack which was enough for dinner as most of the snapper were undersized and released without harm. While fishing at that same spot, Scott and Chad caught 2 nice Tarpon with one fish estimated at 40lbs.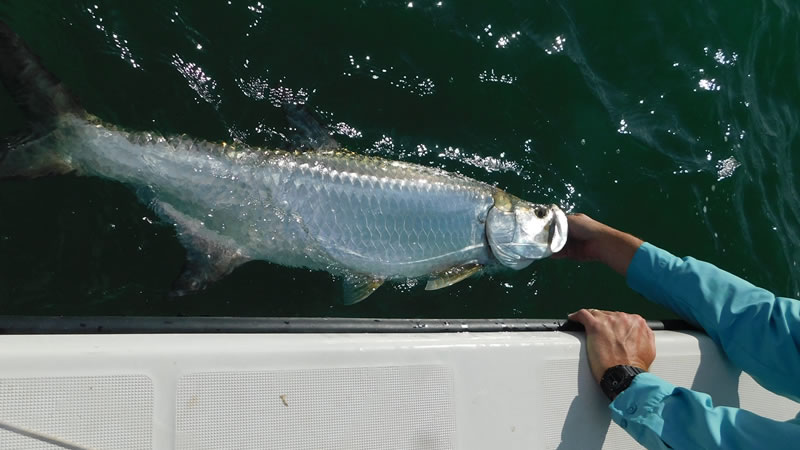 Lemon Sharks showed up shortly after the Tarpon as Scott and Chad hooked with a few of those. Prior to making a move, Scott and Chad were getting ready have something eat as one of them mentioning a "banana" was in their bag. I told them that bananas can be bad luck if you brought one out on the boat. They found it to be interesting I brought as explained to them that it can be a bad omen as most captains would say.
The next plan would be to target Bonefish and Permit. One of my specialties is that I put a lot of time into catching Bonefish in which the fishing has been really good lately and will continue all the way through the fall months.
Initially, it slow as I was waiting for the tide to get higher in the stage. Then we started seeing some fish as we bumped into them without getting a good shot. Shortly after we made a move close by where I figured we may catch one or two bones. Sure enough, we caught one Bonefish, 5 Jack Crevalles and a few small Barracudas.
We ended the trip shortly after as the afternoon water temps were getting hot and cloud clover which was obstructing our visibility for sight fishing. Despite all that, it was a great day for having a banana on the boat!" – Captain Robert Horachek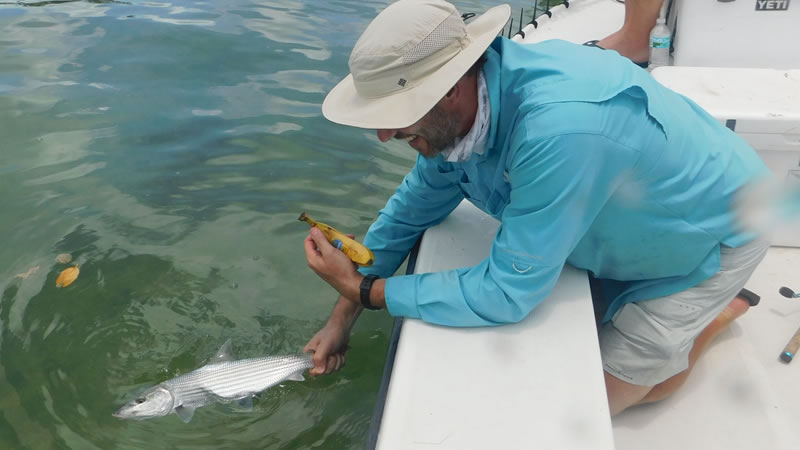 The Florida Keys is your destination for some of the best outdoor adventures in Florida. Our local experts will work hard to get you on the fish of a lifetime. We cater to you and what you are looking for. Sit back and enjoy learning more about the unique culture of what has built the Keys and more specifically Marathon, FL while Saltwater Fishing. While doing so, you will also get the chance at hooking into some beautiful hard-fighting fish. We look forward to seeing you on the water next time!
Your Adventure Starts Today while Visiting Florida.
If you enjoyed this post about Florida Fishing, you might also enjoy our Fishing Blogs.
Don't forget to follow us on Facebook, YouTube, Twitter and Instagram.