Miami Freshwater Tarpon Fishing
Miami Florida Fishing can provide ample opportunities to catch an abundance of species. If you are looking for the perfect vacation getaway destination where you can experience it all, don't look any further than Miami. The sunny beautiful beaches, amazing night life and restaurants can truly draw you in. One of the only missing pieces is a Florida Fishing Adventure in Freshwater. Come enjoy a Miami Freshwater Tarpon Fishing trip of a lifetime next time visiting.
Captain Kirk Osborne had the pleasure of fishing with Stefano and his long time friend for over 20 years. While traveling from France, it was almost irresistible to come experience what Miami Fishing had to offer. They were adventuring out on a fishing trip to Miami International Airport Lakes. One of their dreams was to land a peacock bass on fly. Fly fishing has been something they have shared for many years together.
Florida Fly Fishing can be incredible interesting. Conditions play a major part to the success of a fishing trip. Some days, like this one, you can have the best fishing trip of your life. Each fishing charter will provide you with a unique experience that will keep you coming back for more.
One of the best parts of this fishing trip was that we had perfect conditions. The weather was partly cloudy with a slight breeze to cool down the 84 degree temperature. Water temperatures were 76 degrees with a light chop on top. Stefano and his friend fished an afternoon trip for 4 hours which was the right amount of time to get in all the action.
On this amazing fishing trip, they caught 4 different Florida Fishing Species. Stefano's friend conquered the goal of catching peacock bass on a fly rod. He landed 6 nice peacock bass on fly. Blue Lagoon was the best location to do this. The edges were the main focal points that were holding fish. As well, he caught Mayan Cichlids and the exotic Jaguar Guapote on fly.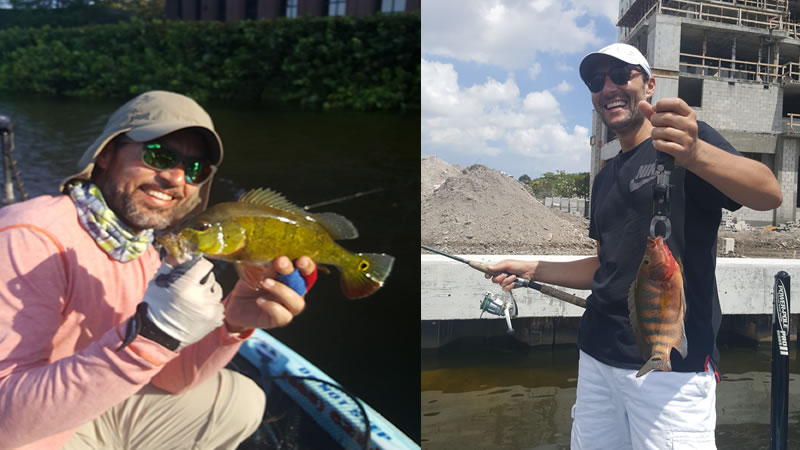 Once the fly fishing bite slowed down, we switched over to live bait. They landed 7 Florida peacock bass on live bait as well. The best catch of the day also came on live bait. You never can predict what will bite your bait when fishing in Miami.
Stefano landed a fish of a lifetime on this fishing trip. A Mighty Miami freshwater tarpon was caught on live bait. It was a fight worth remembering. Tarpon are very acrobatic and exciting to catch whether you are in fresh or saltwater. The tarpon was about 38 inches long weighing over 20 pounds. There was a rattle trap stuck in the inside of the tarpons mouth. It was removed and the tarpon was released unharmed.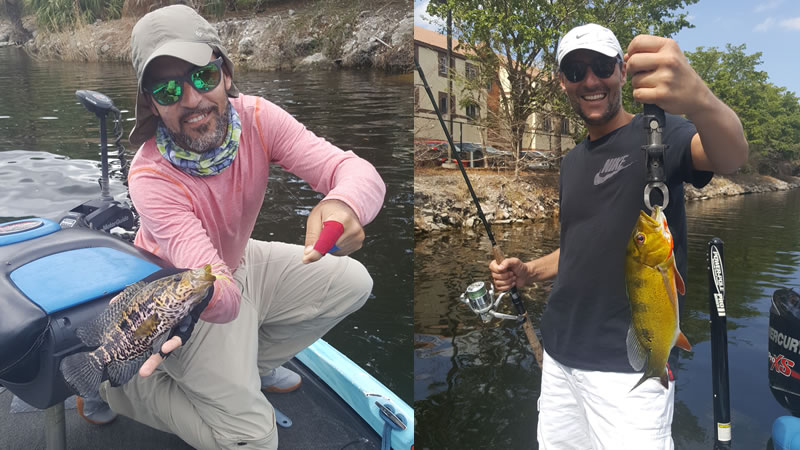 Practicing catch and release is the most reward part of Florida fishing. It was a true honor to be part of this incredible fishing trip of a lifetime. They were able to land several fish that were on their bucket list. Another amazing part was that this was the biggest fish they had ever caught fresh or saltwater fishing. I am looking forward to fishing with them again as they said they will be back next month.
Miami freshwater tarpon fishing is one of the most exciting fishing trips you can partake in. The best part is that you don't have to target them and catch multiple Florida species while adventuring out. While you are Visiting Miami next time come explore what the freshwater or saltwater locations can offer you here in Florida. Don't miss out on an adventure of a lifetime that can have you hooked and ready to go on for many more times!
~~~~Your Adventure Starts Today~~~
If you enjoyed this post about Miami Florida Fishing, you might also enjoy our other Freshwater Salt Species Trips.
Don't forget to follow us on Facebook, YouTube, Twitter and Instagram.