ECO KAYAK TOURS
FLORIDA KAYAK TOURS
Welcome to our Eco Kayak Tours here in Florida, one of the BEST ways to explore the outdoors. There is nothing more peaceful and relaxing than a soft paddle through some of the most beautiful waters Florida has to offer. Central Florida is the HOME of our Kayak Tours out of the city of Kissimmee. Whether you want to explore the north end of Lake Toho, backwaters of Shingle Creek, or explore Makinson Island while casting a line, this destination has it all.
Our local experts here at iOutdoor will provide you all the tools and guidance needed to show you an amazing time on the water. Years of experience and a pure passion for the outdoors is what makes this state absolutely stunning. Sit back and enjoy the great outdoors while creating memories that will last a lifetime for all those participating!
Below you will find a breakdown of everything you will need to know before planning your next outdoor adventure. When it comes to our Kayak tours, everything is weather dependent. Our local experts will adjust meeting locations when need be depending on the time of year you come. If you want to explore one location over the other, you are more than welcome to note that in your reservation as well as with your guide.
What are my options?
Kayak Tour on the North End of Lake Tohopekaliga
The 2 or 3-hour wildlife tour takes place on the beautiful and world-renowned Lake Tohopekaliga located in Kissimmee, Florida. On this tour, you will paddle toward Neptune Road where you will get the chance to travel through endless grass fields and lily pads towards Brinson Park and Oak Street Extension Preserve. This tranquill Kayak Tour is the perfect cruise through the wilderness that Central Florida, especially Kissimmee, FL has to offer.
Our Kissimmee Kayak Tour is perfect for the whole family that is looking to become one with nature. Sitting back and relaxing while you paddle through some of the most breath-taking scenery Florida has to offer. If you are looking to fully get in touch with Mother Nature, you truly can not go wrong with our kayak tours guide by a local expert.
The abundance of wildlife including birds from Bald Eagles, Ospreys, Spoonbills, Waterbirds, Alligators, and River Otters will amaze you. Along with the vast and active wildlife, you get the chance to navigate through some beautiful vegetation. The grass fields, lily pads, Kissimmee grass, and so much more will bring you even closer to what Mother Nature can truly offer. The birds chirping and wildlife singing really creates an ambiance that is worth exploring again!
Enjoy one of the most relaxing, peaceful, and calm ways to get out on the water with our local experts. They will guide you by informing you about all the wildlife you will get the chance to see. As you get the chance to unwind and quietly move along through the waters of Central Florida, this is the perfect way to distress from life at home. Take a break from the parks and the city life and get out into the remote wilderness of Central Florida on a Kissimmee Kayak Tour, one you are destined to never forget!
If you are interested in exploring the waters on a bass fishing tour as well, our Kissimmee Kayak Bass Fishing is another great option for you. Mix and match and include an eco-tour with it to make for the ultimate outdoor experience on our Eco Kayak Tours.
Shingle Creek Kayak Tour in Kissimmee, Florida
Discover Shingle Creek, a destination filled with Cypress Trees and the most peaceful outdoor environment Kissimmee, Florida has to offer. Climb into a kayak and meander through the 2-mile creek system filled with endless wildlife and picturesque scenery. Our guided 2-hour Shingle Creek Kayak Tour is one to experience with family and friends to create memories that will last a lifetime.
This slow-moving creek allows for a perfectly paced paddle to allow you to soak in Florida outdoors and listen to Mother Nature sing. Enter the Cypress Tree forest that is crawling with some of the BEST wildlife Florida has to offer. From sunning Alligators, Deer, Squirrels, and endless water birds, you can really experience something unique.
Our tours have a variety of different locations that will allow you to explore different parts of the creek. Shingle Creek is a special place and all tours come fully-equipped with everything you will need to have a fantastic time in the great outdoors. Also, you will be accompanied by a local expert and guide that will narrate and explain all the natural wonders you are cruising through.
No need to worry about traveling far from your resort or hotel as this tour's meeting location is minutes from all major theme parks and resorts located right in Kissimmee, FL. Within a short drive, you can be immersed in what Central Florida is all about and relaxing in one of the most tranquil environments this state can offer!
Whether it is eco-tourism or even a Shingle Creek Bass Fishing Trip, our local experts and guides can customize the tour for your outdoor adventure needs. We hope to see you on the water next time creating last memories on our Eco Kayak Tours!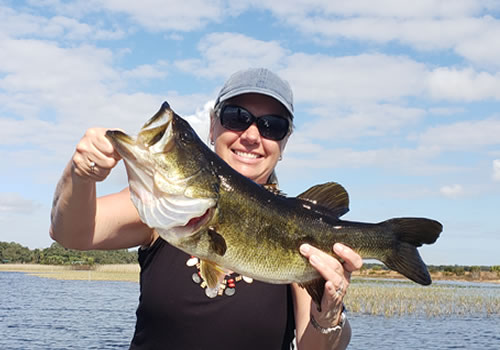 KAYAK FISHING + ECO
Cast a line while you are on your next Eco Kayak Tour throughout Central Florida in search of a Florida largemouth bass while on a relaxing paddle…

Price Breakdown
iOUTDOORS ECO KAYAK TOUR REVIEWS
Up Close and Personal
★★★★★
"
Our friendly and informed guide, Michael, led us on a vigorous paddle around Lake Toho. The day was foggy, but the lake was calm. It was a great way to get some exercise and see the local wildlife, bald eagles, alligators and landscape. The lake water pretty flat, we still were able to paddle in and out the grass on many of the islands; a first for us and will do it again!.
"
Lake Toho kayaking
★★★★★
"
Loved the kayaks super light! The views of the lake and wildlife were gorgeous! And the tour guide Michael was nice and so insightful!
"
Shingle Creek it great!
★★★★★
"
iOutdoors were so helpful with our trip. We had a small group, an it can be difficult but they are very helpful. We loved our guide Michael, thanks again for a great experience. We would definitely do it again!!
"
LEAVE A ECO KAYAK TOUR REVIEW
TRAVEL PARTNERS WITH TRUST IN OUR SERVICE: