Summer New Smyrna Fishing
If there is one place in the world to catch Redfish, it's Florida. Special hidden gems across the state hold some excellent waters for catching giant redfish. The Florida Redfish is one magical hard-fighting species that will have you addicted from the first catch. Drag screaming action and bent rods are what get you up early in the morning to go searching. Our local experts can cut that search time down and get you on a trophy fish almost all year long. Hop on board for some summer New Smyrna Fishing that will change how you view North Florida.
New Smyrna Beach is home to some of the BEST redfish fishing in the country. It holsters and harnesses the true power of our Florida ecosystem. Many inshore anglers that are passionate about redfish know of this destination all too well. New Smyrna Beach, FL is home to the Mosquito Lagoon, where redfish travel to spawn and grow big. Extensive knowledge is necessary to lock in the best methods to land some big redfish.
Captain Brad Kayholm has devoted a lot of time to determine the best techniques. As a result, you can almost guarantee one trophy redfish when embarking on a New Smyrna Inshore Fishing Charter. This is a beautiful place to explore and should be at the top of your list on your next visit. Make sure you cast a line and get hooked up for an adventure of a lifetime!
Captain Brad had the pleasure of fishing with Bill and his grandchildren. This was a special trip for this family as they don't get to get on the water often. It was a quick morning fishing charter that produced some excellent bites. Early morning depending on tide changes and water conditions can be the best time to land the fish you are after.
The pictures really tell the story of how well this trip went. Grandpa Bill and his family had a blast catching some smaller fish to warm things up in the morning. After locking in the bite, Bill hooked into the fish you travel here for. It was a 46" beautiful Redfish and everyone onboard was excited to see this fish come over the gunnel. New Smyrna is known for this class and quality of fish and Captain Brad delivered.
Successful fishing experience is always represented by big smiles. This family had no shortage of them. Bill and his family had a great time on the water. Captain Brad is looking forward to seeing them again soon!
Just shortly after this fishing trip, Captain Brad was back out on the water. This time, he had the pleasure of fishing with some friends from Colorado. They got rained out in the morning but were still on a mission to catch some nice redfish. It is always nice when New Smyrna Fishing Charters come together.
When looking to explore Florida during the summer months, be sure to be prepared for constantly changing weather conditions. You may have to dodge and run in between setting the hook into some quality fish. This trip really produced for these travelers getting hooked up on 3 dominant inshore species while Saltwater Fishing in Florida.
These guys caught 5 oversized redfish, 2 seatrouts over 22", and one Snook over 30" completing the Inshore Slam. There is nothing like traveling to a destination and landing 3 species people search for daily. You do not get to see this too often making New Smyrna an exceptional Florida Inshore Fishing destination.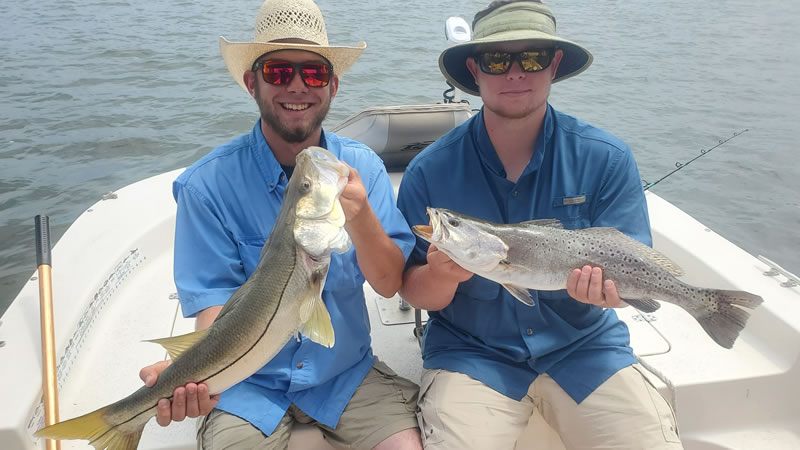 Captain Brad is looking forward to getting them back on the water in the near future!
We urge you to not miss out on this summer bite. The Inshore Fishing in New Smyrna Beach is world-class and is a must experience. Don't miss out on your adventure on your next visit to North Florida. Our local experts will get you on some of the best fishing here in Florida. We look forward to seeing you on the water next time!
Your Adventure Starts Today while Visiting New Smyrna Beach.
If you enjoyed this post about Florida Fishing, you might also enjoy our Fishing Blogs.
Don't forget to follow us on Facebook, YouTube, Twitter and Instagram.