Best Fishing Spots in MiamiWhat brings people to Miami? White sand beaches, tons of sunshine, vibrant nightlife, fresh food? Yeah, all of that. Fishing Miami is an afterthought for many, but not for us. Whether you venture through the mangroves or explore undersea shipwrecks for Swordfish, you'll find a fishing culture as abundant as the one on land.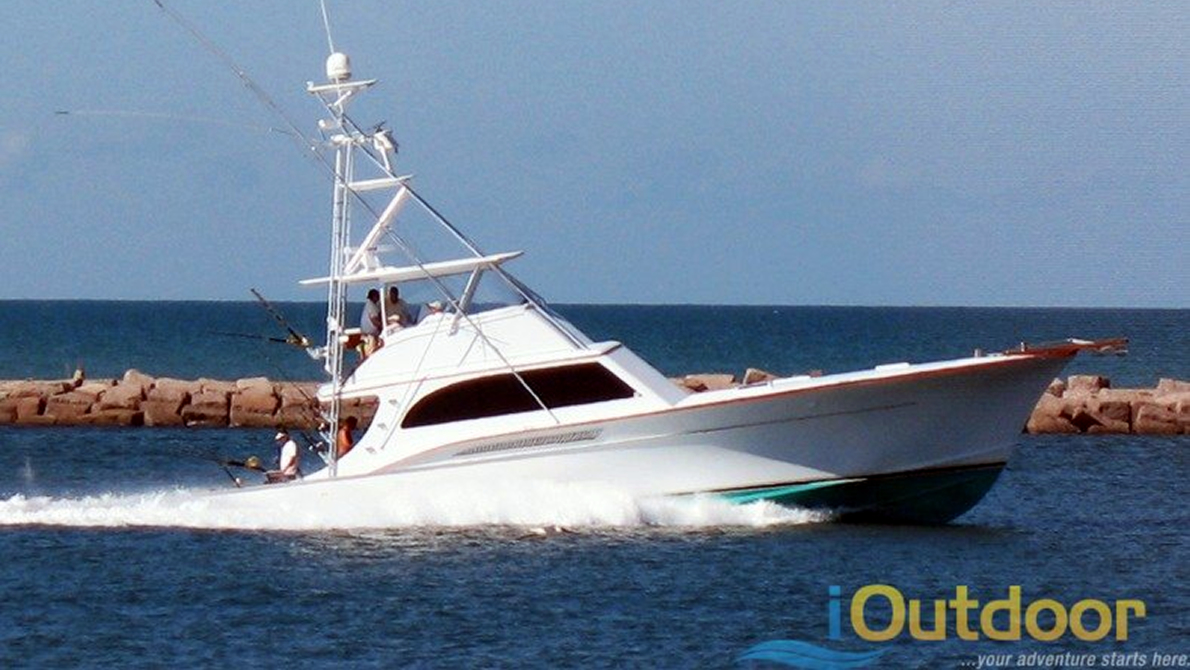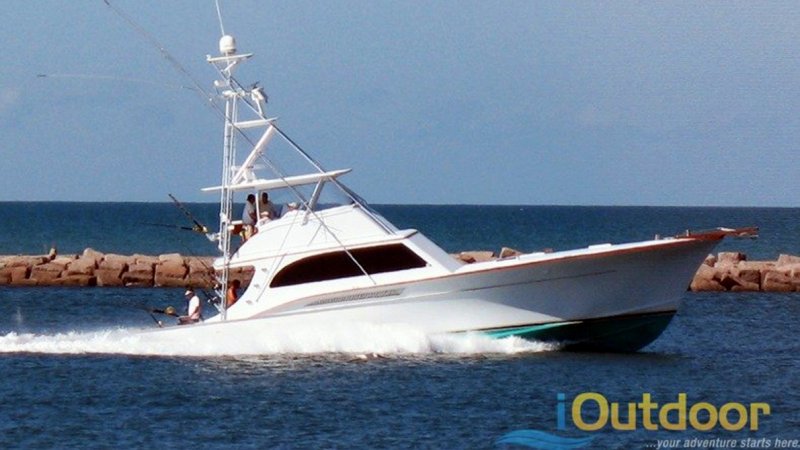 What Can You Catch in Miami?
If you're unfamiliar with fishing in South Florida, you won't know the best fishing spots in Miami. So you might be unsure of what to expect when you throw your line out. You'll be happy to know that Miami is full of amazing (and huge) fish. Just as Miami's culture is bustling with diversity and affluence, the waters are much of the same. Let's check out the top catches of Miami.
Grouper
Beneath the surface of Miami's crystal blue water is hundreds of wrecks and reefs inhabiting some delicious bottom feeders. You can expect to find Black, Red, and Gag Grouper all over the place, and that's good news for anyone coming here to sample some of what Miami has to offer.
These fish are some of the prime targets for frequent anglers, but if you're looking for something a bit more unique, you can travel a few miles out and find rare Snowy and Scamp groupers.
That said, there's one fish that everyone travels here for, and it's the Goliath Grouper. These monsters can weigh as much as 200 pounds or more, so if you're planning your trip around locating one of these, you'll want to bring some seriously heavy tackle. We recommend chartering a boat and recruiting the help of a local expert if this is your plan because they know the best fishing spots in Miami.
Tarpon
If you've got a smaller boat and you're sticking to the shallow water, you can bring in a few Tarpon. While we make it sound easy, they're a bit challenging to catch because they're hard to find, and they put up quite a fight. 
During the summer months is when you can find them most frequently around Biscayne Bay, but the problem is, most visitors travel here during the cold weather months and expect to find Tarpon. You can, you just have to know where to look.
These shallow water behemoths reach around 100 pounds, but if you're looking for an enjoyable fishing experience, target the smaller and more aggressive fish in the 20-40 pound range.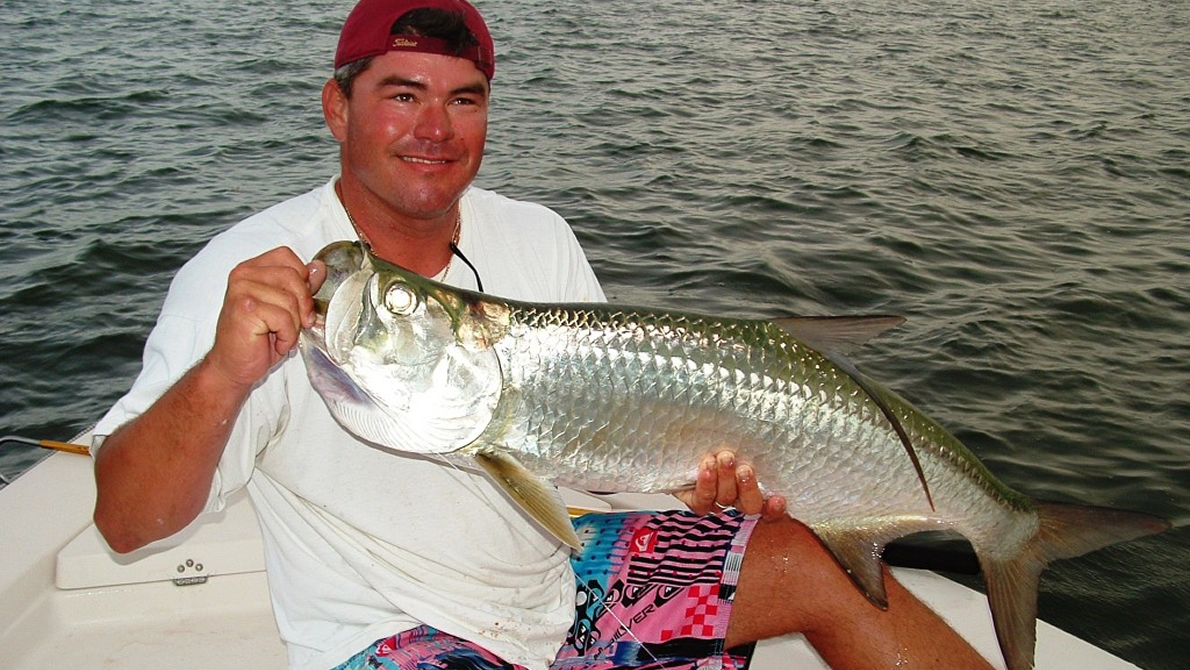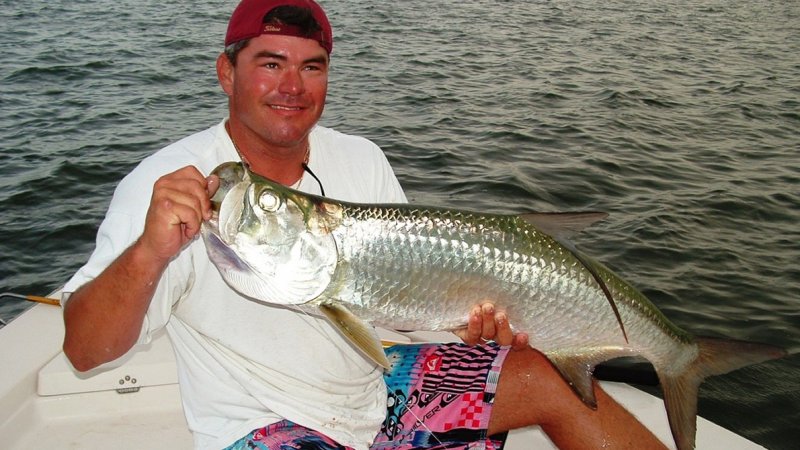 Swordfish
South Beach created swordfishing, and you can find some of the best swordfish anglers on the planet in this area of the country. If you're interested in catching a fish with that "wow" factor that you can share with your buddies on social media, you'll want to start fishing in South Beach Miami.
A few miles away from the shore, the water dips deeper, and the warmth from the Gulf Stream is what makes this the perfect environment for pelagic fish and certainly Swordfish. They're active during the day and at night throughout most of the year, so expect to find them, the challenge is getting them into the boat.
Sailfish
Traveling a few extra miles out to the deep sea brings upon new challenges. Sailfish draw hundreds if not thousands of people to Miami each year to take on one of the greatest fishing challenges imaginable. They are the fastest fish around, and their incredible multi-colored sail real makes for an amazing fishing experience.
All the locals possess the best fishing spots in Miami, but they will tell you that kite fishing is the way to catch these beautiful creatures. It's a strategy similar to trolling that requires you to skip the bait amongst the surface until you see the sail pop out of the water.
Fishing for these isn't the kind of fishing where you leave your line out there and sit back and drink a beer, you need to keep your eyes on the water and pay attention to that sail
African Pompano
If you're the kind of person who likes to stray off the beaten path and go for something a little different, African Pompano are available in Miami – but not in abundance. Many local anglers tell stories about how many of these they missed, but they're never 100% sure until they pull them into the boat.
These incredible fish inhabit shipwrecks around 300 feet out, and they put up a fight, unlike any other. The reason these fish are so desirable is for their taste. They have thick fleshy meat, and they eat a very clean diet, so it makes them taste fresher than some of the other coastal varieties. Many anglers compare it to eating a steak. 
Bass Fishing Miami 
While so many people travel to Miami to take on everything the sea offers, an often forgotten treat happens inland in the canals and lakes that Dade County has to offer. Fishing Miami requires a "thinking outside the box" attitude. Grab your best bass fishing reel and rod and take a quick trip away from the salt spray with us.
Urban Canal Fishing for Peacock Bass 
These are popular freshwater fish caught along the banks of many of the canals throughout South Florida. Many of the locals use a variety of different tackle ranging from live baitfish to artificial swimbaits and flies. Peacocks prefer live bait and most of the best lures used in catching largemouth bass, but the experts don't recommend using plastic worms.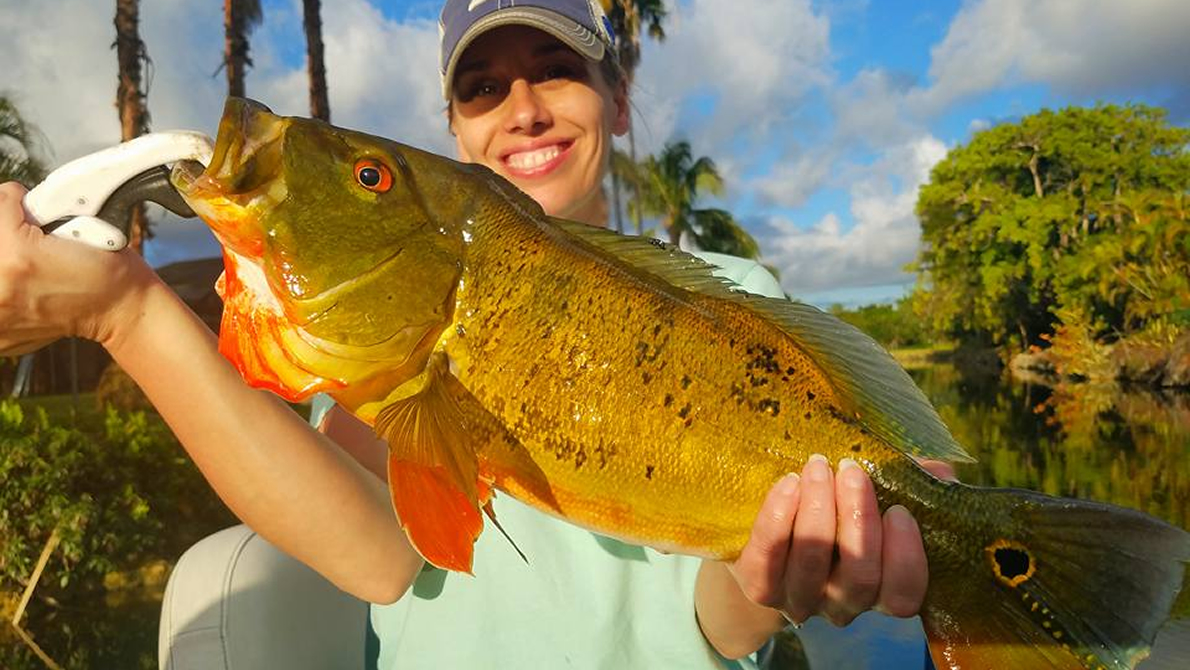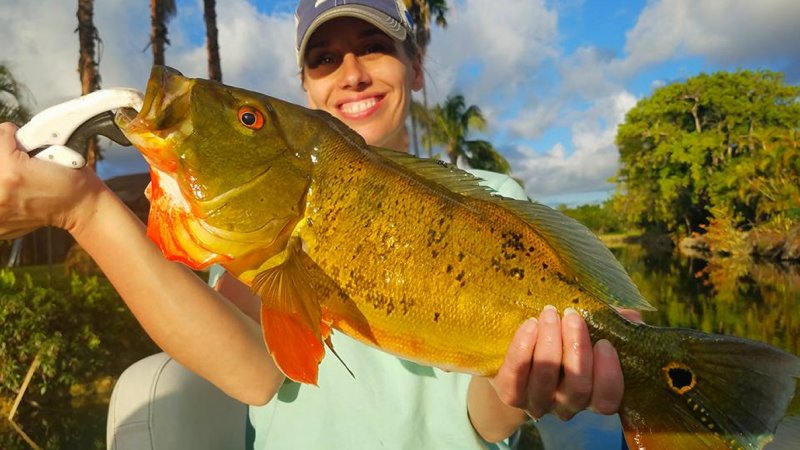 South Florida Largemouth Bass 
Largemouth bass are a popular catch anywhere East of the Rockies, and that's due to their incredible acrobatic fighting power. Locals recommend using plastic worms, jigs, and spinnerbaits when the weather is mild. You'll have the most success during the fall and spring months when the heat isn't too hot, and the coastal breeze is calmer.
Top Fishing Spots in Miami 
There is no shortage of great places when fishing Miami, so let's talk about specifics. When you visit, where are you going?
Biscayne Bay – If you're chasing Tarpon inshore, this is where you want to go. You've got shallow waters, channels, and mangroves, and that makes Biscayne Bay the ideal environment for Tarpon. Best of all, you have a variety of options for how you want to fish. Cast from the shore, take out a kayak or explore on a boat.
Bache Shoal Reef – If you're taking a boat off the shore, you'll want to check out the wrecks around Bache Shoal. It's a popular diving and snorkeling area so you'll want to fish here when it's not tourist season. Spear and kite fishing for Grouper, Snapper, and Sailfish is most popular.
Liberty Ship (O.L. Bodenhamer) – This is a sunken ship around 370 feet deep, and it offers some of the biggest game fishing available on the coast. It's an artificial reef that draws a lot of attention and produces a large number of Sailfish and Swordfish all year long.
Miami Fishing Guide 
So, you know what to catch and where to catch it, but how do you plan on getting your line in the water? You have a few different methods when fishing in Miami.
From the Boat 
If you plan to get anywhere near anything like Tarpon, Swordfish, or Sailfish, you'll need to take a boat out a couple of hundred feet. You'll have some heavy gear, and you'll likely need a sturdy boat to handle to fight and keep everyone safe.
The most affordable way to get the best offshore fishing experience in Miami is by joining a drift boat or party boat. You'll have an opportunity to meet other people traveling through the area, and when everyone splits the cost, it's much more affordable to fish Miami the right way.
From the Shore 
Most people think you have to get out beyond the surf to catch fish in Miami, and that's not true. With the many inshore fishing opportunities in canals and lakes, you can set up shop on the shore and catch plenty of Largemouth, Peacock, Snook, and Bonefish.
It's worth mentioning that the heavy tourist industry has hurt many of the fishing opportunities here, and much of the canal and beach space is privately owned, so you can't fish there. Just keep your eyes open for signs stating that.
Kayak Fishing 
For a well-rounded experience, you could fish the canals with a kayak. There are even guided tours. Fishing this method allows you to get a workout in while targeting Snook and Redfish inshore. Of course, you can't bring along as much gear, but the whole experience makes it worthwhile even if you don't catch anything!
How to Charter a Boat in Miami 
If you haven't realized it by now, we'll clear it up for you. Fishing in Miami is amazing, and there's no shortage of incredible fishing opportunities for people of all ages and skill levels. The best way to get the whole experience is through using a guided fishing charter. The local captains will help ensure you get a full taste of what South Beach waters have to offer.
Best of all, chartering a boat in Miami isn't as expensive as you think. You can take your whole family on the water, and the guides will take their years of experience fishing these waters and put you on the best fishing spots in Miami to work.
They'll take you right where the fish are, hook you up with the necessary gear and tackle, and many even guarantee you catch something before heading back to the dock.
With the diversity of fish, abundant opportunities, and jet blue sky, it's no wonder why people are fishing Miami all year long.