CHARTER FISHING GIFT CERTIFICATES
Looking for a unique gift this year for that special someone? Our Charter Fishing Gift Certificates make an exceptional gift for fishing, hunting or outdoor enthusiasts.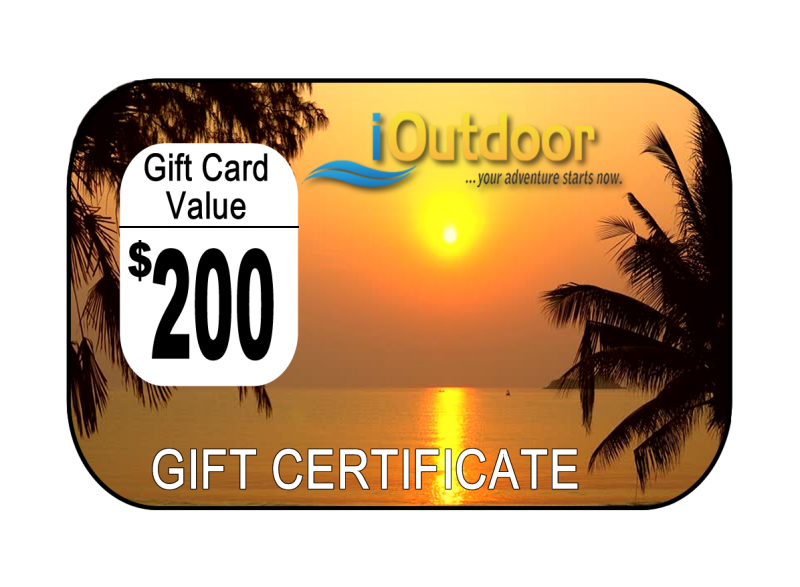 Imagine how it's going to feel to get that special someone a day out of the office and into the outdoors. Fresh air, wildlife, open saltwater and enjoying one of nature's most satisfying activities. Whether the lucky recipient is an avid angler or first-time fisherman this fishing Gift Certificate with our professional charter captains on a guided fishing trip will be an extraordinary experience. And now, for the first time, you can purchase this online gift certificates for fishing with the flexibility of fishing anytime and any location they prefer.
The biggest advantage of purchasing an iOutdoor fishing gift certificate is that our gift certificates can be used on any boat in our fleet. That means that the recipient can choose where they want to go fishing, what species and on what boat after you purchase. Currently, we have locations in nearly every port in Florida including the east coast, west coast, panhandle and the Florida Keys. You can experience exceptional saltwater fishing for pelagic species or trophy inshore species. You can also adventure out in our legendary freshwater lakes or urban canal systems. Fishing is one of the BEST outdoor activities to embark on whether for the individual or the whole family.
Hop on board and enjoy a trip of a lifetime with our local experts!
FISHING GIFT CERTIFICATES AVAILABLE
SALTWATER FISHING GIFT CERTIFICATES
Get your family member or loved one a fishing adventure of a lifetime in search for Florida's top saltwater species…[Learn More]
FRESHWATER FISHING GIFT CERTIFICATES
Reward your loved one with the great gift of freshwater bass fishing on our beautiful lakes or canal systems…[Learn More]
Gift certificates can be issued in any amount starting at $100, there are register and valid for credit against any fishing charter we offer. Please fill out the form above to purchase a instant online fishing gift certificate.
Our fishing gift certificates offer two types of redemption: which is both cash and voucher. So which one is right for you?
Our cash gift certificate can be made in any amount from $100 and up. You choose the image option of the gift certificate which still gives the recipient flexibility on location, boat type, and trip length. The fishing gift certificates display a voucher code, that code at any time can be used when booking a fishing charter online by applying the code at checkout in the Promo / Voucher area. Once done it will apply a credit to whatever items they prefer to purchase at checkout and balance will be due by them. Because we have the option of paying just a deposit or the entire balance your gift certificate can be used for either. Trips cost varies by location, but a fishing charter range from $275 – $750 for a half day, and $350 – $1,250 for a full day. Feel free to contact us below by chat, messenger or call us for additional information.
We aim and will exceed your expectations for customer service, so why no give a iOutdoor charter fishing gift certificate. No need to know when the recipient wishes to fish, which location, what type of charter, what species of fish, what type of boat or what time of the year….this gift certificate can be applied to all those different options!
Have Additional Questions? Contact us below…