Grouper Fishing in Florida
Back to: >>Florida Fishing
Grouper Fishing in Florida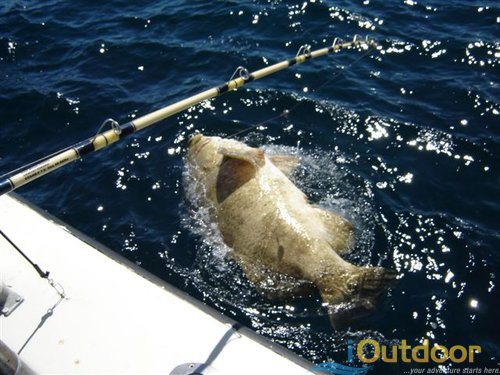 Bring home dinner tonight! One of the tastiest fish out there- Grouper can be found in all of the Florida's salt waters. Many species of Grouper, like the
Goliath Grouper
can weigh up to 600 pounds! Grouper can be caught bottom fishing with live bait (fish, crab, lobster, and octopus).
Typically Grouper swim around reefs, wrecks, potholes and most any structure that offers ambush possibilities. Grouper like to wait for their prey, not chase. They linger in a protected area waiting for a morsel to come by. Grouper eat their prey whole, sucking them in.
iOutdoor Grouper Captains know how to pull these tasty fish out of their shelters, and have years of successful practice at it! Call iOutdoor today to book your Grouper fishing in Florida fantasy today!