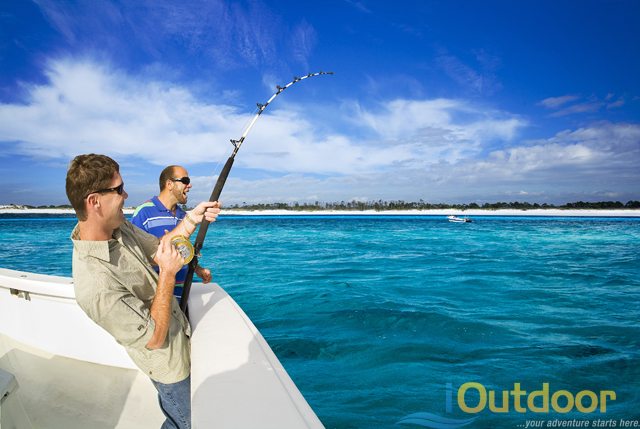 Gulf Fishing:
The Gulf of Mexico is known for its calm waters and GREAT inshore and offshore fishing! The Gulf is one of the prime migratory routes for a variety of species! There are many offshore game fish including: Shark, Tarpon, Spanish Mackerel, Permit, Amber Jack, Dolphin, Barracuda, Cobia and King fish. Trolling the Gulf produces record Marlin, Sailfish, Wahoo, Swordfish and Dolphin! Bottom fishing the Gulf produces tasty species like grouper and snapper!
Nothing beats casting a line into the Gulf of Mexico- you never know what will bite! With so many ports in the Gulf, iOutdoor is sure to have a fishing adventure close to you! Call us now to check out one of our many Gulf Fishing Charters!
Call iOutdoor at 1-888-412-1117 to start executing your Gulf Fishing adventure now!
Why iOutdoor?
iOutdoor wants your Gulf Fishing adventure to be safe, easy, and successful! We have a proven track record to produce just that and more! Our Captains are all US Coast Guard Certified. Their boats are kept under meticulous upkeep and exceed the strictest safety requirements. Our captains are fishing professionals and know the Gulf waters better than anyone. You will have a safe and successful fish with iOutdoor. And the best part is, we do all of the work!
Just show up to the marina with your lucky fishing hat on, and you're ready to launch into the best fishing adventure of your life! Check out our "what to bring" section prior to arriving at the marina. We want your adventure to be as comfortable as possible!
Get your Gulf Fishing adventure started NOW! Simply fill out the form on this page or call 1-888-412-1117. iOutdoor friendly and knowledgeable staff will answer any questions you may have; including: where to stay if overnight is necessary, what fishing areas will yield the results you are looking for, appropriate boat size, etc. Whatever your needs may be, iOutdoor will make it happen!
We had a family reunion in Tampa, decided to shake it up with a gulf fishing trip- it was so pleasant. The waters were so calm and blue- we had a blast!
– Linda Smith
What to Bring
Please check the weather prior to launch, this will help you decide how to pack. Dress in layers; bring a light long sleeved shirt to protect you from the sun. Sunscreen, hat, polarized sunglasses are all essentials. Wear comfortable, sturdy non-scuffing shoes (tennis shoes are perfect). Remember to bring your camera to capture the proof of your trophy fish! You should bring some light snacks, sandwiches, and beverages for your day. If you prefer, iOutdoor can provide catering services. We make it easy!
Sea Sickness Policy:iOutdoor wants you to have the best fishing charter possible! Falling ill to seasickness is a quick way to ruin any fishing trip. Please plan ahead! Eat breakfast, stay hydrated, do not consume excessive alcohol the day before and of your trip, if necessary-take sea sickness medicine before launch (per instructions). Any charters forced to return to the marina early WILL NOT be refunded.
Pricing & Availability
Pricing and availability are a function of region, type of charter, number of participants, etc. iOutdoor will help you select a charter that is perfect for your needs and budget. Call us now to start creating the Fishing adventure of a lifetime! 1-888-412-1117