MARLIN FISHING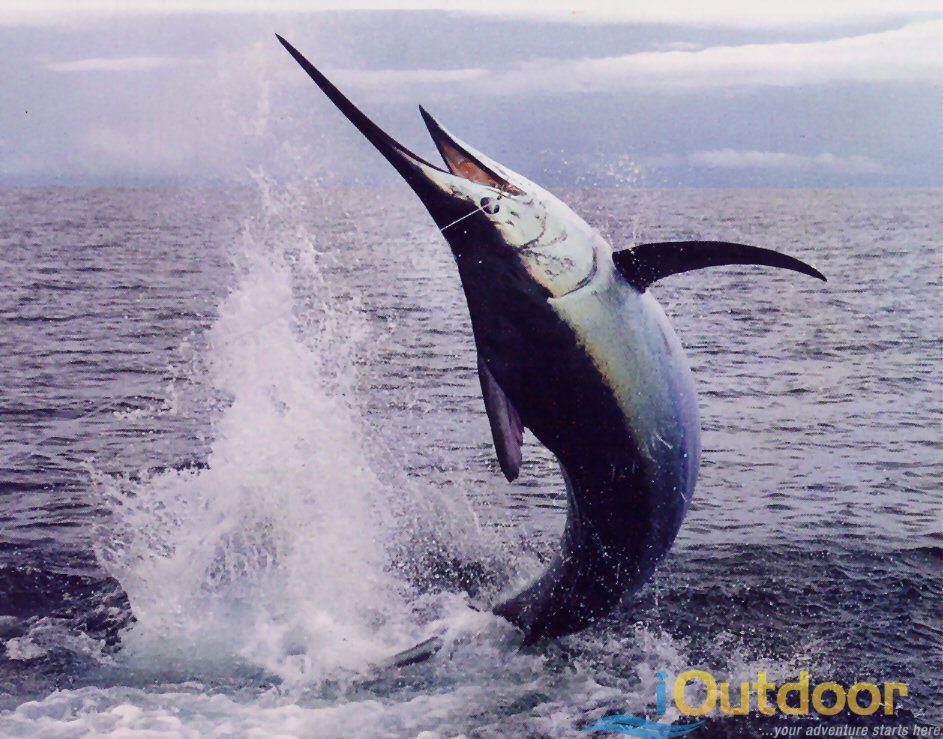 Marlin Fishing: Marlin fishing is the pinnacle of game fishing! Florida offers Marlin fishing at its finest! Keep in mind, fishing Marlin is not for a mere amateur. Equipment and Vessel are critical. iOutdoor will provide you the best and most experienced Captain and crew, a modern, large and comfortable vessel- capable of taking you deep into the offshore marlin grounds, and heavy duty tackle that can stand up to the rigorous battle of a determined Marlin. Marlin are caught by trolling large artificial lures or large freshly caught baits (like Bonita) specially rigged with large tandem hooks. When a Marlin strikes trolled bait there is no mistake about who is knocking at your door! The drag screams, the rod bends double and the fight is on!! And right here at that critical moment is when you need an experienced Captain and crew to make your fight a successful one!
iOutdoor wants YOU to encounter a Marlin- and experience nature's POWER in action! You will not believe the strength of these giant and aggressive fish. It can take hours to reel one to the boat. The satisfaction of catching a 1000 lb. Marlin will more than compensate for your tired arm muscles!
Call iOutdoor at 1-888-412-1117 to start executing your Marlin Fishing adventure now!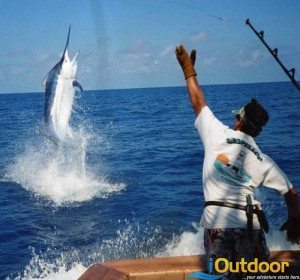 Why iOutdoor?
iOutdoor has selected the most knowledgeable, safe and seasoned Marlin Captains in Florida! You will be navigating the crystal blue offshore of Florida in the most modern and well-equipped fishing boats available. All of your tackle, rods, and reels are top of the line and of the latest fishing technology. Our fleet exceeds the highest safety regulations and is serviced regularly. All of iOutdoor Captains are US Coast Guard certified. You will have a SAFE and comfortable Marlin fishing adventure in Florida!
You will meet your captain at the marina, all safety instructions will be covered at that time. Make sure you have the proper clothing to remain comfortable for the entire fishing adventure. (Check out "What to Bring") You'll head out for a day of wonderful fun in the sun and productive fishing! Don't forget to bring your Camera! You'll want to capture the smile on your face when you reel in the trophy game fish!
Get your Marlin Fishing adventure started NOW! Simply fill out the form on this page or call 1-888-412-1117. iOutdoor will answer any questions you may have; including where to stay if overnight is necessary, what fishing areas will yield the results you are looking for, appropriate boat size, etc. Whatever your needs may be, iOutdoor will make it happen!
What Customers are Saying!
Even though we did not snag a Marlin, we caught a Wahoo that put up a fight like no other! So much fun.
– Rick Hatfield, NE
What to Bring
It is recommended that you bring sunglasses, hat, long sleeve shirt, light jacket for cool mornings, and sunscreen! Anything you think you may need to protect you from long hours in the outdoors. And most importantly, don't forget the camera and/or video recorder! Wear closed toe non marking shoes (no black soles) like tennis shoes.

You will need to bring your own cooler of food and beverages- or, you can have iOutdoor take care of this through our catering service! We make it easy for you!

Sea Sickness Policy:

Please note that there will be no refunds for charters forced to return early due to sea sickness. Preparedness is essential in prevention of sea sickness. Take the medication (per the directions) before you launch. You will most likely not see much relief if you take the medication after you start to feel woozy. It is also recommended to stay hydrated and limit alcohol consumption the day before and during your fishing adventure.
.
Pricing & Availability
Pricing and availability are a function of region, type of charter, number of participants, etc. iOutdoor will help you select a charter that is perfect for your needs and budget. Call us now to start creating the Fishing adventure of a lifetime! 1-888-412-1117