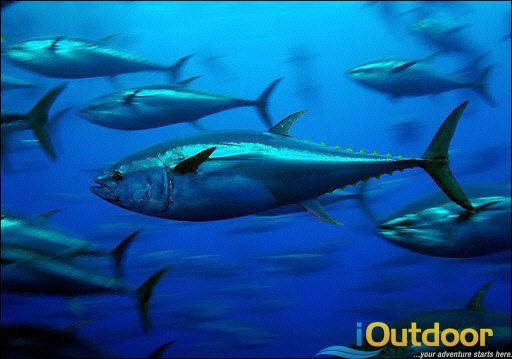 Tuna Fishing:
Pound for pound, tuna are the best fighting fish around- and they are darn tasty! Many species of Tuna are found in Florida's waters in both the Atlantic and the Gulf of Mexico. The most common being the football-sized Blackfin- which is caught closer to Florida's shoreline. Expect to also catch Skipjack, Blue and Yellow Fin, which are in the deeper waters!
A freshly caught tuna is brought on board and turned into sushi right in front of your eyes! Delicious!! The yellowfin tuna can reach 200 pounds!
Tuna can swim up to 43 mph! It takes special equipment and a seasoned Captain to match wits with a school of Tuna, and iOutdoor will help you do just that! Call us NOW to book your Tuna adventure today! It's SUSHI for dinner tonight!
Call iOutdoor at 1-888-412-1117 to start executing your Tuna Fishing adventure now!
Call 1-888-412-1117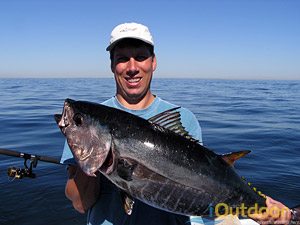 Why iOutdoor?
iOutdoor has selected the most knowledgeable, safe and seasoned Tuna Captains in Florida! You will be navigating the crystal blue offshore of Florida in the most modern and well-equipped fishing boats on the market. All of your tackle, rods, and reels are top of the line and of the latest fishing technology. Our fleet exceeds the highest safety regulations and is serviced regularly. All of iOutdoor Captains are US Coast Guard certified. You will have a SAFE and comfortable Tuna fishing adventure in Florida!
You will meet your captain at the marina, all safety instructions will be covered at that time. Make sure you have the proper clothing to remain comfortable for the entire fishing adventure. (Check out "What to Bring") You'll head out for a day of wonderful fun in the sun and productive fishing! Don't forget to bring your Camera! You'll want to capture the smile on your face when you reel in the trophy game fish!
Get your Tuna Fishing adventure started NOW! Simply fill out the form on this page or call 1-888-412-1117. iOutdoor will answer any questions you may have; including: where to stay if overnight is necessary, what fishing areas will yield the results you are looking for, appropriate boat size, etc. Whatever your needs may be, iOutdoor will make it happen!
Tuna fishing has always been a dream of mine- and until iOutdoor- I didn't think it would happen. Thanks!
– Pattie Dearing
What to Bring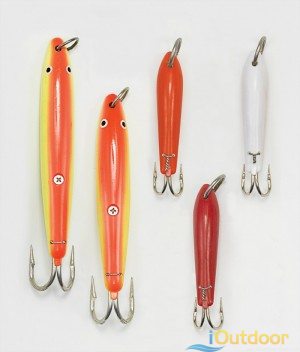 Don't forget the CAMERA! You'll want to have evidence of your GIANT TUNA catch! Also: Sunscreen, Polarized Sunglasses, Hat, Light Jacket (wind/rain protection), and closed toe non marking shoes (no black soles) like tennis shoes. iOutdoor wants you to focus on the fishing, not on being uncomfortable.
You will need to bring your own cooler of food and beverages. iOutdoor offers a great catering service- check it out! Let us do all the planning for you!
Sea Sickness Policy:
Please note that any Tuna Fishing charters that are forced to end early due to sea sickness will not be refunded.
If you are prone to sea sickness, please take the necessary precautions. Some helpful tips to avoid sea sickness include: limited alcoholic drinking the night before, eat breakfast, stay hydrated, and take the sea sickness medication (if needed) per the instructions BEFORE launch. It is generally recognized that taking sea sickness medication after you become ill is not going to work for most anglers.
Pricing & Availability
Pricing and availability of Tuna Charters are a function of region, type of charter, number of participants, etc. iOutdoor will help you select a charter that is perfect for your needs and budget. Call us now to start creating the Fishing adventure of a lifetime! 1-888-412-1117