Back to: >>Florida Fishing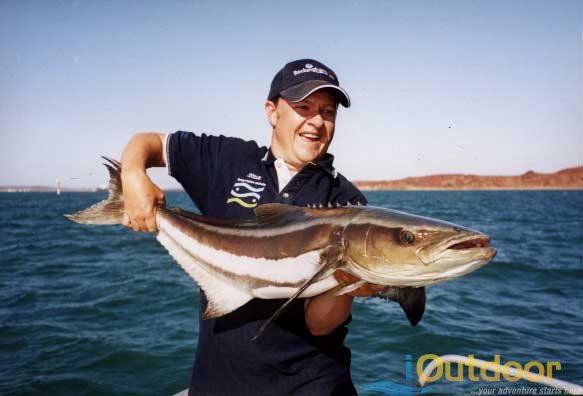 Large, Aggressive, Feisty, and DELICIOUS! Cobia can be caught Trolling, Sight, or Bottom fishing. They are strong fighters and can grow to over 100 pounds. These tasty
fish
are some of the most exciting to catch along the Florida shores. Cobia feeds primarily on crabs, squid, and other fish. Cobias like to trail larger ocean dwellers like Manta rays or Sharks in hopes of scooping up their scraps! Cobias are curious fish, and do not shy away from our fishing boats- and lures! PERFECT!
Due to the migratory habits of Cobia, it is important to have a knowledgeable Captain to take you cobia fishing! iOutdoor has the best Cobia Captain in the business, who knows how to catch these fast-moving-hard striking fish. Cobia spends the winter along the Atlantic Coast of Florida (December thru March) around the wrecks and reefs of the South Florida Keys. They begin their northward migration up the Atlantic Coast in late March and early April reaching Fernandina Inlet in early June. Along the Gulf Coast Cobia can be found in the Panhandle area in early March. They travel southward along the coast beginning in April and peaking all along the Gulf Coast in July.
Sight fishing Cobia is one of the most productive fishing methods; although there are many ways iOutdoor Captains will try. Again, depending on the time of year, water temperature, currents, etc. will determine the selected fishing method
Call iOutdoor NOW to book your Cobia Fishing Adventure! 1-888-412-1117
When spending multiple hours outdoors, it is best to be prepared! Dress in layers, wear light-colored clothing- preferably long-sleeved to protect from the sun. Bring Sunscreen- nothing ruins a trip faster than a bad sunburn! A wide-brimmed hat helps shield your face and keep you cool. Wear comfortable shoes with non-scuff soles (tennis shoes are perfect) Polarized sunglasses, light jacket, rain jacket, seasickness medicine are all things you may consider taking on your charter. Don't forget to bring a camera or video recorder! You will also need to bring your own food and beverages. iOutdoor makes it easy for you- We have a wonderful catering service! Let us do the work, and have a full cooler waiting for you!
Get ready to have the BEST Florida Captains show you Cobia fishing! iOutdoor has the most knowledgeable Cobia Captains in the area! Captains are selected for their fishing knowledge, safety at sea, and modern equipment!
You will be outfitted in style and have the latest fishing technology on the market! First, your safety is always our #1 priority, and will never be compromised on your iOutdoor Cobia charter. Every Cobia Captain is Coast Guard Certified. If you should have any safety concerns or questions, please let us know. Call iOutdoor anytime!
Feel free to bring along your favorite rod and reel- You can use it on our adventures! Your Cobia fishing trip with iOutdoor includes all licenses you may need. Just show up, and we'll take care of the rest!
It is iOutdoor's goal that your Cobia fishing trip is a safe, successful, and exciting time that you will enjoy telling your friends and family about –bring your camera, and have the pictures to prove it!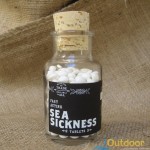 iOutdoor wants you to have the best
fishing charter
possible! Falling ill to
sea sickness
is a quick way to ruin any fishing trip. Please plan ahead! Eat breakfast, stay hydrated, do not consume excessive alcohol the day before and of your trip, if necessary-take sea sickness medicine before launch (per instructions). Any charters forced to return to the marina early WILL NOT be refunded.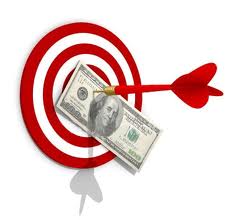 You have two ways of reserving a trip with iOutdoor.
Choose any of the BOOK NOW buttons on the site or simply call +1 (888) 412-1117
and talk with one of our reservation anglers. iOutdoor requires a small deposit of $50 at the time of your reservation. If you must change or cancel your reservation, it must be done 24 hours prior to the departure date.
1. If iOutdoor is forced to cancel a trip for any reason, a 100% refund will be made if another date cannot be arranged to your satisfaction.
2. iOutdoor can provide complete package trips with accommodations or recommend hotels/motels.
3. Tips are appreciated and are a very real part of the income of the crew. 15%-20% is typical for excellent service.
4. iOutdoor will clean, fillet, and package the fish at NO additional charge, but be sure to check that this is not offered on all charters because of state laws.
Call us at +1 (888) 412-1117 and let's start planning your Offshore fishing!
For additional Fishing, information is sure to go to Fishidy.com.