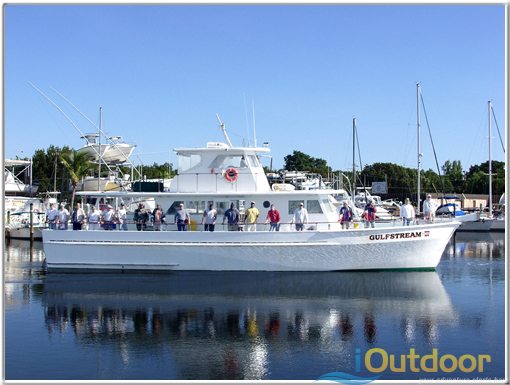 The Keys Party Boat Fishing
Party Boat Fishing in The Keys, FL:
Party Boat fishing in The Keys is the most ECONOMICAL way to take a group of people deep-sea fishing. Party Boats are so COMFORTABLE! The boats are large and stable-you'll hardly know you're on the ocean! Party Boats have so many amenities to make your fishing trip absolutely AWESOME: bathrooms, large areas to rest out of the sun and elements; and snack bars! Let iOutdoor show you a good time Party Boat fishing in The Keys!
Party Boats concentrate on drift fishing and bottom fishing. Typical catches for a Party Boat are: grouper, snapper, and shark, cobia and king fish.

Call iOutdoor today to book your Party Boat adventure NOW! It does not matter what your experience level as an angler. iOutdoor's Party Boats have mates and crew ready to help you with your technique, bait and advice on catching your fish! iOutdoor can arrange an EXCITING and FUN adventure for you on board one of our Keys Party Boats, Call today!
CALL US NOW : 1-888-412-1117
Our Locations in The Keys
We have many convenient locations where we run our boats from, here are few you can select from or call us to find one near you:
951 Caroline Street Key West, Florida 33040
The Keys Party Boat Fishing Photos
| | |
| --- | --- |
| | |
| Two Beauty's to Take Home! | FUN for the WHOLE Group! |
| | |
| Jason is Happy with his Party Boat Catch! | Everyone Hoping for a BIG BITE! |
My family was looking for an inexpensive way to take us all fishing in Key West- Party Boat is the way to go. My kids had a blast! We caught six species of fish within or family. I hadn't heard of a Party Boat until I checked out your web page and called. Thanks for the suggestion.
– Beatrice Smith
What to bring?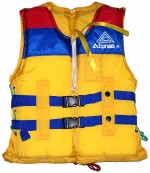 BRING YOUR CAMERA! Other things: Food and light beverages – or Cash to purchase food on boat, Extra Clothing- in layers (it tends to be much colder on the water then on land), Sunscreen, Sunglasses, Non- Marking/Non-Scuff Shoes, Cooler, Sea Sickness Medicine. A bag to hold all of your items in!

Why iOutdoor?
iOutdoor provides the finest Party Boat action in The Keys! You can be certain that our Party Boats, Captains and Crews in The Keys are selected for their years of experience and their knowledge of the local waters around The Keys. All of our Party Boats and Captains are Coast Guard Certified. Our Party Boats offer the finest
fishing equipment and tackle available to make your Party Boat fishing experience in The Keys a successful one! Your iOutdoor Party Boat crews and mates come highly recommended as being courteous, helpful- and most importantly- knowledgeable.
Weather in The Keys, FL
[weather_display location_id="33040″]
Pricing & Availability
iOutdoor has Party Boat departing the shores of the beautiful Keys daily! A Party Boat is a sure way to have fun in the deep sea while not breaking the budget. Pricing and availability varies by boat type, the length of your fishing trip, and capacity of occupants on the boat. etc.
Call now to book your Party Boat adventure! Simply the best way to take the whole family and a group of friends out for a days of great fishing at a reasonable price!
Reservations
Call iOutdoor now to find the right Party Boat fishing trip for you. iOutdoor must receive a full deposit of your adventure least 10 days in advance to hold your date for you. If you must change your reservation to another day, we must know 24 hours in advance. If you cancel your party boat reservation, you will be refunded all but $10 per person.
1. If iOutdoor is forced to cancel a trip for any reason, a 100% refund will be made if another date cannot be arranged to your satisfaction. 2. iOutdoor can recommend hotel/motel and guesthouse accommodations in the Keys. 3. Tips are appreciated and are a very real part of the income of the crew. 15%-20% is typical for excellent service. 4. There are crewmen on the Party Boat that can clean, fillet and package the fish. You will want to bring your own cooler to transport your catch home.
Sea Sickness Policy
Although
Party Boats are substantial in size, they can still cause sea-sickness in some anglers. A Party Boat WILL NOT turn back to shore for sea sick passengers. If you are prone to sea sickness, please take the necessary precautions. Some helpful tips to avoid sea
sickness include: limited alcoholic drinking the night before, eat breakfast, stay hydrated, and take the sea sickness medication (if needed) per the instructions BEFORE launch.
Common Questions
1. Do I need to buy a fishing license?
No. We have a license that covers all while fishing on our boats.
2. What is the length of the trips offered?
Trips are offered in the AM and PM (8am-12pm, 1pm-5pm)