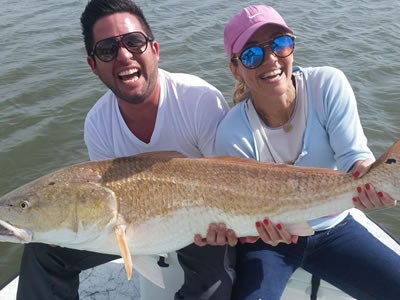 Redfish Fishing in Florida:
Are you in search for GIANT, TROPHY or BULL Redfish? If so, Florida is one of the BEST destinations to adventure out and explore the saltwater for. Redfish or the Red Drum is a fantastic inshore species to chase after if you are looking for a hard fight and long runs. It is at the top of the list for inshore anglers. As well, it happens to be a tastier game fish. Redfish Fishing in Florida is a fantastic outdoor activity that is perfect for the whole family!
Florida provides ample destinations to search down beautiful Redfish all year long. Fall may be the best time to catch a large specimen but you can access excellent fishing year round. Redfish spend a majority of their time in backwater estuaries, bays and saltwater lagoons along the coast. The east coast of Florida holds the BEST waters to catch a Bull Redfish. The west coast also holds great destinations and fisheries for catching Redfish but not of the size you can catch them on the east coast! New Smyrna Beach, located in North Florida is a prime destination for a Bull Redfish, especially during the fall months.
The Northeast Coast of Florida has several locations that hold Redfish most of the year. Generally, the redfish will spend the winter, spring, and summer months within estuaries and then leave for offshore waters or inlets to spawn during the fall. They are always on the move with changing tides, moving bait and trying to find the optimal water temperatures. Areas including the infamous Mosquito Lagoon and the Indian River Lagoon will have Redfish that spend their entire life cycle and spawn in deeper channels and cuts.
One of the MOST IMPORTANT aspects to catch Big Bull Redfish is getting on the water with a local expert. Our local experts here at iOutdoor can provide you with an experience of a lifetime while Redfish Fishing in Florida. Year round they are dialed in on the fish and know where they are moving and staging during the time of your trip. Just hop aboard and hold on for the fight of your life while catching the Redfish of your dreams!
Search iOutdoor, Compare & Book the Best  FL Redfish Fishing Charters Today.
We are Florida's Largest Charter Operation · No Reservation Fees · 7 Day Customer Service · Verified Reviews & Photos
FLORIDA REDFISH FISHING OVERVIEW
SIZE
Average: 1 to 12 pounds
30 Pounders are common
Florida Record: 52 pounds 5 ounces
World Record: 94 pounds 2 ounces
GAME QUALITIES
Known for their all-around fighting ability and strength
Strength, stamina and fairly long, bullish runs are its trademarks
FOOD VALUE
Redfish that weigh up to 10 pounds rank among the favorite fish of most anglers
Larger Redfish are protected; Red Portions of fless do not have objectionable taste when fresh
TACKLE
All kinds of casting tackle is successful in catching Redfish including fly fishing for all sizes
Surf rods and light weight saltwater outfits are great for the beach, bridge, pier, or offshore fishing
BAITS
Live Baits: crabs, shrimp, pinfish, mullet, pilchards
Artificial Baits: weedless spoons, plastic-tail jigs, popping corks
FLORIDA REDFISH FISHING SEASONS
Minimum Size Limit: Not Less than 18″, no more than 27″ total length
Northeast Zone: 2 fish per person per day; 8 fish per vessel
Northwest Zone: 1 fish per person per day; 8 fish per vessel
South Zone: 1 fish per person per day; 8 fish per vessel
REDFISH FISHING FWC REMARKS
Bag limits apply in areas adjacent to fishing sites such as docks and parking lots
6 fish per person transport limit applies when traveling in a vehicle on land away from a fishing site
Must remain in whole condition until landed ashore
Commerical Harvest Prohibited
TOP FLORIDA REDFISH FISHING DESTINATIONS
Why iOutdoor for Redfish Fishing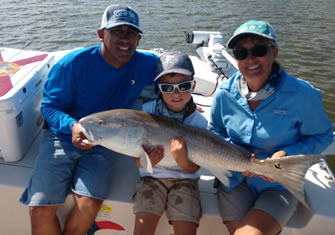 iOutdoor has selected the most knowledgeable, safe and seasoned
Redfish
Captains in Florida! You will be navigating the crystal blue waters of Florida in the most
modern and well-equipped fishing boats on the market.
All of your tackle, rods, and reels are top of the line and of the latest fishing technology. Our fleet exceeds the highest safety regulations and is serviced regularly. You will have a safe and comfortable Redfish fishing adventure in Florida!
All of iOutdoor Captains are US Coast Guard certified. You will meet your captain at the marina, all safety instructions will be covered at that time. Make sure you have the proper clothing to remain comfortable for the entire fishing adventure. You'll head out for a day of wonderful fun in the sun and productive fishing! Don't forget to bring your Camera!
Have additional Questions? Contact us below…
Get your Redfish Fishing adventure started NOW! Simply fill out the form on this page or call +1 (888) 412-1117.