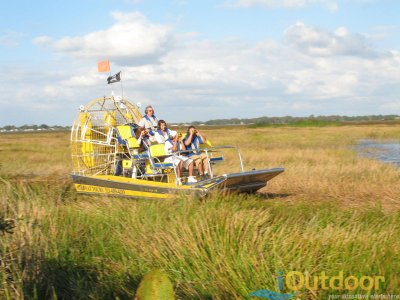 Air Boat Rides:
Glide over the grass and shallow backwaters of some of the most interesting terrain on earth and unscathed by human hands! Alligators line the banks, hundreds of different bird species fly overhead and roost in this marvelous nature preserve. Enjoy this up close and personal view of the birds and animals of the outback. Guaranteed to be an adventure you will not soon forget! Airboats are fun, safe, and comfortable and can navigate in the shallowest of waters. There are many opportunities for air boating adventures throughout all of the United States.
Your airboat ride is generally guided by a highly-trained, experienced captain, who takes you on a thrilling ride. During your airboat tour, listen to fun facts about the local impressive ecosystem while you take in the exciting local sights. You may even catch a glimpse of the local wildlife as you skim across the glassy water on your adventure.
Call iOutdoor today to start creating your Air Boat adventure! 1-888-412-1117
Why iOutdoor?
There is nothing like gliding over the water and tall grass and viewing nature from a vantage point that only the eagles are privy to! iOutdoor air-boat guides are the most knowledgeable and experienced in the business. Our Captains are driven to provide you the best Air Boating experience. First and foremost, safety is of the utmost importance. All of our Captains are certified; and are selected based on their pleasant demeanor, safety on the water, and condition of boat and equipment. We want your trip to be a safe and exciting adventure that you will enjoy telling your friends and family about!
Get your Air Boating Adventure started NOW! Simply fill out the form on this page or call 1-888-412-1117. iOutdoor friendly and knowledgeable staff will answer any questions you may have; including where to stay if overnight is necessary, what Air Boating areas will provide the nature adventure you are seeking, etc. Whatever your needs may be, iOutdoor will make it happen!
What a wonderful hunt, I've never had so much fun in my life! Thanks,
– Sam Browning, NC
What to Bring
It is recommended that you bring sun glasses, hat, and a long sleeved shirt, light jacket for cool mornings, bug spray and sunscreen! Anything you think you may need to protect you from long hours in the outdoors. Most importantly, don't forget the camera and/or video recorder!You will need to bring your own cooler of food and beverages.
Pricing & Availability
Pricing and availability are a function of region, type of charter, number of participants, etc. iOutdoor will help you select a charter that is perfect for your needs and budget. Call us now to start creating the best Air Boating adventure possible!
Fill out form below or Call 1-888-412-1117