Snook Fishing in FL:
If there is one place known to be the Snook Fishing Capital of the World, it would be Florida. Incredible trophy sized Snook can be caught all year round, especially in South Florida. Snook fishing provides one of the BEST ways to experience inshore fishing. The characterized and known "thump" along with hard-pulls and head thrashing nature of the Snook make it one amazing fish to catch.
Snook is one the most sought after game fish in Florida; it has a lot of fight and it's delicious to eat! These fish are smart and fast, so they must be fished with stealth and precision. Live bait is the most effective especially mullet, pinfish, grunts, crabs and ladyfish. You can also catch them on artificial baits that mimic their live forage in the area.
Our local experts will take you to all the hot-spots to catch your next inshore giant. Take a cruise through Florida's inland waterways, inlets, flats, and mangrove estuaries chasing a Snook with light tackle and fly. Hop on board our fishing vessels and allow our professionals to take you on an in-depth look of Florida's inshore destinations including Ft Lauderdale, Jupiter, Miami, Marco Island, Chokoloskee, and Palm Beach.
Search iOutdoor, Compare & Book the Best  FL Snook Fishing Charters Today.
We are Florida's Largest Charter Operation · No Reservation Fees · 7 Day Customer Service · Verified Reviews & Photos
FL SNOOK FISHING OVERVIEW
RANGE
Atlantic: Strong until north of Titusville, FL
Gulf: No further North than Homassassa, FL
Caribbean: tropical species can be found along the islands of Cuba, Puerto Rico and Hispaniola
SIZE
Average: 3 to 15 pounds
Florida Record: 44 pounds 3 ounces
World Record: 53 pounds 10 ounces
GAME QUALITIES
Known for their all-around fighting ability and strength
Usually experience long runs and jumps
Snook utilize structure to their advantage while being faught
FOOD VALUE
Flavor packed making it ranked on the top of angler's favorite species to catch-and-cook
Fillets are thick and make up a higher portion of total weight
TACKLE
Spinning and Bait Casters
Light saltwater boat rods effective for live bait
Fly fishing tackle with large streamers and poppers
BAITS
Live Baits: pinfish, sardines, mullet, pilchards, shrimp, crabs
Artificial Baits: mirror plugs, bucktail, and plastic jigs, jerk baits, spoons and topwater plugs
ATLANTIC SEASONS
Closed: December 15 – January 31 & June 1 – August 31
Not less than 28″ or more than 32″ in total length
1 fish per harvester with proper stamps
GULF SEASONS
Closed: December 1 – end of February & May 1 – August 31st
Not less than 28″ or more than 33″ in total length
1 fish per harvester with proper stamps
TOP FL SNOOK FISHING DESTINATIONS
Why iOutdoor for Snook Fishing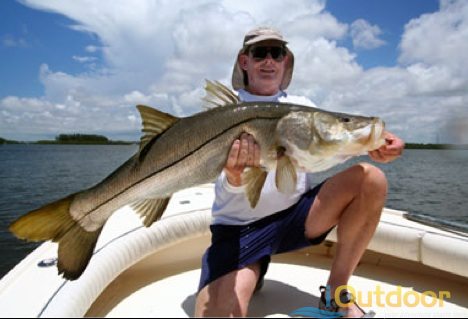 iOutdoor has selected the most knowledgeable, safe and seasoned Snook Captains in Florida! You will be navigating the crystal blue waters of Florida in the most
modern and well equipped fishing boats on the market.
All of your tackle, rods, and reels are top of the line and of the latest fishing technology. Our fleet exceeds the highest safety regulations and is serviced regularly. You will have a safe and comfortable Snook fishing adventure in Florida!
All of iOutdoor Captains are US Coast Guard certified. You will meet your captain at the marina, all safety instructions will be covered at that time. Make sure you have the proper clothing to remain comfortable for the entire fishing adventure. (Check out "What to Bring") You'll head out for a day of wonderful fun in the sun and productive fishing! Don't forget to bring your Camera!
Have additional Questions? Contact us below…
Get your Snook Fishing adventure started NOW! Simply fill out the form on this page or call +1 (888) 412-1117.