Deer Hunting: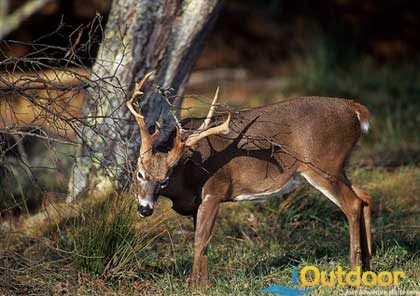 Whitetail deer hunting in Florida is a thrilling adventure! Whitetail deer roam the piney woods of the Panhandle to the swamplands of the Everglades in South Florida to the scrubland of Central Florida. Successful state-wide management efforts have revitalized Whitetail populations to exceed 700,000! So we know they are out there; now we just need to find them! Deer are the most popular game species in Florida, and a guided hunt on a private preserve or ranch is the only way to bag a giant Whitetail for your bucket list.
Our guides have found and used the most successful hunting tactics for White Tail hunting including, ground blinds, tree stands, and climbing stands. If you're looking to shoot something a little different, many of the private ranches we hunt offer exotic deer as well, including Axis, Red, Fallow, and Stag. Deer hunts are available during bow, muzzleloading gun, and then general gun season, where modern rifles and handguns are allowed.
Call now to book your hunting adventure! 1-888-412-1117

Whitetail Deer
The white-tailed deer (Odocoileus virginianus) are also known as Whitetail or Virginia deer.
Native Range
Whitetail deer are native to North America, Ecuador, Central America, and South America as far south as Bolivia and Peru.
Florida Range and Habitat
Florida whitetail deer are found throughout the state from the Panhandle to the keys. The Florida whitetail deer tend to prefer low-growing vegetation and edge, where two different habitats intersect, allowing deer to avoid predators and easily feed.
Behavior and Diet
Deer are crepuscular, meaning this animal is most active during dawn and dusk times.
Florida deer consume about 3% of their body weight on average each day, totaling about 2.5 to 4 pounds.
Lifespan and Growth
Florida whitetail deer have an average lifespan of 4 to 6 years in hunted areas and up to ten years in non-hunted spots. Captive deer have been recorded to live for up to 20 years.
Adult male deer have average lengths of 5 to 6.5 feet and weigh about 125 pounds. Male deer shed then regrow their antlers every year. Mature female deer average about 95 pounds and average one fawn per year with a 200-day gestation. The Seminole Whitetail is a large subspecies of whitetail deer and is popular among Florida hunters in providing some hardcore hunting opportunities during deer season.
Florida Whitetail Deer Hunting
In past years, deer hunting in Florida has created over 14,673 jobs and generated over 95 million dollars in local and state taxes.
Florida Deer Seasons
The seasons for whitetail deer hunting in Florida are relatively complex. The state of Florida has been divided into four zones, and weapon types and dates vary for each one.
Seasons differ for antlered and antlerless deer in Florida. Antlered deer have at least one antler 5 inches or longer. Antlerless deer, not including spotted fawns, are without antlers or have antlers under 5 inches.
Seasons vary for zones a, zone b, zone c, and zoned with specific dates for different weapons, usually beginning with archery season, then crossbow season, general gun season, youth deer hunt weekend, and ending with the muzzleloading gun season.
Antlered Deer
Zone A
Archery season: July 31 through August 29
Crossbow season: July 31 through September 3
Muzzleloading gun season: September 4-17
General gun season: September 18 through October 17 and November 20 through January 2
Zone B
Archery season: October 16 through November 14
Crossbow season: October 16 through November 19
Muzzleloading gun season: November 20 through December 3
General gun season: December 4 through February 20
Zone C
Archery season: September 18 through October 17
Crossbow season: September 18 through October 22
Muzzleloading gun season: October 23 through November 5
General gun season: November 6 to January 23
Zone D
Archery season: October 23 through November 24
Crossbow season: October 23 through November 24, and November 29 through December 3
Muzzleloading gun season: December 4-10 and February 21-27
General gun season: November 25-28 and December 11 through February 20
Antlerless Deer
Zone A
Archery season: DMU A2 July 31 through August 8 and DMU A3 July 31 through August 15
Crossbow season: DMU A2 July 31 through August 8 and DMU A3 July 31 through August 15
General gun season: DMU A2 November 20-21 and DMU A3 November 20-23
Zone B
Archery season: October 16 through November 14
Crossbow season: October 16 through November 14
General gun season: December 31 through January 2
Zone C
Archery season: September 18 through October 17
Crossbow season: September 18 through October 17
Muzzleloading gun season: DMU C5 October 23-24
General gun season: DMU C1 November 19-22, DMU C2 November 19-21, DMU C3 November 19-21, DMU C4 November 19-22, DMU C5 November 6-7 and November 20-21, DMU C6 November 19-22
Zone D
Archery season: October 23 through November 24
Crossbow season: October 23 through November 24
Muzzleloading gun season: DMU D2 December 4-5
General gun season: DMU D1 November 27-28 and January 1-2 and DMU D2 November 27-28, December18-19, January 1-2
All updated dates can be found on the FWC website.
Bag Limits
The bag limit is two deer for every zone, the possession limit if four deer, and the annual bag limit is five deer, with only two being antlerless deer.
Hunting License
Annual Resident: $17.00
Five-Year Resident: $79.00
Annual Non-Resident: $151.50
Ten-Day Non-Resident: $46.50
Archery and crossbow are each $5. In addition, deer hunters are required to have a $5 deer permit.
Hunters must possess a management area permit and a hunting license in order to hunt on the wildlife management areas (WMAs). Often other permits are needed as well, depending on the hunting season and species. There are also special opportunity hunts and quota hunts available. Recreational use permits were designed to create revenue for private landowners in the Wildlife Management Area System (WMA system).
Edibility
One of the best parts about deer hunts is getting that delicious meat afterward. The meat from your deer hunt is all yours for you and your family to enjoy. Fresh locally harvested venison meat from your whitetail deer hunt is a tasty and nutritious food source.
Whitetail Hunting Tours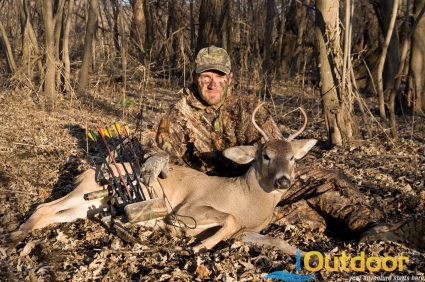 Deer hunting trips are an excellent opportunity for people to get outdoors and spend quality time with friends and family. Together you will learn valuable knowledge about the local plants and animals while creating memories and bonding moments that last a lifetime.
Who Should Do These Tours
The short answer is everyone! Everyone should experience whitetail deer hunts in the wild. The adventure and experience can benefit most people by learning skills and about nature, creating memories, and meaningful bonding moments that will last a lifetime. Your professional guide is here to help first-time hunters, kids, and families, as well as assist experienced hunters in getting the ultimate thrill and improving their skills.
Time Of Day
Ultimately, whitetail deer hunts can occur any time of day during daylight hours. Deer are generally most active during the early morning and early evening, but they are still moving throughout the day. For this reason, your whitetail deer hunt adventure can usually be flexible to your preferred time.
Hunting Styles
Whitetail deer hunts can be done with various weapons depending on the time of year and hunting season. We participate in all deer seasons, including archery season, crossbow season, muzzleloaders, and general gun season. The weapon and technique used on your whitetail deer hunt will depend on which part of Florida you are in and what time of year it is. If you plan ahead, your trips can be customized based on your wants and needs since there are many ways to do this.
Hunting methods include tree stands, ground blinds, ladder stands, and shooting houses.
Trip Lengths
Half-day, Full-day, and multi-day hunts are available. Split day hunts are also a popular option where you can hunt for fours hours in the morning, take a break then hunt four hours in the afternoon. Call us today to help you create the perfect package!
What's Included
The type of deer hunting trip package booked will determine the itinerary and specifics of the trip. Generally, deer hunting trips will include a local professional guide, transportation, and cleaning of harvested deer. The processing and packaging of your meat can be arranged with a local processor. We also do not charge trophy fees for whitetails.
Why iOutdoor?

Our hunting guides are chosen for their experience, percentage of successful hunts, condition of their equipment and facilities, quality of game harvested, and safety in the field. iOutdoor guides are the best and most qualified in the field. Deer hunts are conducted during daylight hours. Therefore, your comfort and safety are our utmost concern.

Get your Deer Hunting adventure started NOW! Simply fill out the form on this page or call 1-888-412-1117. iOutdoor friendly and knowledgeable staff will answer any questions you may have, including where to stay if overnight is necessary, what hunting areas will yield the big game you are looking for. Whatever your needs may be, iOutdoor will make it happen!
Shot a big white tail on the first day out on my hunt! It was a great time with both my Dad and Son.
– Max Roberts
What to Bring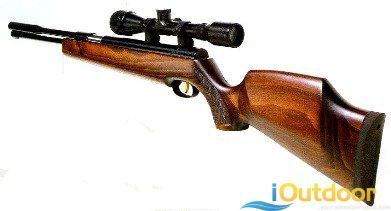 You will need to bring your weapon: rifle, shotgun, handgun, or bow—plenty of shells for your hunt, safety eyewear, and appropriate field dress. Camouflage is recommended, no scent bug spray, binoculars, knife, a range finder, a hat, a jacket for cool mornings, gloves, good walking shoes, or boots (although snake boots are not required, they are recommended).

Also, wearing hunter orange is not required on private lands but recommended, and most importantly, bring your camera or video recorder! A Florida hunting license is required as well as a deer permit. iOutdoor can guide you in acquiring your Florida hunting license. In addition, lunch and refreshments may be provided depending on your package. However, you may want to bring light snacks and a water bottle.

Once you've bagged your trophy Whitetail, it will be cleaned and waiting for you to take home, so a cooler is recommended. Rental guns are available. Deer hunting in Florida is controlled by our State-regulated hunting seasons, specifically for bow, muzzleloader, and rifle/handgun; please keep these important dates in mind when booking your trip.
Pricing & Availability
Pricing and availability are a function of region, type of hunt, number of participants, etc. iOutdoor will help you select a hunt that is perfect for your needs and budget. Additionally, we offer Hog hunts, Alligator hunts, Quail hunts, Turkey hunts, and Duck hunts.
Call us now, and start making your Deer Hunting adventure possible! 1-888-412-1117!