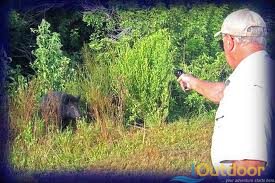 Hog hunting is one of the most exhilarating and challenging animals to hunt. These animals are mean and don't take "No" for an answer! Wild Boar/Hogs are considered a dangerous game in Florida; therefore, it is imperative that you hunt with one of the iOutdoor experienced guides to ensure the safety of you and your party during your hunt. Florida's wild scrub habitat is perfect for the wild hog to thrive. With a population of over half a million feral hogs in the state, there is plenty of game to bag!
The Florida wild boar (feral hog) is considered a trespassing animal and is not managed by the state of Florida. There are many ways to take the hog to the promised land: handgun, rifle, bow… and you can catch them by hand with dogs! Hog hunting with dogs has proven to be the most effective way of making a successful kill.
The Adrenaline Rush Of A Lifetime
First, a Hog stand is chosen on higher ground. This vantage offers a wild boar hog hunter a clear view, then a shot at a passing hog. Secondly, another guide and the dogs will enter the woods at a considerable distance in front of the hunters in an attempt to drive a wild boar hog towards the hunters in the stand. Many times, the dogs will usually bay up the hog before it even reaches the hunters!
The sound of yelping dogs and the squeals of the hog will raise the hair on the back of your neck! No worries, the dogs are typically dressed in their own armored flack vest to protect against the hog's dangerous tusks and are trained to hold the hog at bay. Once the dogs have the hog at bay, the hunter can carefully take aim and fire! Another trophy hog bites the dust!
Boar hunting is allowed year-round, so let's start your trip now! 1-888-412-1117
Wild Hogs
The wild hog (sus scrofa) is also known as the wild pig, feral pig, wild swine, or wild boars.
The Problem
After Texas, Florida has the second-highest wild hog population in the United States, with over 500,000 wild pigs roaming around the sunshine state.
Today, the wild hog is considered the most destructive invasive animal in the country, causing the greatest wildlife challenge the country faces in the 21st century. Wild hogs cause over $2.5 billion in damage every year, according to the US Department of Agriculture.
The Florida hog can trash watersheds, attack livestock, destroy crops, spread disease, and terrorize residents. They are extremely smart, fast, and aggressive, which makes them tricky to control but adds to the excitement to hunting hogs.
Native and Current Range
Florida wild boars are native to much of North Africa and Eurasia. However, today about half of the wild hog population lives in the southern United States. Currently, the state of Texas is the most affected, with over two million feral hogs roaming around.
Florida Origin
Wild boars are not native to Florida but have been here for a long time, with resident populations existing for hundreds of years here. The wild hog is believed to have been in Florida since the 16th century. The Spanish explorer Hernando de Soto had a herd of hogs with him when his ships landed in 1539 in Florida.
Florida Distribution
Today, many of the pigs that had escaped captivity established feral populations throughout the state and can be found in all 67 counties.
Habitat
The Florida hog can be found in various habitats but tends to prefer oak-cabbage palm hammocks, pine flatwoods, freshwater marshes and sloughs, and more open agricultural areas.
Behavior and Diet
The Florida wild hog typically travels alone or in small family groups called a sounder. They eat various animals and plants and feed by rooting with their wide snouts. They often disturb the ground cover vegetation and soil, leaving the area looking like it's been plowed.
Lifespan and Growth
The wild hog can reach weights exceeding 150 pounds and measure 5 to 6 feet in length. A trophy boar is any hog weighing 200 pounds or more on the hoof.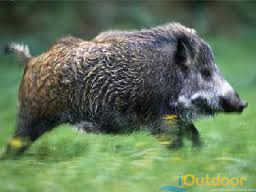 Florida Wild Hog Hunting
Wild boar hunting trips are one of the most adventurous activities someone can partake in while in Florida, and the sunshine state is the perfect place to experience this with its large numbers of hogs. The hog is the second most popular big game species hunted in Florida.
Wild hogs can be found in every part of the state, from north to south Florida; people can enjoy a hog hunt in all 67 counties.
Enjoy Florida hog hunting year-round with NO hunting license!
Season and Permits To Hunt Wild Hogs
Year-Round Option
The state law permits hunters to kill as many Florida hogs as they care to, regardless of size or sex. Ethical hunting is allowed throughout the year without a permit or hunting license with any legal-to-own weapon and permission from the landowner on private property.
Seasonal WMA Option
The Florida Wildlife Conservation Commission (FWC) offers opportunities in the late spring and summer for wild hog hunting across the state on wildlife management areas (WMAs). Most of these WMA hog hunt areas don't require a quota permit for the spring or summer; however, some do, so it's best to review the WMA regulations for a specific area of interest.
A hunting license is not required for feral hog hunting at a WMA, but a management area permit is needed.
Edibility
One of the best parts about wild hog hunting is getting that delicious meat afterward. The meat from your hog hunt is all yours for you and your family to enjoy. Wild hog meat is considered to be even tastier than ordinary pigs pork because of its lean body.
Hog Hunting Tours
Who Should Do These Tours
The short answer is everyone! Everyone should experience hunting hogs in the wild. The adventure and experience can benefit most people by learning skills and about nature, creating memories, and meaningful bonding moments that will last a lifetime. Your professional guide is here to help first-time hunters, kids, and families, as well as assist experienced hunters in getting the ultimate thrill and improving their skills.
Time Of Day
The Florida hog is usually most active during the early morning or late evening. However, they may be just as active during the middle of the daytime, searching for food during the winter months. Overall, day time hunts will usually take place in the early morning or late afternoon in order to provide the highest and best opportunity for success.
Hunting Styles
There are many different techniques and weapons that can be used to hunt trophy boars and meat hogs in Florida, but the most common styles are Tree standing and swamp Buggy hunts. Other popular methods are the use of thermal nightspots and hog hunting with dogs. Your trips can be customized based on your wants and needs since there are so many ways of doing this.
Trip Lengths
Clients can choose between a half-day hunt, with the option of a morning or afternoon hunt or a full-day hog hunt.
What's Included
The type of hog hunting trip package booked will determine the itinerary and specifics of the trip. Generally, hog hunting trips will include a local professional guide, transportation, and cleaning of harvested wild boars. Processing and packaging of your meat hog can be arranged with a local processor.
Why iOutdoors?

Our hunting guides are chosen for their experience, percentage of successful hunts, c