August Destin Offshore Fishing
August is the month and time of year to come to explore what Destin, Florida has to offer. Destin is the ULTIMATE Florida fishing destination with an abundance to offer you. When you are planning your visit to Florida this month, make sure you keep in mind what you can experience on an August Destin offshore fishing charter.
Destin is located along the Emerald Coast of Florida in the Panhandles. Tucked away and hidden from the rest of the state, you can find some of the BEST beaches in Florida. Along with the beautiful scenery, you can also experience some of the most productive offshore fishing especially in the month of August. They aren't known to be the Luckiest Fishing Village for no reason and iOutdoor can show you what they are all about.
When you are looking for an awesome outdoor activity to substitute your vacation stay on the beach, hop on board one of our offshore fishing vessels. You will have the opportunity to cruise through the Gulf of Mexico to local fishing grounds for large tasty catches. If you love to catch-and-cook while you are traveling and on vacation, this is the perfect opportunity to do so.
August starts one of the best seasons to come fishing in Destin, Florida. Destin Offshore Fishing action picks up strong for Trigger Fish and Amber Jack. Now until October 31st you can catch and harvest an Amberjack. Make sure you check and are familiar with all the FWC rules and regulations before harvesting them. Our local expert offshore fishing captains know all the information you will need in order to have a successful day on the water.
Knowledge is power and leads to success when it comes to offshore fishing. Our professional captains have years of experience catching the offshore species you are after. They will take you out to the closest fishing grounds and best spots in Destin. You can reach highly productive waters within 10 miles of the shore. The best spots are between 4-10 miles.
When you are traveling offshore, make sure you find your sweet zone between 60-90 feet of water. The big amberjacks and triggerfish are holding on the bottom within these depths. Large wrecks, reefs, and barges will produce the best bite. These fish need structure to live and feed. If you are looking for big fish make sure you set up on the largest wreck you can find and throw big baits.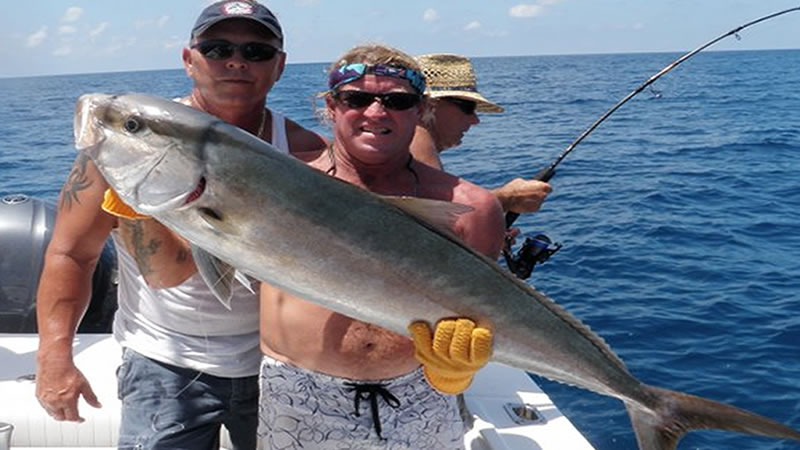 Bottom Fishing in the Gulf of Mexico is the only way to go. It happens to be the best method in catching the Amberjack and Trigger Fish. When in search for a large triggerfish, make sure you throw on some cut bait on a chicken rig and put it on the bottom. This will entice a quick bite, so be ready to reel them in.
Amber jacks are a fun fish to catch. Their size and strength will have you fighting like no other. If you are looking to catch a big Amberjack make sure you put on some big baits. Live bait happens to be the most effective method especially if you use Blue Runners or Pin Fish. Hook them onto a Knocker or Carolina rig and get ready for that fight you have been waiting for.
After reeling in one of these awesome fish, make sure you grab a cold drink to keep yourself hydrated in the summer sun here in Florida. Once your fishing adventure and charter are done make sure you give your captain plenty of time to clean your catch. August Destin Offshore Fishing will provide a thrill worth remembering and repeating again.
Come enjoy a day on the water while reeling in some BIG fish with Captain Wayne Alexander. Amberjacks are some of the strongest fighting saltwater species. Triggerfish and Amberjack both are incredibly delicious fish to cook up and eat. There is nothing like getting off the water and either having a local restaurant cook up your catch.
Don't miss out on your August Destin Offshore Fishing Charter next time visiting Florida's Panhandle. You won't regret a day of fishing or early morning on the water. You can squeeze in a quick trip to the local reef and then hit the beach right after. Let's get you hooked up and we most certainly look forward to fishing with you next time on the water!!
Your Adventure Starts Today while Visiting Destin.
If you enjoyed this post about Saltwater Fishing, you might also enjoy our Fishing Blogs.
Don't forget to follow us on Facebook, YouTube, Twitter, and Instagram.