The Ultimate Disney World Resort for Outdoorsmen
One of the most popular family bucket list items is planning a trip to Walt Disney World. While "The Most Magical Place on Earth" has a strong princess vibe within the parks, families are ditching Main Street U.S.A. in favor of finding more unique outdoor adventures at the resorts!
Even in the depth of winter, Orlando sports mild weather with afternoons calling for short sleeves before layering up at nightfall. The resulting climate presents countless opportunities to get outside for some fresh air, and of course, get in a little fishing while the rest of the country is still waiting for their season to roll around!
Fort Wilderness Campgrounds, a Favorite of Outdoor Enthusiasts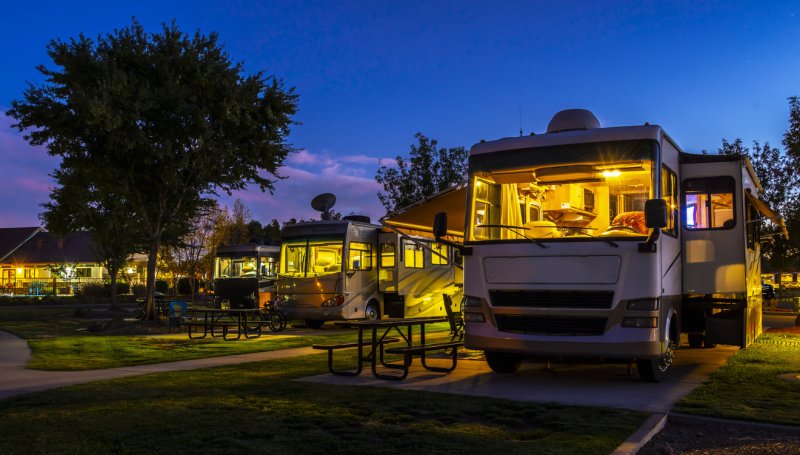 Today, we're discussing the Fort Wilderness Campground, which has become a favorite Disney World resort among outdoorsmen and their families. With a huge variety of recreational opportunities, Fort Wilderness has become a destination worthy of a trip unto itself.
In fact, RV sites book quickly in winter months due to snowbirds spending sometimes weeks at a time at their luxurious sites. Those in the RV community that book longer stays will sometimes decorate their rig and surrounding site during the holidays. Christmas lights and inflatable lawn decor create a neighborhood vibe within the resort.
Disney's Fort Wilderness Atmosphere
The Fort Wilderness Resort & Campground is a sprawling campus with several types of accommodations. Stays can include tent camping or more of a "glamping" experience in their cabins. Lobby areas, shops, and recreational buildings are designed to resemble rustic log cabins of the storied American frontier.
The resort is far more secluded than many of its counterparts. Which makes it far more likely to encounter local wildlife. Guests may see deer, armadillos, rabbits, ducks, and other Florida waterfowl.
Navigating the Fort Wilderness Transportation System
Disney World covers over 42 square miles. While bringing or renting your own vehicle can be helpful, it's not necessary. Disney World has its own elaborate transportation network.
Disney's Internal Bus System
One of the most reliable- and free- forms of transportation within the Disney World Resort (which includes the theme parks, the hotels, and Disney Springs) is its very own bus system.
Bus stops are scattered throughout Fort Wilderness at walkable intervals, where buses whisk you away to main buildings or to theme parks like Magic Kingdom, EPCOT, Hollywood Studios, and Animal Kingdom.
Boat Transportation to Magic Kingdom
A fun and unique way to travel to Disney's Magic Kingdom is via a complimentary water taxi from Fort Wilderness. Boats depart every 15 to 30 minutes, hitting a handful of resorts along the edge of the Seven Seas Lagoon and Bay Lake.
Golf Cart Rental
Golf cart transportation is one of the keys to zipping around Fort Wilderness without waiting on bus transportation. You'll find most attractions within the resort will offer parking for golf carts but not other motorized vehicles.
Electric golf carts are offered to guests for $63 per night and include the charger. Rentals are available to licensed drivers, 16 years and up.
Rideshare Programs
Guests are able to take advantage of ridesharing programs like Uber and Lyft to travel between parks and also to locations off the property. Local excursions like those provided by iOutdoors meet off-site to enjoy private fishing charters across area lakes!
Types of Accommodations Available at Disney's Fort Wilderness
Fort Wilderness has perhaps the most diverse array of accommodations available to guests. Depending on how you like to camp, you have the luxury to "choose your own adventure" when booking your stay!
Tent Camping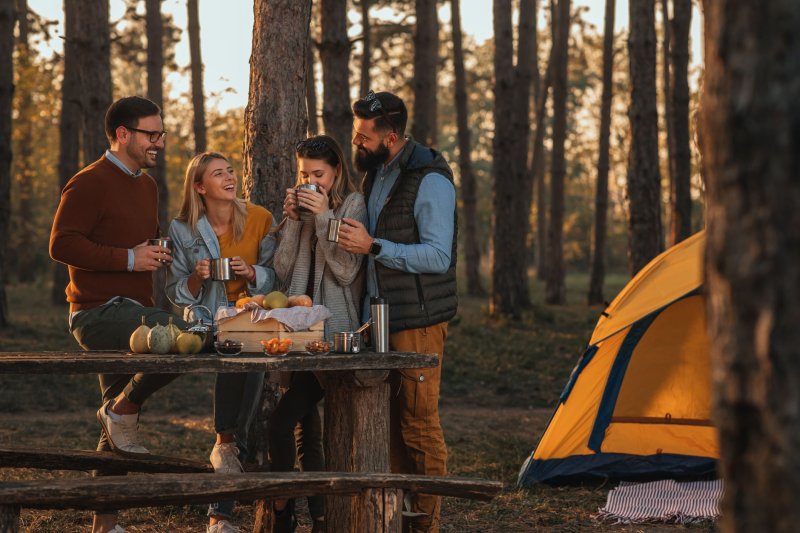 Sites for tents and pop-up campers come with a concrete pad of about 10' x 25' with the tent area just beyond. Sites also have potable water and both 30- and 50-amp hookups. If you are bringing a pop-up camper, just make sure both your camper and tow vehicle fit on the concrete pad. For mealtimes, each site also has a charcoal grill and picnic table alongside each pad.
The policy on tent rentals can vary depending on the resort's occupancy, with rentals usually being reserved for parties of 20 or more. Tent rentals can run $30 per night, so on a longer stay, it may be better to either ship your own or pick up one in town before hitting the campsite.
RV Campsites
Fort Wilderness has some of the most well-manicured sites you'll ever see. We'd expect nothing less from The Mouse, himself. Full hookups are available, including water, sewer, and access to both 30- and 50-amp hookups.
The pads measure 45, 50, or 60 feet long, with terms like preferred and premium denoting sites in close proximity to different amenities across the resort. We prefer a "Premium Meadow" site that's close to the main building with access to the hub of bus transportation.
The Cabins at Fort Wilderness Resort
Perhaps you have a glamper in the family that's happy to be landing at Disney World, yet they're not all-in on a rustic camping experience. The Cabins at Fort Wilderness Resort offer amenities that you won't find elsewhere like granite countertops, flat-screen televisions, and full kitchens including a dishwasher.
Each cabin has its own charcoal grill, picnic area, and deck to enjoy your morning coffee. Fort Wilderness is also the only resort with complimentary parking, with dedicated spots directly in front of each unit.
The resort's sprawl provides a little extra privacy from your neighbors and plenty of room for the entire family to stretch out. Queen beds, bunk beds, and a sleeper couch can accommodate up to 6 adults.
Amenities and Facilities Found at Disney's Fort Wilderness
Resort guests staying in tent and RV sites have access to clean and safe restrooms and shower areas at 15 different "Comfort Stations" throughout the resort. Many RVers choose to get cleaned up inside their rig, but many may opt for unlimited hot water.
Recreation at Disney's Fort Wilderness
Disney's Fort Wilderness Resort is seen as an oasis in the Disney bubble. While there are certainly Disney touches, life seems to move at a slower pace here. People come here to relax, whereas other resorts on property cater to the go-go-go crowd that's more concerned with park-going and perhaps looking more for a place to rest their heads.
Boat Rentals

If relaxing to you looks like getting out on the water, Disney's Fort Wilderness Resorts has several options to enjoy! For some motorized cruising, Disney offers Sun Tracker pontoon boats, which seat up to 10 guests.
If you are looking to explore the inland waterways at a slower pace, you and your family can rent a canoe by the hour, which can accommodate up to 3 people. Kayaks are also available for rent, which can seat up to 2 adults.
Disney does not allow guests to bring personal watercraft for use on their waterways. Rentals are available to those 18 years of age and older, with all guests 12 required to wear a lifejacket.
Fishing
If you're up before the sun, you can make your way out to the Bike Barn for some dockside fishing. Gear rental is available, as well as bait. Shore fishing is not permitted around the waterways due to safety issues. Dock fishers will usually find catches like breen and decent-sized bass.
If you are intent on sailing Bay Lake, you can also charter a fishing excursion through Disney. Bay Lake is usually stocked with largemouth bass, although it seems catfish have found their way into the area as well.
As a quick reminder, all fishing on Disney property is strictly catch and release.
If you don't mind a trip off property, you can treat yourself to a first-class fishing experience chartered by iOutdoor. Local area lakes are known for trophy largemouth bass. With access to both Atlantic and Gulf coastlines, you can create a truly memorable vacation when fishing for game-like grouper, snapper, mahi-mahi, redfish, and swordfish.

Archery
Families can take their best shot with a bow and arrow during a 75-minute archery experience. Staff trainers provide individualized lessons to guests 7 and older. Classes are small, with only 10 guests allowed at a time. After receiving instruction, resort guests can let their arrows fly during target practice.
All materials for the class are supplied, as Disney does not permit guests to bring their own archery equipment on site.
Bike Rentals
Disney does allow you to bring your own bicycle; however, if you're arriving by airplane, you may want to visit the Bike Barn for some new wheels! Guests can pedal their way around the resort, taking in the fresh air, local wildlife, and breathtaking scenery. As a quick reminder, Florida law requires the use of a bicycle helmet for anyone under 16 years of age.