A Hunter's Guide to The Best Waterfowl Shotguns 
We tested three waterfowl shotguns at different price points and found the Franchi Affinity 3 to be the best overall value.
As a life-long hunter, I know the importance of picking out the right gear. Once you're in your blind, you want to have confidence in the tools you've surrounded yourself with. That's why I've compiled this waterfowl hunting shotgun buyer's guide.
My favorite – the Affinity 3 – is inertia-operated, helping it shoot clean for more extended periods. The shotgun is a great shooter that's easy to aim and always ready to go.
Of course, each hunter has their preferences. We've considered all these and compiled this waterfowl hunting shotgun buyer's guide. Keep reading to learn more!

Waterfowl Hunting Shotgun Buyer's Guide 
When choosing the right waterfowl shotgun, a buyer must consider multiple aspects. While some features are simply a preference, some will significantly impact the performance of your shotgun. 
Let's take a look at some of these features.
Gas vs. Inertia: What are the Advantages?                                                                                                                        
This hotly debated topic has raged in gun circles for years. Let's start by looking at how the two systems operate.
Gas-operated shotguns bleed off gas after your shot, moving the bolt toward the back of the gun and ejecting the spent shell. The following shell is loaded when the bolt returns forward.
Inertia-driven guns hold their bolt place by a spring. When you pull the trigger, the charge from the shotshell overwhelms that spring, forcing the bolt backward. The shell is then ejected, and the bolt returns forward, loading the next shell.
Gas-operated shotguns can outperform inertia guns at lower temperatures. Bulky winter layers can keep the buttstock of inertia-operated guns from properly recoiling, which is needed to cycle the shell. 
Alternatively, inertia-operated guns require less maintenance as they do not give off gas upon firing. In many cases, inertia guns can go a year or longer without cleaning.
How to Choose Your Shotgun Gauge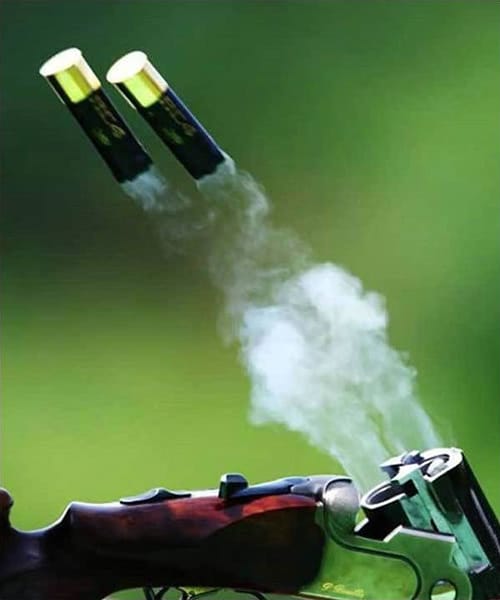 The most common shotgun gauges are 12 and 20-gauge. The smaller the gauge number, the larger the shotgun bore. A 12-gauge shotgun is traditionally for hunting as it gives you the most power from the furthest distance, which is a crucial factor when hunting waterfowl.
There are times when a smaller gauge is desirable. That's due to their corresponding shotguns being lighter in weight and providing less recoil. If you're strictly shooting clays, a younger shooter just starting, or an experienced hunter dealing with poor shoulders, a smaller gauge could be your best option. 
Gauge sizes are not interchangeable in the same shotgun. 
Your Choke Options 
Chokes are interchangeable tubes threaded into a shotgun's barrel. These are popular with fowl hunters and competitive shooters because the size of the choke can improve the range and accuracy of a gun.
The three most common choke sizes are improved cylinder, modified, and full. For waterfowl, a modified choke performs best as an all-around choice, while an improved cylinder is best for closer range, and full is most effective for pass shooting.  
The Importance of Weight and Barrel Length 
You'll be shooting at waterfowl from longer distances. Longer barrels, generally 28 inches, will help even your swing. A smooth swing can be the difference between your limit and coming home empty-handed.
Most waterfowl shotguns will have 28 or 30-inch barrels. Some manufactures produce smaller barrels, but 26-inch is as small as you'll want. Anything less will render your muzzle too light. Additionally, shorter barrels are extremely loud. 
Extra weight from your shotgun can help absorb the recoil from the action. Considering that you'll generally have the shotgun stowed or over your shoulder, the excess weight shouldn't bog down your hunt. The optimal weight for waterfowl shotguns is between seven and eight pounds.
Function Over Fashion: Consider the Stock and Finish 
Synthetic stocks are the best option for waterfowl shotguns. Your gun will be exposed to all the elements, and this will be messy. Between mud, rocks, and all your modes of transportation, you want your shotgun to quickly clean up. Wood isn't going to hold up to these conditions. Instead, synthetic stocks will always be an easy-to-clean option. 
Though the bluing finish has a long tradition in waterfowl shotguns, matte and camo finishes are now easy to find and beneficial to the hunter. You want every edge possible while hunting and nothing should catch the eye of ducks you're working. Stick to flat, neutral finishes. 
Waterfowl Shotgun Reviews
We tried three different models of waterfowl shotguns to find the best guns for any hunter.
This versatile, inertia-operated shotgun shoots well, swings with ease, and feels perfect on your shoulder. With a 50% recoil reduction, you get all the inertia benefits without the sore shoulders because the Franchi Affinity is built with parent company Benelli's high-performance action.
The Affinity is a 12-gauge and has a 28-inch barrel along with a 3-inch chamber. It comes with three standard chokes and has an oversized bolt handle and bolt release. Stock adjustment shims come with the shotgun to customize your length of pull. Those interested in using slugs will enjoy the gun's capacity to attach scope mounts.
The lightweight synthetic body and slim frame make for an easy point of aim. Additionally, the gun has a red fiber-optic front bead near the vent rib barrel. Its aluminum receiver is drilled and tapped.
Franchi has been a trusted name in firearms for years, but now that their parent company is high-end gun manufacturer Benelli, the value in craftsmanship makes the Affinity 3 a steal based on the price. Some guns do certain things better, but you'd be hard-pressed to find one that does everything as well as the Affinity.
Pros
Ideal weight and length of the barrel

Great fit on the shoulder

Fifty percent recoil reduction
Cons
Not the best option for light target loads

Initially stiff trigger
On the cheaper end of the inertia-operated spectrum is the CZ-USA 1012. This shotgun has been put through its paces and revealed itself to be a sturdy workhorse. The 1012 was put through 5,000 rounds without oil or cleaning during testing and experienced no malfunctions. 
All 1012 models come in 12-­gauge with 3-­inch chambers. The barrel is 28-­inch with 8mm flat ribs, and the shotgun has a single white bead and five extended choke tubes. The layout features a bolt release button on the right side, a shell drop lever on the right front of the trigger guard, and cross-bolt safety.
The shotgun also features an hourglass-­shaped bolt handle. Unlike inertia guns with a C-­shaped bolt handle, the CZ design is lighter and easier to grasp and control. It also pulls free from the bolt easier during disassembly.
From low recoil target rounds to 3-inch magnum loads, the CZ-USA can handle your needs from the shooting range to the blinds. This reliability is made all the more enticing by the agreeable price tag. You won't find any more bang for your buck than with the CZ-USA 1012.
Pros
Approachable price point for an inertia-operated shotgun

Quick, predictable trigger

Durable and can take a beating
Cons
Extremely lightweight

Chokes from a third-party manufacturer
Beretta A400 Xtreme Plus – Best Gas-Operated Shotgun 
As the priciest shotgun we tested, the Beretta A400 Xtreme Plus is our "buy once cry once" option. The initial price tag should be tempered by the expectation that this gun will last a lifetime – and might be something you pass down through your family one day.
The A400 is a 3 ½ inch chamber, 12-gauge, gas-operated waterfowl hunter's dream. Just one shot reveals that this is one of the softest 12-gauges you'll ever experience. The softness is partly due to their Kick-Off3 system, which offers a spring-loaded steel rod in the grip of the stock, which helps to buffer the bolt movement. That, coupled with rubber recoil pads on the buttstock, helps mitigate the action. 
Though gas-operated Beretta's have taken a hit in the past for being difficult to clean, the A400 line is much easier to maintain. The barrel and gas pistons easily slide out, and the bolt assembly disassembles by depressing the rotating bolt head. 
The A400 has a three-spring hydraulic system in its stock that softens its recoil. With a cycling time clocking in 36% faster than competitors and highly accurate patterning, this waterfowl hunting shotgun is a great shooter. With this type of accuracy, there are no holes for fowl to maneuver through. Covering your target all but guarantees a kill. 
Pros
Three-spring hydraulic system softens recoil

High level of accuracy

Fast cycling
Cons
Cycle issues with lighter loads

High price point 
Parting Shot 
The Franchi Affinity 3 comes out on top of our waterfowl hunting shotgun shopper's guide. This Italian-crafted shotgun is a versatile and rugged option that shoots cleanly and accurately.  
The Franchi Affinity 3 comes from a company that values quality and craftsmanship. There is no overstating the importance of how a gun feels. You feel that quality the moment it hits your shoulder.