Wahoo can be caught year-round along Florida's Atlantic coast from Amelia Island to Key West. However, July and August full moons are the best times to target Wahoo in Florida, at least on the east coast of Florida. Like most other fish species, the structure, water movement, and season are important to consider when targeting Wahoo. When all three of these conditions align, it will happen favorably, and you will be sure to load your fish box.
Many anglers are successful in July and August, around the full moon, which is 100% due to water movement. During July and August, the moon is the closest to South Florida. Due to this, the full moon will produce the two most prominent tide swings along the east coast of Florida during the entire year. Large tide swings have very favorable currents, enabling wahoos to feed.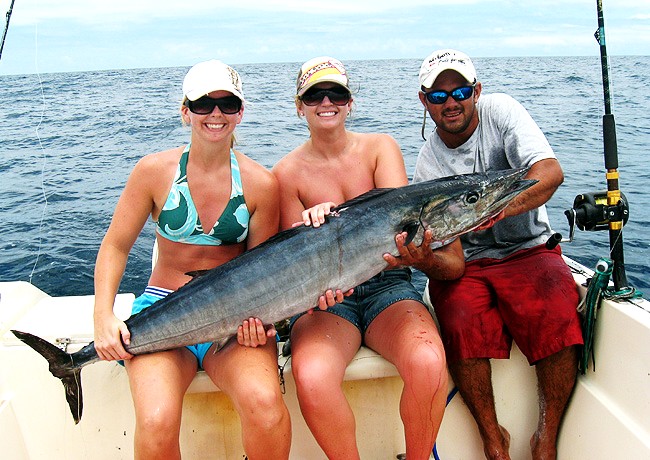 Wahoo Fishing Charters
Wahoos are lovely fish that can sometimes be very elusive. They possess excellent eyesight, great camouflage significant talents but are often finicky. Wahoos average around 20-50 lbs on the east coast except for small fish; they usually find underwater debris. They are caught in Kite fishing, trolling, and vertical jigging, among other methods. The varied techniques depend on time and place and the weight and form of the fish.
If you are interested in a specific fishing charter, we highly suggest you plan to book a more extended charter, like an 8 hour, because of the amount of trolling and areas that need to be covered.
Top Wahoo Fishing Locations
Wahoo is an impressive pelagic fish found in a variety of waters. They swim from the coastlines of the Islands in the Caribbean and all around Florida. You can hook these streamlined speedsters in plenty of destinations. They inhabit tropical and subtropical waters, which reach 600 feet from the ocean's surface.
Below, we've listed 5 of the top prolific spots around Florida. Of course, the fish swims in so many others, but here are places we have had great success catching Wahoo. Visiting one of these destinations increases your odds of having a pretty good Wahoo encounter!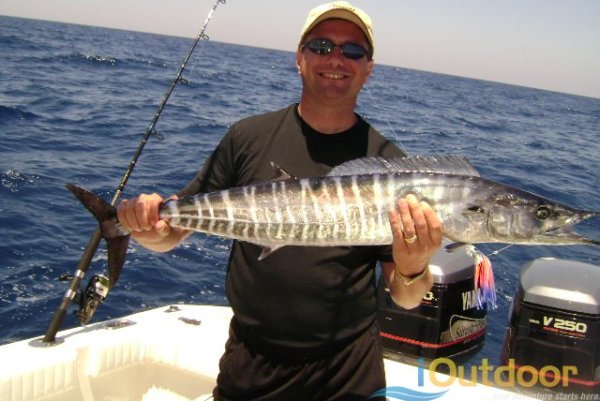 1) Wahoo Fishing in Key West
Anglers fish for wahoo in the Florida Keys because the meat has an exquisite taste; at least to most, it seems different. This fish reaches speeds up to 80 mph and is the fastest fish in the ocean, especially when attacking baitfish. Wahoos in the Keys can reach weights pushing 100lbs. But the average caught fish has just over 30 lbs. It spends much of its life within the deeper dark blue waters of the Gulf Stream Ocean.
Wahoo fishing season in Key West
The Wahoo may be caught in the Summer Time at sea in the cooler water of the open ocean. From November until February, the water temperature becomes perfect for this available sea predator in the winter months. It appears to be the most enjoyable on both sides of the full moon during the December months. Wahoo and many other fish species can be caught at Key West anytime throughout the year, but in December, only one week in either direction is the best time to encounter the Wahoo in the Florida Keys. The Winter is the best action for Wahoo because the water is warmer, and fish migrate south.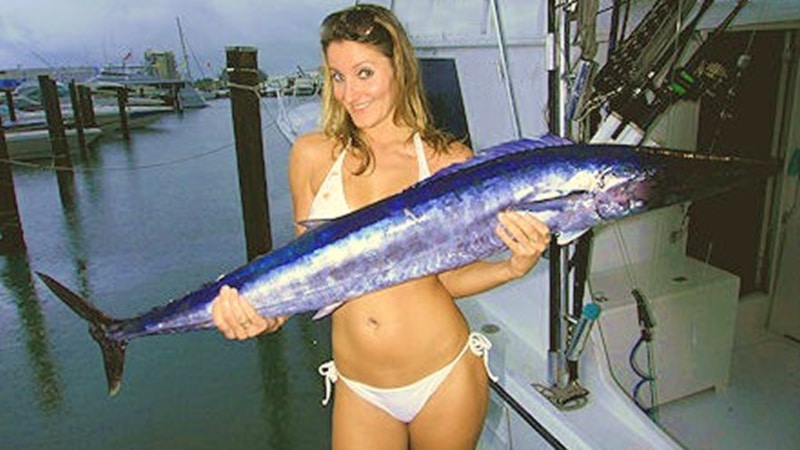 2) Fishing in Miami for Wahoo
Florida's Atlantic Coast is at times saturated with Wahoo up and down the coast. The migration travels South to North, and when in Miami, they are plentiful. Miami's city port provides direct access to the Gulf Stream, a deep water channel less than 3 miles offshore. These warm waters are home to many pelagic fish who call these waters home! Although the species is found all year, the best angling action usually occurs from early spring into late summer.
3) Wahoo Fishing in Biloxi
Not always known for its abundance of deepsea fishing, these deep drops offshore of the coast is home to big Wahoo and have become a hotspot. It provides the structure, current, and oasis these fish love to flock to! Even better, they live here all year, sticking close to deepwater rigs and structures anywhere from 10–30 miles from shore. However, the hottest times to cast your line are January through March.
4) Wahoo Fishing in Stuart
Fishing out of the St. Lucie Inlet in Stuart, Florida, is like all ports; it can sometimes be hit or miss. In Stuart, the season is less consistent but available all year round.
The best time of the year can be argumentative; most people would say the summer months of July, August, and September to target Wahoo. But at times, the Winter, October through February, can be impressive. Most Wahoos during the Winter are a bi-catch of fishing for sailfish. If you desire to catch Wahoo during the Winter months, be sure to specify when booking the charter so the crew and make the proper adjustments to target just Wahoo.
During the summer months, high-speed trolling baits and lures are the most effective targeting the Wahoo because they love to ambush its prey, look for them to be hiding around and structure, are down on ledges so they and quickly surprise its next victim. The average weight of a Wahoo caught in Stuart this time of the year is around 25lbs, but it's not uncommon to catch a 45lb plus.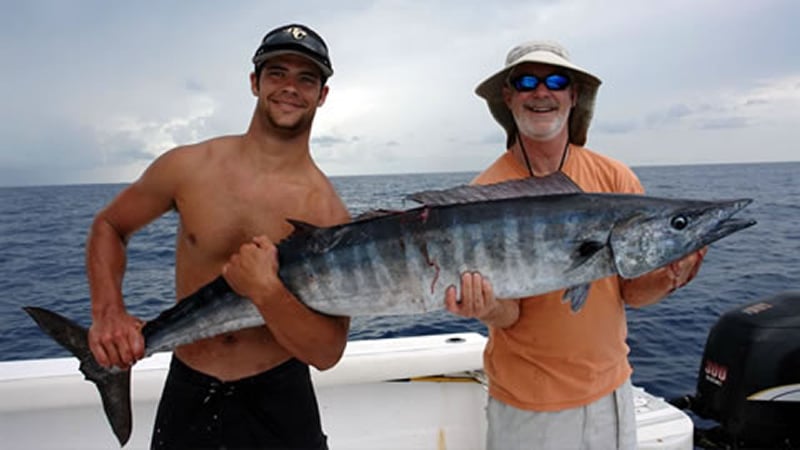 5) Catch Wahoo in St Augustine
Northeast Florida is known for its deepwater ledges off Jacksonville and St. Augustine coast, approxally 70 miles out, and prime hangout for large Wahoo. This migration of big Wahoo seems to show up between February and March and is fishable for Wahoo from January and April.
Generally, the time of the year when high-speed trolling for Wahoo works. Keep trolling once the fish are located, and the first hookup happens. It's essential to use 50 series reels or larger ones to hold plenty of fishing lines.
The most success comes from rigging your trolling lines with a sinker. You want to try and keep your lines about 25 to 30 feet below the surface. It has proven that Wahoo like bright colors, and for that reason, a combination of purple and silver and red and black work most all year. This area has one of the largest averages of Wahoo, almost all coming from the ledges. The average size is 40 pounds, and it's common to encounter fish in the 90-pound range during the season regularly.
Although you have an occasional by-catch of dolphin, blackfin tuna, you will know when the Wahoo hits without any dought.
Wahoo in the United States
In general, the Wahoo population is plentiful in the Pacific Ocean, Atlantic, and the Gulf of Mexico. All these waters provide ample Wahoo fishing opportunities throughout the USA, and the about are some of highlighted best destinations.
How do I Target Wahoo in Florida?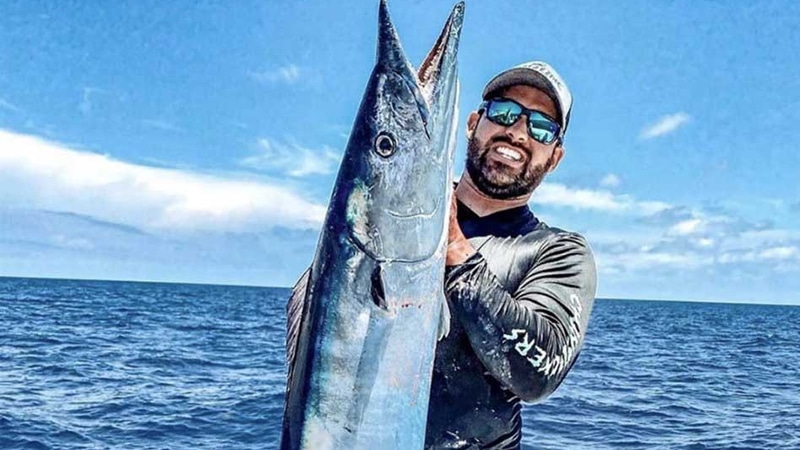 We have discussed lures to this point, but you can also slow troll with live bait, live blue runners, goggle-eye, mullet, and juvenile bonito. Live baits should be set up using a double hook rig, also known as a stinger hook.
If considering this method, be sure to load up on Spanish sardines, pilchards, ballyhoo, threadfins, and head offshore looking for a ledge, weed-line, rip current, anything to create a color change in the water. Generally, start fishing in about 180 to 400 feet of water; when doing this, it also helps to chum the waters. You can chum with dead bait or live baits, consistently placing a hooked similar-sized bait as an additional weapon behind the boat.
When Wahoo sense the chum smell, they will instinctively swim right under the boat to be caught by sight casting to them. When fishing in the mornings, you should expect a line on the water up to 35 minutes before sunrise. The morning bite usually lasts for about 2 hours during the sun rising.
What is the Florida Wahoo Spread?
Start by trolling for Wahoo, using small and medium-sized lures, especially in South Florida. Try using six-lure spread out equally. Try placing the Wahoo lures out 150, 250, and 350 feet on the port side and 200, 300, and 450 feet on starboard. In winds and waves, the farther the lures are fed-out, the slows it sinks, and then it speeds up again after cresting the wave. By using six lures, they cover different parts of the ledge at different speeds and depths.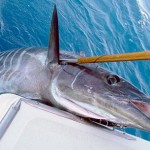 High Speed Trolling Wahoo Lures
Each lure uses the highest quality materials available. The industry has extensively selected and supplied the best accessories and wood, including shellings and screws. Most Wahoo fishing products intend it to last fishing for the rugged, sharp toothfish species. Unlike some other lures on the market, most Wahoo lure companies use high-quality industrial-grade urethane. As a result,