Florida Hunting:
Florida boasts an unbelievable diversity of regions and game species, guaranteed to offer fantastic hunting adventures! Deer, Hogs, Turkey, Quail, Iguana, and of course, Alligators! Every season of the year is hunting season in Florida!
Florida also has private preserve hunting where the exotic game can be hunted such as Asian Water Buffalo (River and Swamp), Manchurian Sika Deer, Blackbuck Antelope, Watusi Bulls, Wildebeest, Eland, Aoudad, Scimitar Horned Oryx, Gemsbok, Addax, American Bison, Corsican Rams, Hawaiian Rams, Texas Dall Sheep, Angora Goats, Fallow Deer, Whitetail Deer, Axis Deer, and Waterbuck.
From the forests of the Florida Panhandle to the cypress swamps of southwest Florida, there is an abundance of exciting hunting opportunities in the Sunshine State.
Hunting in Florida can bring you endless fun and adventures with all the options available, whether deer, gator, turkey, or hog hunting.
Or help save our precious land while getting the ultimate Florida hunting outdoor adventure without having to get a Florida hunting license when you target the fast and invasive green iguana!
Just call us at 1-888-412-1117, and let's start planning the Hunting trip you want in Florida.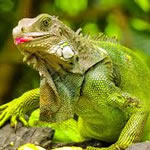 We are a professional guide service offering the best Iguana hunting trips in Florida.
There is no better way for a hunter to get an authentic Florida hunting experience than to hunt a green iguana. These trips allow you to help save the environment from invasive species while getting the ultimate outdoor adventure in the sunshine state. Iguanas are fun for all ages and experience levels to target, and they are edible!
Many times the best places to target this species are near some of the best fisheries making customizable combo fishing and hunting trips almost always possible. Get the whole exotic species adventure fishing for peacocks or another exotic half the day and hunting iguanas the other half.
Because iguanas are comfortable on both water and land, hunters can find them sprawled out in the muck or out in the sun. Iguana season in Florida is open all year, and often an all … Read more…
Who's ready for a challenge! Try bagging a genuine free-range Osceola Turkey out in the Florida wild. The Osceola turkey has become one of the most sought-after game species in the state of Florida because this unique bird cannot be found anywhere else in the world except the Florida peninsula. For this reason, turkey hunting has become one of the more popular Florida hunting trips with out-of-state hunters.
Turkeys are considered the most challenging North American game to hunt for a good reason. Instinctively turkeys are on the watch, always wary of their surroundings and constantly keeping their ear to the ground for approaching predators … Read more…
Florida's long-time traditional sport hunt for all Southern Gentlemen is Quail hunting. Hear the pointing dogs bark as they rush towards a field of birds, soon to create a whirlwind of wings. Quail hunting can be experienced year-round in Florida but is best enjoyed in the fall. Enjoy a top-notch wildlife experience hunting for quails with a knowledgeable guide and highly trained hunting dogs… Read more…
Hog hunting in Florida is one of the most exhilarating and challenging animals to hunt. These animals are mean and don't take "No" for an answer! Wild Boar/Hogs are considered a dangerous game in Florida; therefore, it is imperative that you hunt with one of the iOutdoor experienced guides to ensure the safety of you and your party during your hunt… Read more…

Whitetail deer hunting in Florida is a thrilling adventure! Whitetail deer roam the piney woods of the Panhandle to the swamplands of the Everglades to the scrubland of Central Florida. Successful state-wide management efforts have revitalized Whitetail populations to exceeding 700,000! The daily bag limit in Florida is two deer and deer hunting seasons for general gun use, archery season, and crossbow season vary per zone… Read more…
Pure darkness surrounds you; the only light seen is from the boat that guides you slowly through the murky waters. The only sounds that hunters can hear are the frogs chirping from the grass. Alligator hunting is right up there, with iguana hunting providing the ultimate Florida hunting experience.
Something is lurking in the darkness. Suddenly, a giant splash! Get ready for the ultimate adrenaline rush! Alligator hunting!…Read more…
The Hunting Experience
There's no better place to find more year-round hunting opportunities than the sunshine state. Get an authentic outdoor experience becoming one with nature. Your professional guide is a local expert who knows this area better than anyone, always finding new and better spots year after year to provide the best experience when hunting in Florida.
The tropical and subtropical climate in Florida makes for a challenging but exciting hunt any time of the year. White-tailed deer and wild hogs are generally the most commonly hunted