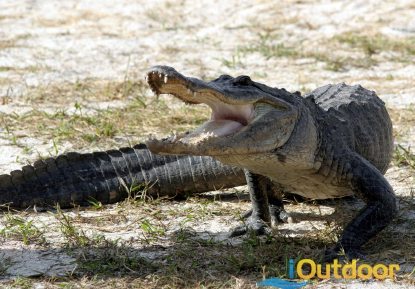 One of the most exciting and dangerous Gator hunting expeditions is alligator hunting, a sport popular in the state of Florida. The state has gained recognition as a model program for the sustainable use of a particular natural resource. This is because of its statewide alligator harvest program.
The first thing you need to do before hunting alligators is to check the requirements, that the state has for the sport. Although you will not need a Florida hunting license. You are required to have an Alligator trapping license and appropriate tags. Each permit allows the holder to hunt for a maximum of two alligators.
If you are not familiar with the layout of the area where you plan to go hunting for alligator, it is best to hire a professional guide. This would not only ensure that you'll be able to find where the alligators stay. But it will also keep you in a safer position in this dangerous hunt. Check if the gator hunting guide has the necessary safety equipment. Many of the guides also help the hunters process the necessary permits and rent out swamp boats.
Alligators may be hunted using a rifle, gun, bow or trap. However, the most preferred equipment is a rifle that can shoot the alligator from long ranges. A gun or a rifle also allows for more humane killing of the alligators.
Can we hunt alligators in Florida?
Because it spans across millions of acres of land across Florida. There were specific parts of Florida that allow alligators to be hunted. However, gator hunting is not allowed out of many City and State Parks. The State parks aim to be a safe haven for all different animals, including raccoons, birds, alligators, fish and more.
At the end of the trip, you'll receive the best souvenir: alligator hide to display at home or convert to clothing accessories plus alligator meat to share with friends and family back home.