Florida Iguana Hunting Tours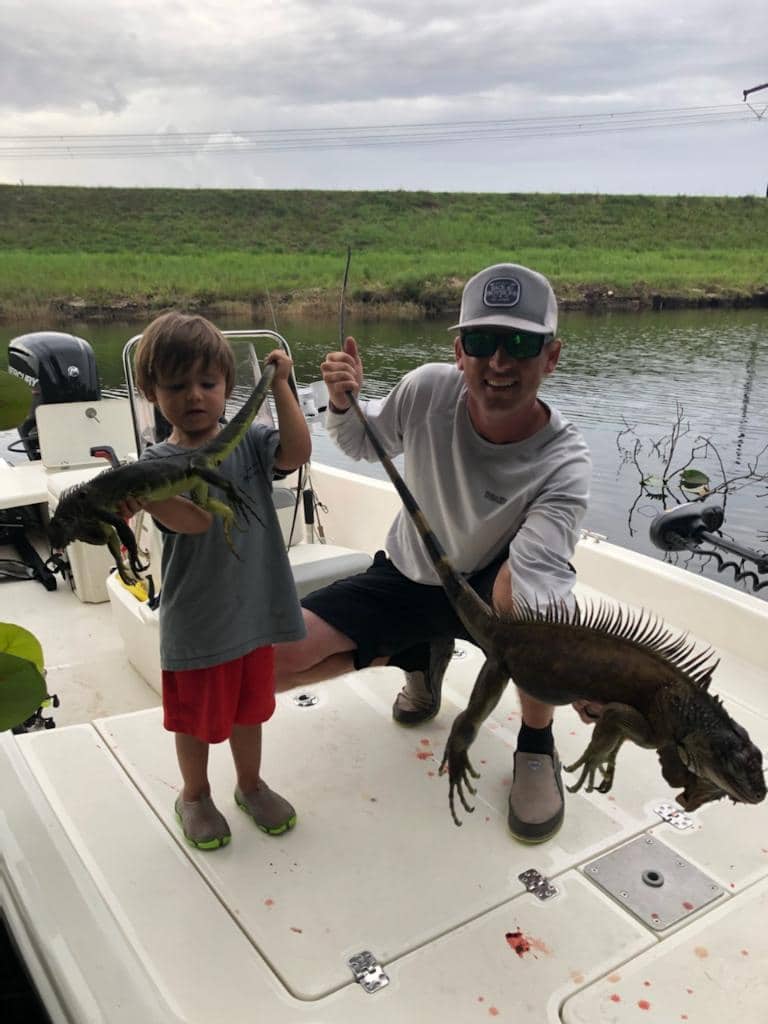 iOutdoor is a professional guide service that has brought you top-notch hunting and fishing tours for over 20 years and is now offering an all-inclusive guided trip hunting iguanas. Join your local professional guide to get this exciting outdoor experience safely removing iguanas from our delicate land.
Iguana hunting tours are something everyone can experience, whether you're a seasoned hunter or a novice.
Iguana hunting in Florida is best done with guides who know the hunting grounds better than anyone. Our iguana hunting guides are local outdoorsmen and professionals working to control green iguana populations as well as provide you with an adventure of a lifetime!
Our iguana hunts are done efficiently and have an extremely high success rate. Book today to experience an incredible hunt and a memorable outdoor experience.
Hunting Invasive Species Rules
Similar to all nonnative reptile species, the green iguanas in the sunshine state are not protected except by anti-cruelty law. Locals and visitors are allowed to humanely kill green iguanas year-round without a hunting license or permit on 25 public areas in South Florida. In addition, you are allowed to kill iguanas on private property with permission from the land or homeowners.
Although the local Florida Fish and Wildlife Conservation Commission states that people can kill green iguanas year-round, they shouldn't go around shooting these animals randomly or haphazardly. Instead, it's best to seek assistance from professional guides who do this for a living.
Edibility
Many people enjoy eating green iguanas, stating that it tastes similar to the gator, which many say tastes similar to chicken. Green iguanas have even earned the official nickname "chicken of the trees" for this reason.
Hunting iguanas and eating their meat is a cultural practice for many South and Central American countries. Green iguanas have very nutritious meat with high levels of protein; in fact, the iguana is relatively lean meat but contains more protein than chicken. Popular cooking methods include drying, roasting, boiling, skewers, or deep frying.
Tour Details
Your professional guide will come with top-of-the-line quality equipment and a lifetime of knowledge to provide a fun and educational outdoor experience.
Hunt Blow Gun
Starting @ Up to 4 People
Hunt with Bow
Starting @ Up to 4 People
Hunt High Powered Air Rifles
Starting @ Up to 4 People
Combo Trips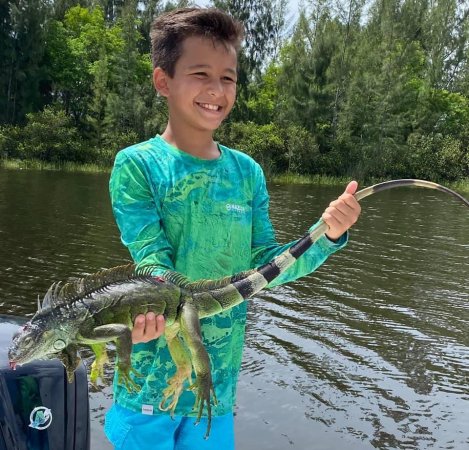 Florida iguana hunting trips can be customized to your wants and needs. Combine our most popular fishing trips with an iguana adventure. For example, when you book an iguana tour, you can choose to hunt iguana the entire time or fish for the exotic peacock bass for a few hours, then hunt the remaining time.
So get the ultimate e