Blue Lagoon Fishing Charters
Miami, Florida may be one of the best places in Florida to travel to. This destination is absolutely stunning and can offer you an incredible amount of things to do. One of the best parts about exploring Miami is the rich and dense culture and exotic lifestyles. If you want to get exotic, hop on board for a Blue Lagoon fishing charter that will make your vacation something magical.
The exotic peacock bass is one of the best freshwater species to catch here in Florida. When visiting Miami, the urban canals and freshwater lakes await you. Our local experts can show you around Miami and get you on the most colorful species you have ever caught. Peacock bass are hard-fighting and are the perfect fit for beginners or young kids to get hooked on fishing. One of the keys to having a successful day on the water is having a local expert guiding you on your adventure!
Captain Robert Miley is one of the best guides you can have. Living in Miami for many years and fishing these waters on a daily basis has allowed him to key on locations and get you on the fish faster. If you can be patient, you can potentially land a trophy peacock bass when fishing with Captain Miley. He is very consistent at putting some big bass in the boat.
Check out what you can experience:
Dave was traveling to Miami on vacation from New Jersey. While here, he wanted to catch exotic peacock bass. For most people that love to fish, this species is on their bucket list. Also, many do not realize that they don't have to travel to South America to accomplish that goal. Right here in South Florida, you can have the time of your life catching quality peacock bass.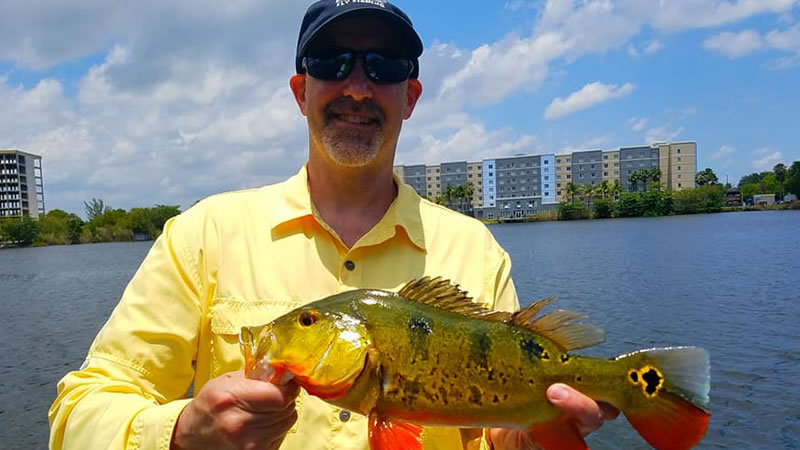 Dave explored Miami's Airport Lakes or Blue Lagoon for a quick 4-hour fishing charter in the morning. During the summer months, the peacock bass is very active in the morning as the water stays warm. Dave landed 10 bass in his quick fishing trip. He helped Captain Miley find some new areas holding quality bass, especially with one just shy 4-pounds.
Dave had a great time and this was his first adventure here in Florida. Next, he was headed to the Florida Keys to land the legendary Silver King! Captain Miley is looking forward to getting back on the water with Dave again on his next vacation.
Just shortly after this fishing trip, Captain Miley was back on the water in the Blue Lagoon. Ryan, Toni, and Braylynn were a wonderful family traveling from Washington on vacation here in Florida. Ryan wanted to get his daughter on an exotic peacock bass and Captain Miley made it happen. Before traveling to Key West for his brother's wedding, they had to capitalize on this adventure.
For most travelers, catching a peacock bass is a bucket list item. There is just something about hooking into a freshwater species that puts up a fight like a saltwater species. Ryan, Toni, and Braylynn caught 10 quality peacock bass in their quick 4-hour fishing trip. A weather front rolled through slowing the bite down a little bit but they still managed to catch peacock bass up to 4 pounds.
The rainy season is here and the water is rising to make getting through bridges tough. They constantly fluctuate the levels of the water making fishing unpredictable. Captain Miley knows all the spots to get his customers on the bass! Ryan, Toni, and Braylynn had a great time fishing and are looking forward to their next adventure soon!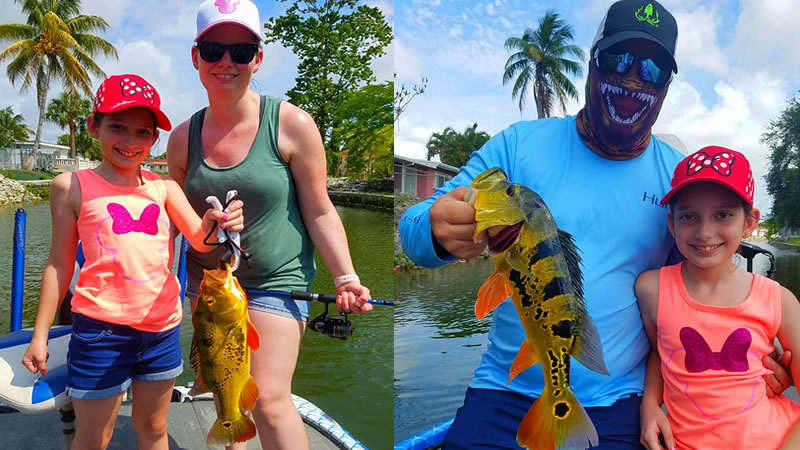 Miami peacock bass fishing is one amazing way to spend time in the outdoors. You have many options when it comes to fisheries and techniques to catch Florida bass. Every trip is unique and special for your needs. Our local experts strive to make this a great moment for your family and friends. If you are looking to explore Miami on your next vacation, peacock bass fishing is the way to go. We look forward to seeing you on the water next time!
Your Adventure Starts Today while Visiting Florida.
If you enjoyed this post about Florida Fishing, you might also enjoy our Fishing Blogs.
Don't forget to follow us on Facebook, YouTube, Twitter and Instagram.