Variety Miami Fishing Charter
Miami, FL is one of the best locations to explore a freshwater fishing trip. The fishing is amazing all year round. Families, friends, and loved ones can all experience something truly unique. You will not be disappointed in a variety Miami fishing charter while traveling to Florida. Hop on board with one of our local experts.
Our local experts are highly knowledgeable of the fishing in Miami. They have been on the water for many years searching and making sure they provide you with a great time. Captain Kirk Osborne and Captain Robert Miley will show you the best time on the water. When you are done with fishing, you will feel like you have learned something that you can apply back home!
Captain Kirk Osborne had the pleasure of fishing with a great family. Steve, Mark, Chris, and Cole were vacationing here in South Florida looking for nice outdoor activity. When you are visiting Miami, peacock bass fishing is a great way to bond with friends or family. These gentlemen adventured out on a quick 4-hour fishing trip on the Miami International Airport Lakes.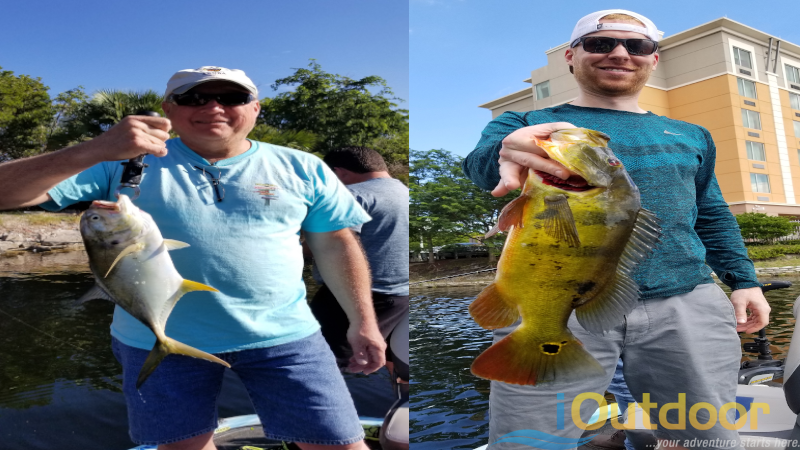 It surely was an action-packed trip that led everyone with satisfaction and an itch for more. One of the cool parts about fishing this destination is that you can catch some big bass and a variety of other species. These guys put some nice numbers and quality peacock bass in the boat. Along with the bass, they also caught a Jack crevalle. They are looking forward to getting back on the water in the near future!
Captain Kirk is excited to see them back and get them on more fish!
Just shortly after this awesome fishing trip, Captain Robert Miley adventured out on the Aerojet Canal System. Captain Miley had the pleasure of fishing with Durwin and his wife Stacey. They were traveling to Florida on vacation from Louisiana. In the search for a different environment, a 4-hour fishing adventure for peacock bass was the perfect fit.
The Aerojet Canals are coming alive with a variety of species that you can catch. Durwin and Stacey caught numbers of quality peacock bass. The best catch of the day was 6 pounds with a silver body and stripe down its side. Stacey was ecstatic to catch a Snook while fishing in freshwater. It was a great trip for them according to Captain Miley.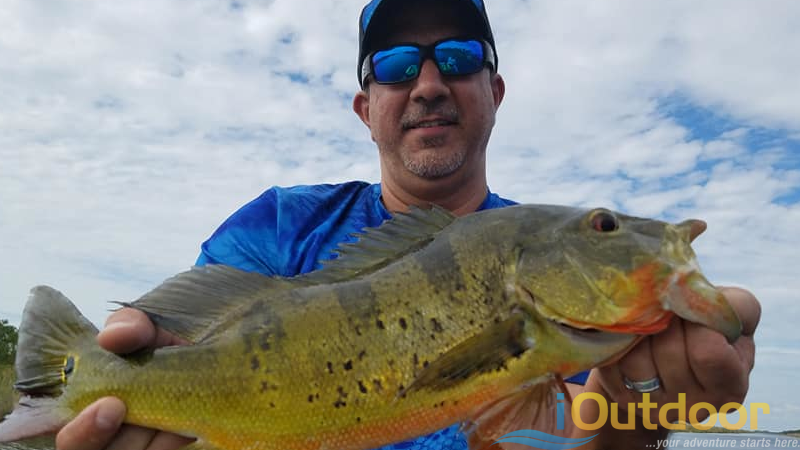 Conditions were calm all trip long. As the charter was about to end, the wind picked up. Miami is one of the best spots to go freshwater fishing as you just never know what is going to bite the end of your line. Durwin and Stacey are looking forward to traveling back to Florida for more of this incredible fishing action.
Don't miss out on your adventure next time visiting Florida. Every day you can explore something new and exciting. The outdoors is a great last-minute holiday gift or just the perfect way to bond with the family. Let's get you hooked up on these exotics down here in Miami, FL or any of our freshwater locations nearby.
Your Adventure Starts Today while Visiting Florida.
If you enjoyed this post about Florida Fishing, you might also enjoy our Fishing Blogs.
Don't forget to follow us on Facebook, YouTube, Twitter and Instagram.