Family Inshore Fishing Experience
Family Fishing is one of the BEST ways to bond. When you are traveling to Florida, make sure you discover all this state has to offer. A Family Inshore Fishing Experience in New Smyrna Beach, FL can provide you everything you are looking for. Whether you are after that trophy fish or just a great time, we have you covered. Hop on board with our local experts to get a true feel of North Florida.
Our local and professional experts in New Smyrna Beach, FL have years of experience. They spend hours and days on the water making sure that when you adventure out, you have the best time possible. Captain Brad Kayholm will be your local expert for inshore fishing. If you are looking to catch a Redfish in this area, there is no one better than him.
Here is what your family can experience when fishing in New Smyrna:
Captain Brad's Family Fishing Experience
"My brother, Jeff, who I don't get to see often, stayed an extra day to explore what New Smyrna Inshore Fishing had to offer. It was going to be a quick trip before they had to head home. When you don't have much time, getting out during first light is essential.
I had not been out in a few days so we wanted to hit some spots to see what was happening. The first spot was not very productive with a few catfish eating up the baits. After several catches, it was time to move onto another location. When you explore New Smyrna Fishing, you are after that trophy fish. Sail cats may be fun to reel in but not our desired species. My 6-year-old nephew
Brindle from Pennsylvania caught his biggest fish ever. It was a sail cat. He loved the battle and gave him a lot of joy. It is moments like this that make for a great day of fishing. Of course, he wanted to take a photo with his fish. Grandpa Rick was waiting on the front of the boat. Grandpa says "Brindle, don't drop that it will poke you" and then what happens, it slips out of his little hands and stabs Grandpa in the leg. The timing was absolutely perfect and quite hilarious. So with bloodshed and a numb leg, we moved on.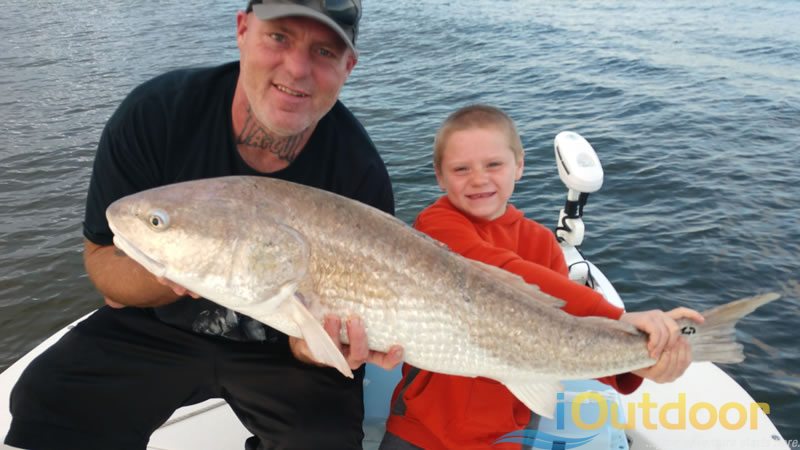 Next spot the bite was on. We finally found what we were looking for. One of the magical parts about fishing here in New Smyrna Beach is the abundance of fish. You can catch a wide variety of species. Ultimately, when you fish on my vessel, we are after a bull redfish.
It was an absolutely fantastic day on the water. My brother and Brindle were in heaven landing 4 out of 6 over 40″ redfish. After the bite slowed I wanted to check a spot where we caught drum a year ago.
After 15 minutes of no bites I said "It was to warm still and they just have not moved in quite yet." Well, as a fishing Captain, I should have known to be more patient. Just shortly after, a school of Black Drum moved in and was red hot for about 25 minutes. We landed multiple Black Drum. It was an exciting bite with several double hook-ups along with missed strikes and encounters. Just as fast as it started, it turned right off.
Young kids are by far the hardest to please. As time was approaching to head in, Brindle kept saying how much he wanted to catch a redfish. I had an idea on where some might be with these conditions and timing. In just a few minutes, the drag started screaming.
After a strong and long battle, Brindles wish was granted. He caught his first Redfish. Another impressive moment was how he handled the fish all by himself, especially at the age of 6. It seems like he may be a natural fisherman, traits that definitely came from me, not my brother Jeff. I mentioned this to my family and we all got a good laugh in.
Brindle was absolutely fascinated with the shape and characteristics of the fish. We threw on a pair of sunglasses on the fish to style him up. Jeff landed another redfish and it was time to head in.
It is always a rewarding experience to have all your family on board and to explore some of the best inshore fishing in the state. There truly is nothing like this and moments like these are the ones our family doesn't forget.
One of my goals as a fishing captain is to provide you with this experience. To help get your family addicted on the pursuit of catching fish. It would be my dream to be part of this and hope to get the chance to see you on the water soon. Whether you are after that trophy fish or looking to just spend some quality time on the water reeling in fish, New Smyrna Beach, FL is the perfect destination!"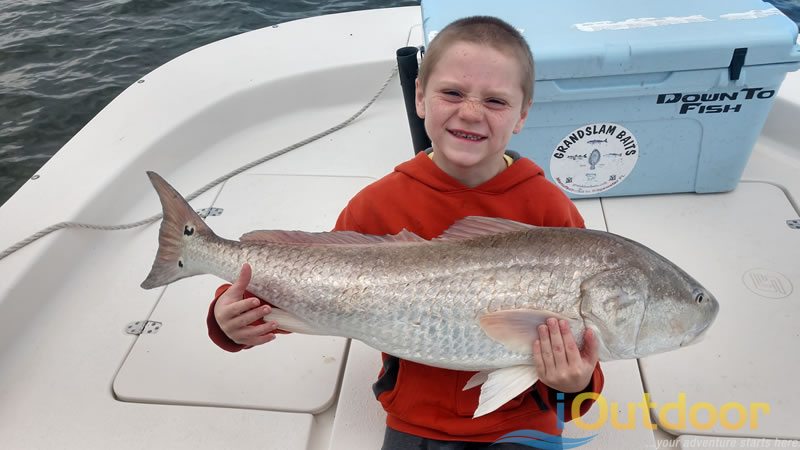 Don't miss out on your adventure in North Florida. Saltwater fishing and especially Florida Inshore Fishing is an experience worth adventuring on. You will not only be on the fish all trip long, you will get to enjoy nature and the Florida sun in a safe fashion. Our charters are unique and different from all the rest. Our professional and local experts will show you an experience like no other. We look forward to seeing you on the water next time!
Your Adventure Starts Today while Visiting Florida.
If you enjoyed this post about Florida Fishing, you might also enjoy our Fishing Blogs.
Don't forget to follow us on Facebook, YouTube, Twitter and Instagram.