The sunny shores and inland lakes & canals of Miami have long been attracting people from around the globe. The beautiful wildlife and fishing opportunities of this coastal city are unparalleled. For more than 10,000 years, it has been a haven for civilizations, and a wide variety of fish species.
Read on to learn more about the different kinds of fishes in Miami and the types of fishing you can enjoy.
Species of Fish You Can Catch in Miami, FL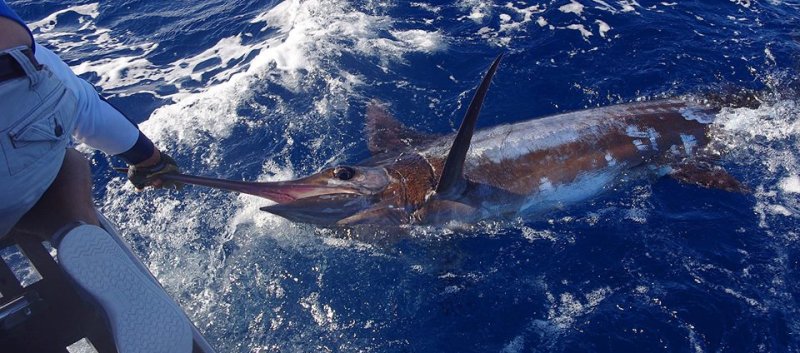 Tarpon
One of the favorites of sports fishermen, you can find tarpons in Miami Biscayne Bay and the Stiltsville flats depending on the time of year.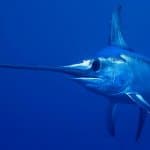 Swordfish
Swordfish are also available in Miami. While they are not very common, they do live in depths from 1,000 to 1,500 feet. You can hire a Miami fishing charter to bait them.

Sailfish
Sailfish is another prize fish, related to swordfish and marlin, found in Miami. They're found in the drop-off between 90 and 200 feet and are prevalent on the coasts.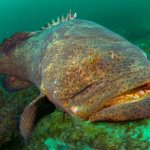 Grouper
There are several species of grouper you can find in Miami. You can find them inshore at the depth of 15 feet.

Peacock Bass
Peacock Bass can be found in Dade county lakes and especially Miami airport lakes. Blue Lagoon Lake also has a few access points at the casting distance of Peacock Bass.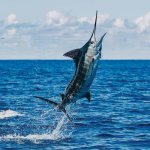 Blue Marlin Fish
The Blue Marlin is another species of the billfish family found in the warm waters of the Atlantic near Miami. Experts suggest to catch them around the full moon in the Gulf Stream.
Kingfish
Deep-water Kingfish are hard to find even by experienced anglers. Big Kingfish are pinnacle in shallow water. Deep-sea fishing is the best way for catching them. They are also found while reef fishing.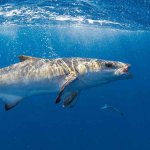 Cobia
Cobia are found both inshore and offshore in deep or shallow waters. In Winters they move inshore.
Blackfin Tuna
It can be found trolling offshore at depths from 150′ to 500′. Blackfin Tuna is especially prized for its meat.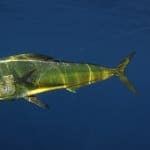 Mahi Mahi
Mahi Mahi is found in the summer months offshore. A great technique for catching these is throwing bait in the water.
Best Fishing Spots in Miami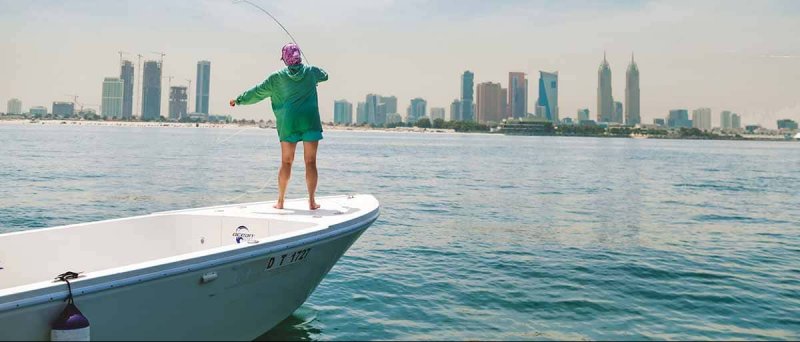 While every local fisherman has their favorite spots to set the boat ramp and throw line, there are some popular choices due to accessibility and the amount of fishes available. Look into local piers and fishing charters as well to get the full scope of Miami fishing options.
Biscayne Bay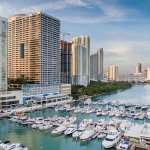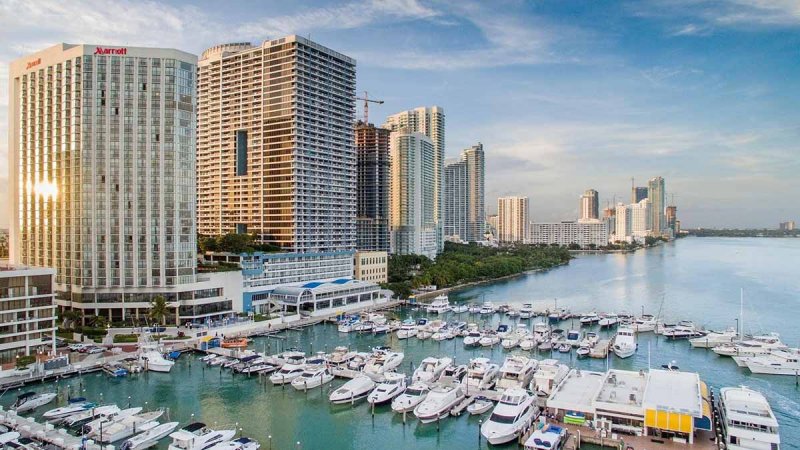 Some people consider Biscayne Bay to be a fisherman's paradise. It is home to many sports fishes, including bonefish, permit, and snook.
Its shallow inshore fishing conditions offer a lot of opportunities for fishers. It encompasses a space from North Miami to Key Largo, with a total area of 428 square miles. 270 acres are reserved as protected under Biscayne National Park. This creates many beautiful, natural vistas to appreciate.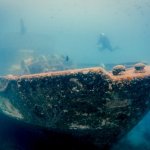 O.L. Bodenhamer Wreck
This sunken Liberty ship is an artificial reef that is brimming with life. It is a bit "off the radar," and it is among the hundreds of wrecks in the Miami area, although further from the shore than many other wrecks. It is located at a depth of around 400 feet. This WWII relic is home to many different kinds of fish. Bigger game fish like tuna, mahi-mahi, and sailfish all hunt around the wreck. Goliath Grouper, snapper, and amberjack live in the wreck.
Gulf Stream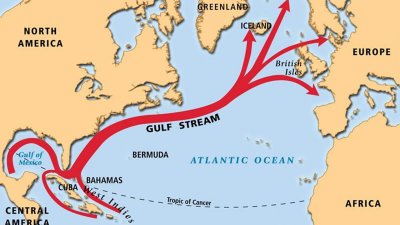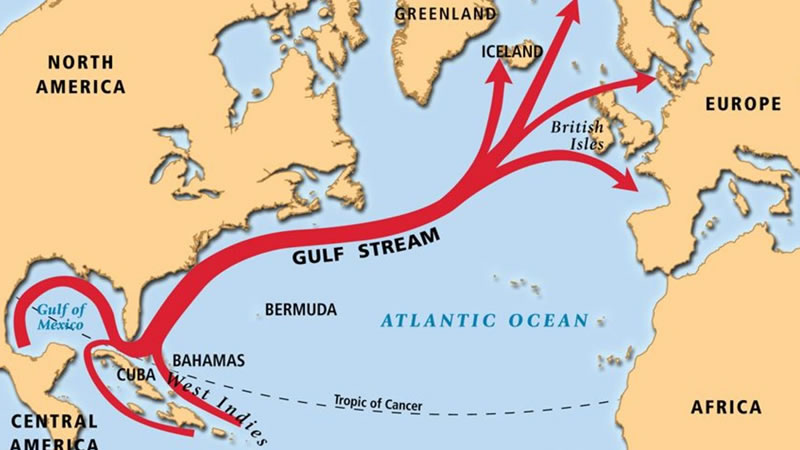 The rich blue waters of the Gulfstream make fishing almost easy. It flows in a three-mile path from Miami to Miami Beach. The waters are abundant in food source for species such as plankton and have fish eggs and crab larvae. Find small predators like blue runners, goggle eyes, scads, and jacks. There are also larger predators like Tuna, Bluefin, Wahoo, Red Snapper, Sailfish, Mahi-Mahi, Mark, Swordfish, and Spanish mackerel, even sharks.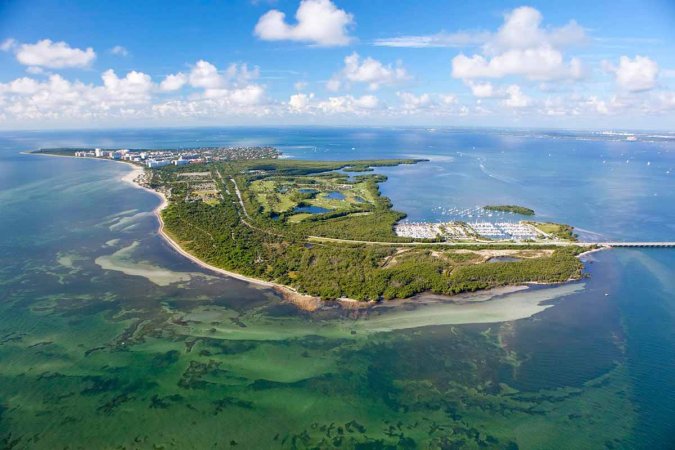 Key Biscayne – Island Paradise
A trip to the Miami area isn't complete without stopping in Key Biscayne. It is only a 15-minute drive from downtown Miami, but Key Biscayne feels a world apart from the city.
This tiny island is home to 2 state parks, palm-tree-fringed beaches, bike paths, restaurants, and golf courses. You can catch Snook, Tarpon, Mahi-Mahi, Sailfish, and more species.
Types of Fishing to try in Miami
There are many types of fishing to try in Miami. Whether you're looking for a specific type of fish or locale, here's list of some popular option for you.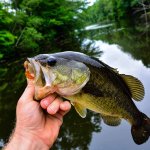 Bass Fishing
Bass fishing in Miami is fun and exciting! You can charter a boat to go after the various non native and native species of small and largemouth bass species, or you can explore the freshwater lakes. Spring and fall are typically the best time for bass fishing, but they are available all year.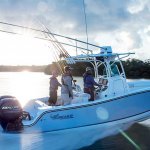 Inshore Fishing
With many lakes and canals are available locally, you have many opportunities for a great catch with inshore fishing. Inshore fishing means less time traveling and more time fishing!
Offshore fishing
Want something adventurous? Offshore fishing charters let you explore the ocean like never before and can give you your life's best fishing trip experience.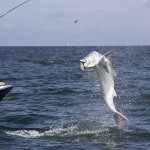 Tarpon Spots
The warm climate of Miami produces ideal opportunities for catching Tarpon, which is one of the most popular species. You will be able to find them near bridges, especially while fishing inshore. Try fishing for them at night or in the late afternoon.
Kayak Fishing
For a unique and budget-friendly fishing trip, try kayak fishings. It gives you a unique opportunity of being positioned closer to the fish in the boat. Be sure to double-check the weather before you go out!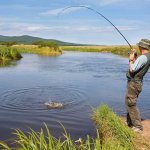 Spots Fishing
Many anglers prize their favorite spots. If you ask one, they will tell you where their ideal spot is. There are many local guides that give you maps of the best seasonal spots.
Kite Fishing
It is gaining popularity in Miami waters to reel in species like tuna, marlin and sailfish. For anglers looking to try their hand at something different for bringing in the fish, kite fishing in Miami is exactly what you need.
When to Visit Miami

Miami is beautiful to visit any time of year. Certain species are most active in the summer, while others are migratory and there in spring or winter. Hurricane season is from May to November, while the "snowbird" season is from October to April.
Famous tourist destinations in South Florida (Miami)

South Beach is a draw for its exciting nightlife and warm Atlantic waters. Many festivals, events, and concerts are happening all year-round. For animal lovers, the Zoo Miami has a great variety of well-kept animals. You can watch exciting sports games, with teams such as The Marlins, Heat, Panthers, or even the college games. For shoppers, the Miami shopping experience is a unique and once-in-a-lifetime experience. You can find lots of souvenirs to take with you as memories. If you want to escape the hustle-bustle of the city, you can visit Everglades, a serene tranquil beauty one-hour drive away from City!
Why you Choose iOutdoor Fishing Charters in Miami
The fishing options in Miami are endless. But until you've experienced a thrilling and successful fishing trips with a local expert, you haven't experienced Miami fishing at its finest.
Let us help you with that! We have fishing license and coolest fishing charters in the region. Join us on a spree of a lifetime, iOutdoors will find the most unique fishing spots for you so that you have a great time in our Miami fishing charter. Our guides will also let you know bag limits of species so that your trip is sustainable yet an adventurous one. Come join us for a experience of a lifetime! Book now!
Don't forget to follow us on Facebook, YouTube, Twitter, and Instagram.