2020 Miami Beach Fishing Charters
Miami, Florida, one of the world's top travel and vacation destinations and for great reasons. When looking to spend some time in the sunshine and warm weather, there is no place like south Florida. Endless beaches, gorgeous views, and outdoor activities can keep you coming back year after year. 2020 Miami Beach Fishing can really enhance your experience while visiting this top and our favorite Florida destination.
One of the many reasons that travelers explore Miami, FL is the beaches and the nightlife. You truly can't get bored while visiting. Whether you want to kick back and enjoy the sandy beaches or walk along the boardwalk of South Beach, you will always have something to do.
Sporting events such as the 2020 Super Bowl will draw down visitors from across the world to come party in Miami. Before, after, or during your party experience, be sure to get outdoors and explore the fishing. Get back in the calm waters of Miami Biscayne Bay while setting the hook into a variety of inshore species. Bring all your buddies out on a Deep Sea Fishing trip with all your buddies in search for the biggest fish of your life. Also, don't count out catching the hard-fighting exotic species in the freshwater canal and lake systems in this beautiful destination.
When visiting be sure to take a break and hop on board a fishing charter to get the full Miami experience. Miami Beach Fishing is one of the best ways to explore what Miami truly has to offer. Every species that you can catch in Florida can be found in the waters of Miami. From Sailfish to Tarpon to Bass, all year round you can land some incredible catches!
Fishing Miami Beach
2020 Miami Beach Fishing charters highlight some of the best fishing to be had. Our local experts have years of experience getting travelers on the catch of a lifetime. Every day you can be on the water catching something different with a variety of techniques.
Let's break down each charter to give you an understanding of where to start:
Deep Sea Fishing Miami Beach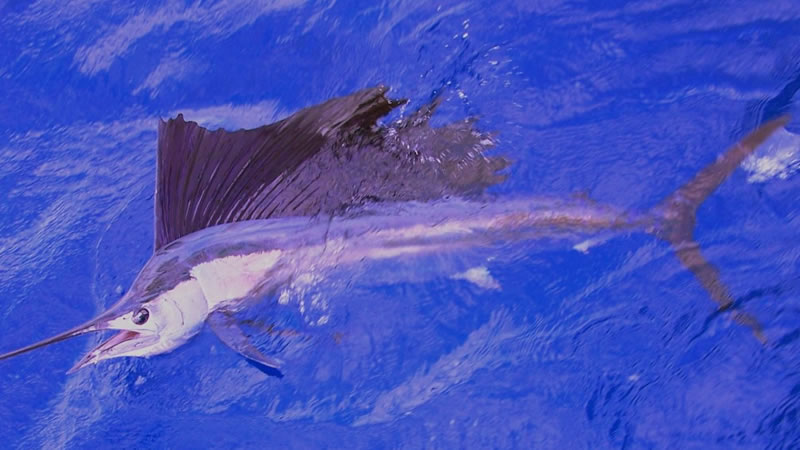 Are you looking for the best private fishing experience with a group of friends or family? Miami Deep Sea Fishing is the best way to get out on the water with a larger party of up to 6 people. Hop onboard our spacious fishing vessels and head out of Bayside Marketplace for an unforgettable fishing adventure out of Government Cut.
When selecting deep sea fishing, you have two options for vessels: sportfishing (cabin) or open fisherman (center console). The fishing will ultimately be the same but selecting the right boat for your needs is important. If you want A/C and luxury, selecting a cabin or sportfishing vessel is the best route. If you want the full fishing experience, soak in the sun the whole trip, and save some money, the open fisherman would be the best way to go on a 2020 Miami Beach Fishing.
Best Techniques for Deep Sea Fishing in Miami Beach?
The best technique for deep sea fishing in Miami Beach is using live bait. Whether slow or "bump" trolling live bait or presenting it on a kite, live bait will attract the best fishing experience. All species can be caught using live bait, especially when you get in the right area. The most common catch with live bait is Sailfish and other billfish.
Our local experts will work on showing you how to present baits properly if you are looking to learn. All our trips come fully equipped with all the fishing tackle you will need. If you have questions, be sure to ask your Captain or mate about different tackle and the techniques used to catch your desired species.
Several other offshore fishing techniques include trolling and bottom fishing. Trolling will allow you to cover the most water in search of different species. Mahi-Mahi, Wahoo, and Tuna are most caught with trolling techniques. Grouper, Snapper, Amberjack, and more are best caught with bottom fishing methods.
What species are caught on a Miami Deep Sea Fishing Trip?
The top and best species caught on a Miami deep sea fishing trip are Sailfish, Wahoo, Mahi-Mahi, Tuna, Grouper, and Snapper. Each trip technique and style of fishing will promote different success. As well as every trip length will give you a greater chance at success for each species.
How Do I Prevent Sea Sickness?
The best way to prevent seasickness is to take medication the day before and 30-minutes before your deep sea fishing trip. Even if you have the slightest chance at getting sea sick, it is always better to be safe than sorry.
The medication used to prevent seasickness, not cure it while you are experiencing it as Bonine and Dramamine. Take this pill the night before and the morning of your fishing charter and you should not have any problems. If you are one that knows this won't help, consulting a doctor may be the best next step.
Miami Freshwater Bass Fishing
Did you know that Miami, Florida was home of the BEST peacock bass fishing in the United States? Are you asking yourself, what is a peacock bass?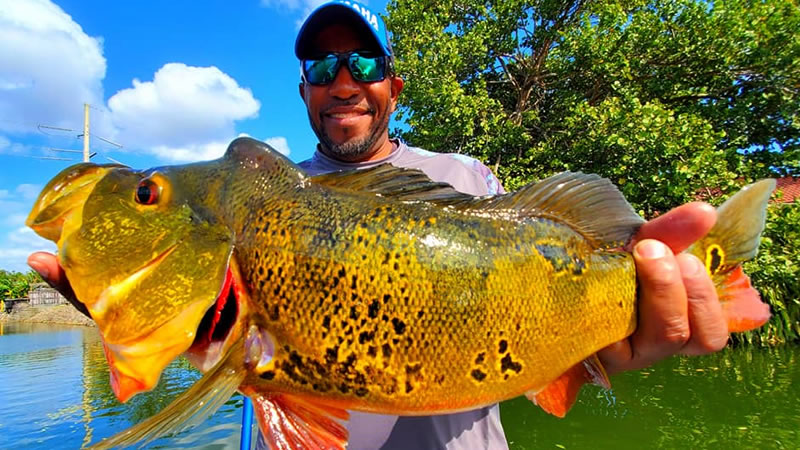 The Florida peacock bass is an exotic South American species of bass that was introduced to south Florida. As a result, it not only helped control the exotic explosion of additional species but it made way for one of the most exciting freshwater species to catch. When visiting, peacock bass fishing Miami could be one of the best ways to explore the urban waters of beautiful south Florida. F
Freshwater fishing is a top pick in experiencing a 2020 Miami Beach Fishing trip!
What are the best places to explore peacock bass fishing in Miami?
The best destination and fishery to catch peacock bass in Miami is Miami's Airport Lakes. It is the most convenient and productive fishery to experience peacock bass fishing. Also, it was the first fishery that the species was introduced in 1984 by FWC.
Not only is this an exceptional peacock bass fishery, you also have the ability to catch largemouth bass, cichlids, freshwater snook, tarpon, and jack crevalle. Every trip is very exciting and can produce non-stop fishing action.
Additional locations to catch peacock bass in Miami are the Falls Canal System and the Aerojet Canal System. The Falls canal system is a true urban fishery that has endless miles of canals and hidden lakes. Enjoy setting the hook behind beautiful homes and catching some giant peacock bass.
The Aerojet Canal System is another fantastic place to explore for peacock bass. If you are visiting the Florida Keys, this is the destination to experience. By far, the Aerojet is the most remote canal system of all our fisheries. You will get the chance to really submerge yourself outdoors and land some big peacock bass along the way.
How do you catch Miami Peacock Bass?
The best method to catch Miami peacock bass is with live bait. Active domestic shiners are the most effective way to catch peacock bass. Many anglers are against catching fish with live bait but to save time and have a trip of a lifetime, this is the way to go.
By far, this is not the only way you can catch peacock bass. Some of the biggest fish of 2019 came on artificial baits as well. You can catch peacock bass on artificial topwater baits and jerk baits. These two are the best way to catch fish with artificials. When throwing topwater, be sure to select the bait that disperses the most water and makes the most noise.
Die-hard anglers can also experience peacock bass fishing in Miami with a fly rod and reel. All our fisheries can promote some excellent fishing with a fly. Being patient and waiting for the right feeding moment is key. Your local expert can help you select the right color and fly to help increase your odds of a catch.
What species will I catch on a peacock bass fishing Miami trip?
The top species you will catch on a peacock bass fishing trip in Miami will be peacock bass, largemouth bass, and cichlids. Every trip we guarantee peacock bass of all different sizes. You can enjoy additional catches from largemouth bass and cichlids along the way.
As well as these awesome catches, you can land freshwater snook, tarpon, jack crevalle, snapper, catfish, and more. Freshwater fishing trips are filled with endless fun and great times. You never know what you will catch especially when using live bait.
Never worry about not catching fish because when you embark on an adventure with our local experts, you will always catch fish. If for the small sudden chance you do not catch a fish on your trip, we honor a No-Fish, No-Pay policy.
Our local experts are beyond knowledgeable, professional, and experienced to provide you with a fishing adventure you will never forget.
Miami Inshore Fishing Charters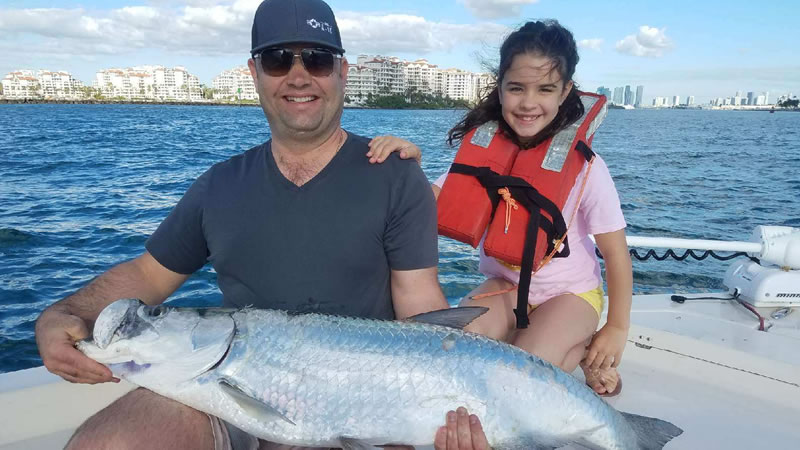 Miami, Florida is home to some of the most beautiful waters to explore. Our Miami Inshore Fishing Charters can really showcase how amazing this destination truly is. While exploring the backwaters of Miami's Biscayne Bay or fishing the inlets or bridges, you can cash in on some incredible action with our local experts.
What are the top catches on a Miami Inshore Fishing Trip?
The top and best catches when exploring the waters of Miami Beach are Snook, Tarpon, and Trout. These species are the most targeted and sought-after. Different times of the year will promote migrations of these species but you can catch resident fish all year long.
During the spring months from April through June, you can cash in on catching giant tarpon or the "silver king." As the summer months roll in, you can catch-and-release some big Snook along the inlets and backwaters. You can harvest Snook during the mullet run starting September 1st. Cooler months from February through April are great months for sea trout as well.
Additional catches to experience in Miami are Bonefish. The back flats and with highly experienced experts can help you target this elusive species on light tackle or fly. Be sure to mention when booking your trip which species you want to target and we can set you up for the right time of year and guide.
As well, jack crevalle, snapper, and grouper along the bridges can be caught almost all year long. There is a lot of great action to be had inshore especially when the deep sea waters get rough.
What are the Best Techniques for Inshore Fishing in Miami?
The best techniques to catch inshore species are live bait or cut bait. You can also use artificial baits including Berkley Gulp but live shrimp or pilchards will be the best way to land some giant inshore species. Whether you want to free-line or put under a cork, either method will increase your odds of success.
Light tackle is essential when it comes to Miami Inshore Fishing. Enjoying the battle on light line and gear is really the best way to go fishing. Our local experts and fishing trips come fully equipped with all your fishing needs. Don't count out searching down fish on the fly either. Fly Fishing is a great way to catch fish in Miami, FL.
When is the best time to come Miami Inshore Fishing?
The best time of year to come Miami Beach Inshore Fishing is during the summer months. April through October are the prime months to catch inshore species here in south Florida. As the winds die down, you get the best chances at landing the species of your dreams. The warm Florida heat also gets the fish active.
Enjoy the warm weather and come catch some of the best fish of your life. Every trip can be customized to your angling needs.
How long are your Miami Beach Fishing Charters & Trips?
We offer 4, 6, and 8-hour fishing charters all year long. Each trip length will give you the ability to catch a wide variety of species. Luckily, on all trips, you will have a blast catching fish.
When trying to determine the best length of time, we always recommend assessing your families, friends, and fishing needs.
A 4-hour charter will give you the experience of being on the water and seeing Miami from a different perspective. You will get the chance to cash in on plenty of action while not taking up the whole day. If this is your first time fishing or worried seasickness on our deep sea trips, this trip may be the perfect fit.
A 6-hour fishing charter. It gives you the ability to get out in prime waters and dial in on the fish. It will also provide you the ultimate fishing experience where you can catch fish with a variety of different techniques.
Hard-core anglers looking to spend a whole day on the water should select the 8-hour charter. This will give you the optimal time to cash in on some hard-fighting species in the waters of Miami, FL.
How many anglers can fish on a Miami Beach Fishing Trip?
Miami Deep Sea Fishing Trips have a capacity of 6 anglers on the trip. If you have more than 6 anglers, we can set up multiple boats if you are looking for a private fishing experience. If not, a head-boat or party-boat may be the most suitable option for you.
Miami Peacock Bass Fishing trips have a capacity of 4-anglers. Due to smaller boats and a more personal feel, freshwater fishing trips can hold a max of 4 anglers.
Miami Inshore Fishing Trips also have a capacity of 4 anglers as well. Smaller boats, getting into quiet calm water destinations and targeting species by sight on most occasions make this max capacity important.
How to Book Your 2020 Miami Beach Fishing Charter:
The first step in booking your 2020 Miami Beach Fishing Charter is to determine the style of fishing you would like to experience: Deep Sea Fishing, Bass Fishing, or Inshore Fishing. Shortly after selecting this, you now want to determine how many anglers you want to fish with. Finally, select or narrow down the dates you would like to fish.
If you are 100% set on a date, you can book your charter online 24/7. If you have questions about your possible dates, you can give us a call in the office at 1-888-412-1117. We will be glad to help answer any questions you may have about your upcoming fishing trip.
Shortly after booking your reservation, you will receive a confirmation with all the information you need from the meeting location and style of trip. Just as simple as that, you will be all set up for one of the best experiences Miami has to offer.
We hope to see you on the water next time to help show you around why we love Miami, Florida!
Your Adventure Starts Today while Visiting Miami Florida.
If you enjoyed this post about our Florida Fishing and Destinations, you might also enjoy our Fishing Blogs.
Don't forget to follow us on Facebook, YouTube, Twitter and Instagram.