Saltwater Fishing in Florida
Florida is one of the most magnificent places to visit. The sandy beaches, salt air, and sunny warm skies make Florida a top choice for travelers every year. Many visitors spend most of their time with their toes in the sand looking out into the vast ocean water. Whether on the Atlantic or Gulf side, being in a saltwater environment is a must. Make sure you explore all that there is to offer while Saltwater Fishing in Florida.
Florida Saltwater Fishing is by far the best way to experience Florida. Have you wondered while you were here on vacation, what all those boats were doing while sitting on the beach? Some of those boaters may be cruising and enjoying the sights and others are fishing. Fishing is a past time that has been around for centuries. The thrill of the hunt and chasing down species that tug so hard on the other end of the line is incredibly exciting. For most, it gets their blood boiling!
Florida fishing especially inshore and offshore has exceptional species to catch. Whether you want to fish from a boat or pier in search for gamefish or dinner, Florida saltwater fishing has it all. Florida's geography has allowed it to create a fishing paradise like no other. You have endless access to the Gulf Stream, reefs, wrecks, estuaries, bays, inlets, and rivers across the whole state. Each destination will provide you a truly unique saltwater fishing experience.
Before getting into the details of what makes Saltwater Fishing in Florida so magical, we must touch on Conservation. One of the most important aspects of being an outdoorsman is conservation. The first step to conserving the precious ecosystems and fisheries here in Florida is through purchasing a Florida Fishing License. When you purchase a fishing license, fishing tackle, and motor-boat fuel is contributing and helping improve the fishing and boating opportunities in Florida. Also, the Sport Fish Restoration program uses a federal "user-pay, public-benefit" system of conservation where millions of dollars are funded each year to go towards fishery research, stock enhancement, artificial reefs, boating access improvements, angler outreach, and aquatic education. Every purchase counts so don't skip abiding the law to save a dollar because that dollar could impact the fisheries you love for your lifetime! Make sure you are staying up-to-date with all the new saltwater regulations here in Florida!
Our Florida Saltwater Fishing Ecosystems:
Florida has literally designed itself through time to become a fishing paradise. If you are traveling to this stunning destination, saltwater fishing is a must. You technically don't have to be saltwater fishing to enjoy the beautiful nature and wildlife but nothing beats a day in the sun along with a tug on the end of the line while you Visit Florida.
Each geographic wonder has its own characteristics and methods to catch the fish that live there. We will provide a short breakdown of things you will see and what you can potentially catch.
Gulf Stream: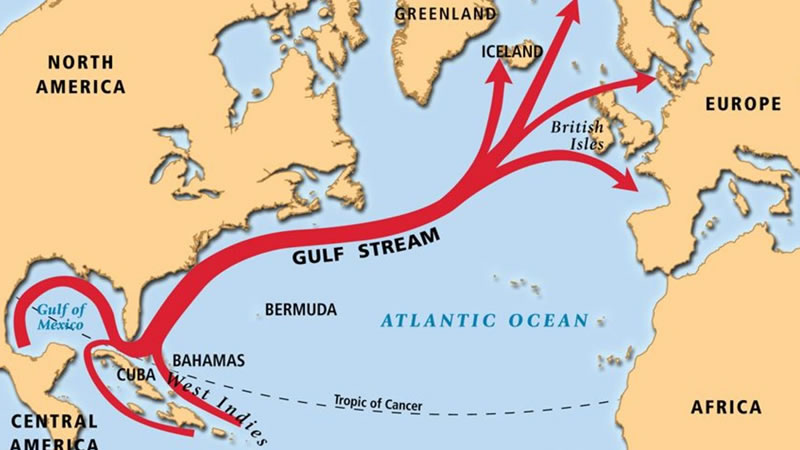 The Gulf Stream is most certainly a highlight for Saltwater Fishing in Florida. This intense, warm ocean current moves along the coast of Florida and then Northeast across the Atlantic. The Gulf Stream plays an integral role in not only the fishing conditions but also the weather year round. It also draws the movement of every major game fish in the Atlantic Ocean.
Where the bait flows, the pelagic fish will follow. The Gulf Stream brings a massive amount of bait closure to shore and to the surface. This allows predators to lurk beneath them and feed on them aggressively.
The best methods to fish this incredible natural wonder is trolling, flying a kite with live bait, or deep dropping on a local reef. Enjoy catches from Blue Marlin, Wahoo, Sailfish, Dolphin, Kingfish, Swordfish, Yellowfin and Blackfin Tuna, and much more.
Flats: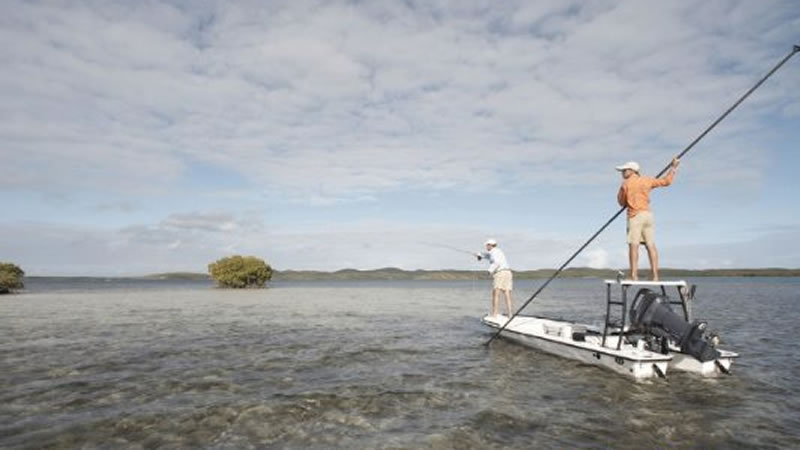 One of the most diverse places to fish in Florida is flats. Most flats consist of grass structure in the shallow water of 2 feet or less with different bottom contours and sediments. You will be amazed on how Snook, Redfish, Trout, Bonefish, Permit, and more can traverse through these waters. Flats are also home to a number of crabs, shrimp and other species of fish.
When you are looking to fish a flat, you have several options. You can either wade into the water, which is very popular. Be sure to slide your feed to warn off stingrays. You can also fish from the shoreline but the most popular tactic is from a Flats boat with your guide pooling you to the right position on the back in stealth mode.
Bays: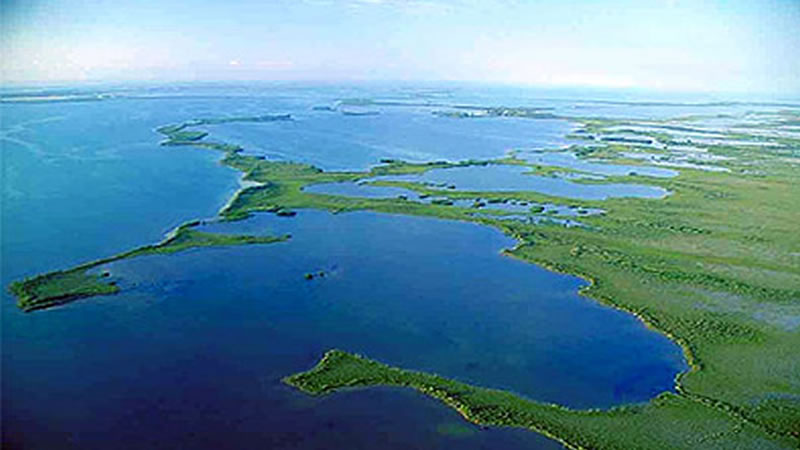 Florida is filled with numbers of Bays that can be productive for fishing all year long. The relatively shallow water and fewer chances of becoming seasick make it a perfect fishery for the saltwater fisherman. When you adventure out into the Florida Bays, bring a variety of tackle from a heavy, medium, to light as you just don't know what will bite the end of the line.
Some of the top Florida Bays consist of Miami's Biscayne Bay, Florida Bay, Chokoloskee Bay, Ponce De Leon Bay, Tampa Bay, Pensacola Bay, and much more!
Jetties: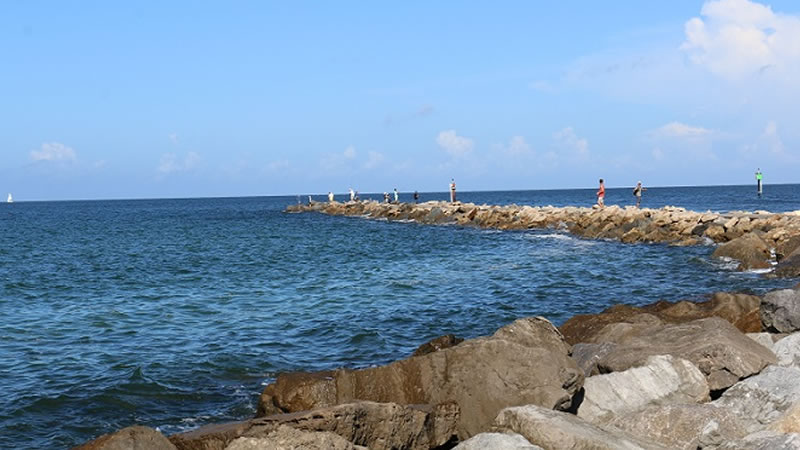 When you are at the beach or cruising out the inlet, have you wondered what that concrete or rock structure is on both sides? Those are jetties that maintain the structure of the cut/inlet that
allows boats to make their way inland.
Inlets are some of the best areas for inshore fishing and most are angler-friendly. The species you can catch here are endless. Enjoy the hard-fight and tug on the end of the line from species including Tarpon, Redfish, Snook, Jack Crevalle, and Mackerel.
The best times to fish Jetties and Inlets are during the tidal changes. You can use live bait like shrimp, crabs, or bait fish or you can use artificial lures such as jigs or swimbaits.
Bridges: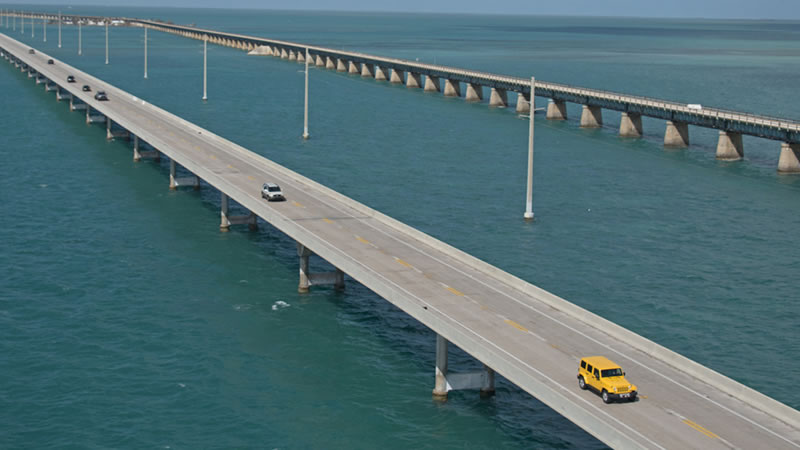 Bridges are everywhere across Florida. These structures are excellent hiding places for ambush predators. The night time with less boat traffic brings some of the best times to go out fishing. Rocky structures may make fishing frustrating but ultimately rewarding if you can be patient.
Our recommendation would be to throw a jig head with shrimp around the structure and pilings of the bridge. You may lose a few of your rigs but you will also catch more fish than the rest.
The Florida Keys is littered with bridges you can fish. Sunshine Skyway is another excellent option for finding fish all year long.
Piers: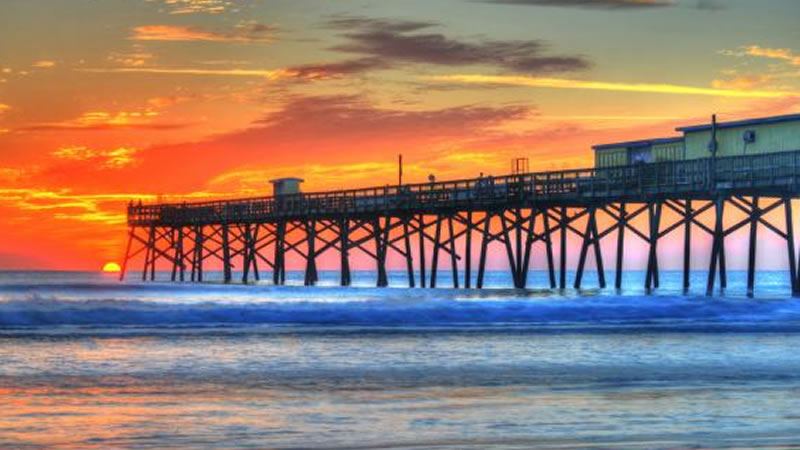 Wondering what to do when you don't have a boat? Florida has numerous Piers where you can just walk out to deeper water. Anglers that love the pier regular catch Spanish mackerel, Snook, Tarpon, Sheepshead, Redfish, Trout and a variety of other species.
Whether daytime or nighttime, this is a great place to bring the family and get them hooked on fishing. Broward and Miami-Dade County have some of the best pier fishing in the state!
Shoreline: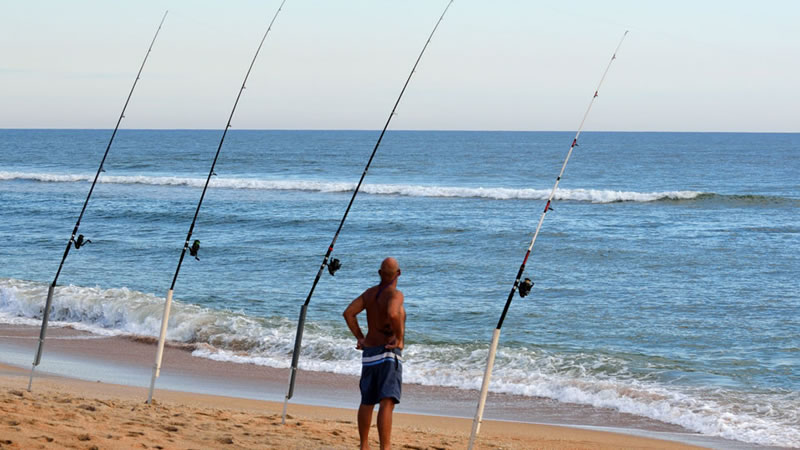 Shoreline fishing is by far one of the most exciting of them all. There is just something about running along the beach, islands or coastal areas to catch numbers of species. Just be conscious of your sound and steps as the predators you are after can see you.
Two methods are rather successful on the shorelines: bottom rigged bait or casting. Support your local tackle good store and get local knowledge of the best baits and set-ups to throw.
Rivers:
The backwaters of our rivers that are near the coast provide ample structure for some big fish. Mangrove lines and overhanging trees provide fish cover from the sun and an ambush point. Work these lines thoroughly to catch the biggest and best species possible.
Best Saltwater Fishing in Florida:
1. Miami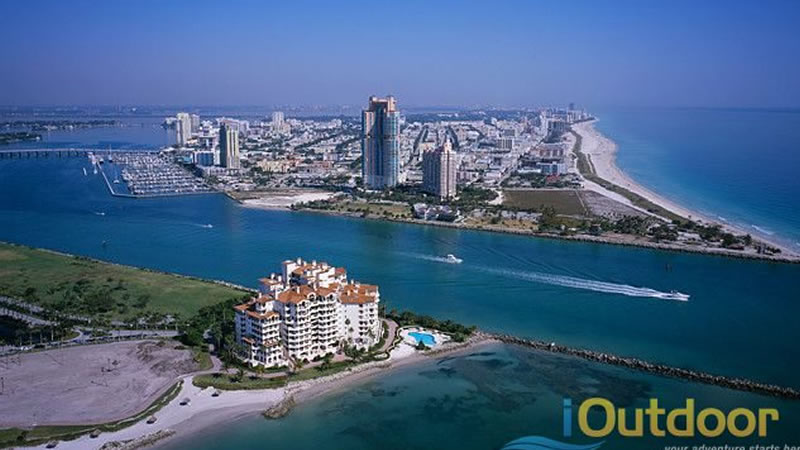 a. Miami is the ultimate fishing destination in Florida. If you are looking for excellent Saltwater Fishing in Florida, this is your place. Miami is connected to the Gulf Stream which curves around the tip of Florida heading north.
b. Offshore fishing for big game is very appealing to visitors and anglers. Enjoy aggressive, hard and exhilarating catches from Sailfish, Wahoo, Dolphin, Swordfish, Cobia, Marlin, Tuna, Kingfish and so much more.
c. Inshore fishing is dominated by the calm waters of Biscayne Bay or Government's Cut. These waters hold amazing fishing for Sea Trout, Tarpon, Snook, Shark, Snappers, and a variety of other species.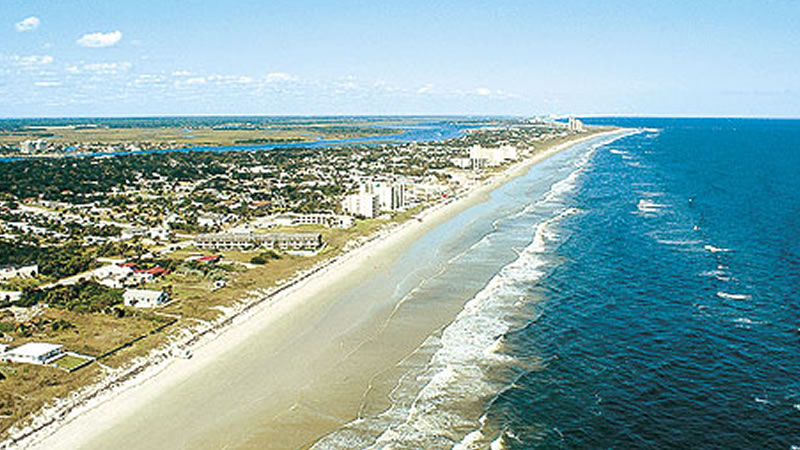 a. New Smyrna Beach is a hidden gem for saltwater fishing in North Florida. The fishing is just minutes away from the beautiful beach. Inshore fishing may be the best way to experience New Smyrna but offshore fishing can also be very productive.
b. Inshore fishing in New Smyrna Beach, FL allows you to access the legendary Indian River all the way to Mosquito Lagoon for incredible Redfish Fishing. If you are looking for the Bull Redfish in Florida, this is your destination. Enjoy catches of Sea Trout, Jack Crevalle, Snook, and Tarpon as well.
c. Offshore fishing consists of trolling miles offshore or deep dropping closure to shore at a local reef. You can catch Mahi-Mahi, Sailfish, Wahoo, Tuna, Kingfish, and more while trolling offshore. Drop a line on a local reef and catch Snapper, Grouper, Cobia, Amberjack and more.
3. Naples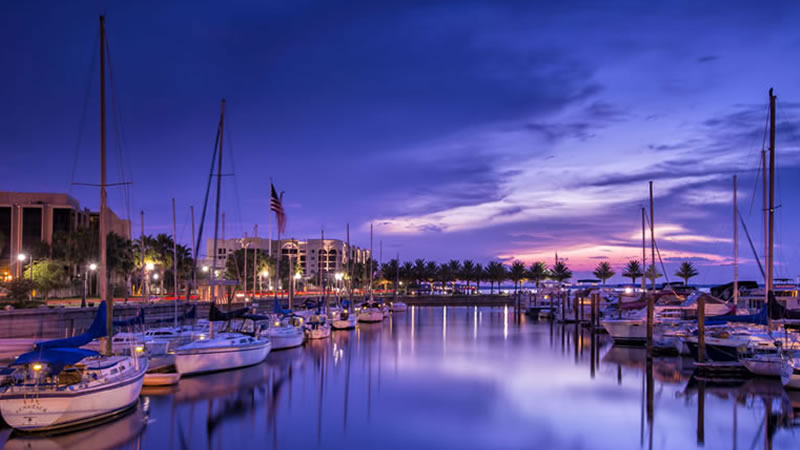 a. Looking for Paradise? Travel to the Paradise Coast, where Naples, FL sits pretty. After soaking up the salt air on the beautiful sandy beaches, cast a line into a fishing adventure of a lifetime. Inshore fishing and offshore fishing is red hot in Naples!
b. Inshore fishing can provide local access to a great experience on the water. You won't get seasick and you will not have to run 25+ miles offshore to find fish. The backwaters and island mangrove lines hold excellent fishing for Snook, Redfish, Jack Crevalle, Sea Trout and so much more. Be sure to stay tuned with FWC rules and regulations.
c. Offshore fishing consists of mainly bottom fishing in deeper, cooler water. You will have to travel 25 or more offshore to find some water that will produce that big bite. Once you get there, enjoy delicious catches from Snapper and Grouper on the bottom. As well, you can catch Dolphin, Kingfish, Tuna and more while trolling.
4. Tampa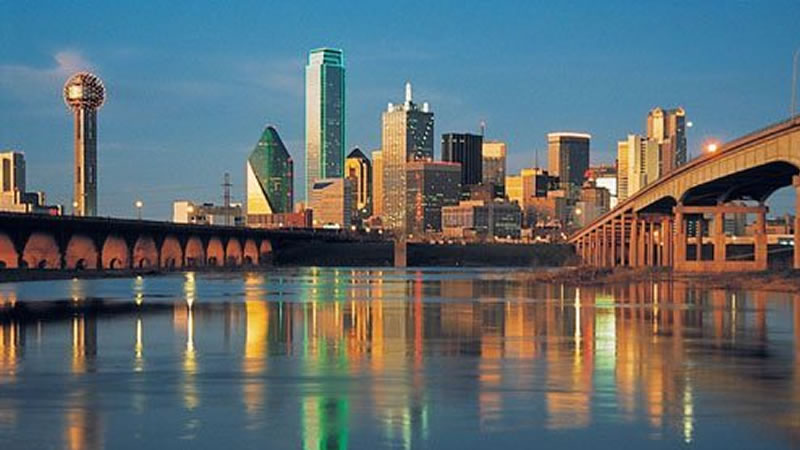 a. Are you a light-tackle fisherman? Tampa is one of the hot spots for putting you on incredible fishing action with light-tackle. Tampa Bay is a massive draw to excellent inshore fishing for Snook, Tarpon, Trout, Flounder, and Redfish. Offshore bottom fishing can land you Groupers, Snappers, Seabass, Triggerfish and so much more. Every trip is unique but one thing is clear, Tampa has an all-access pass to amazing Saltwater Fishing in Florida.
5. Florida Keys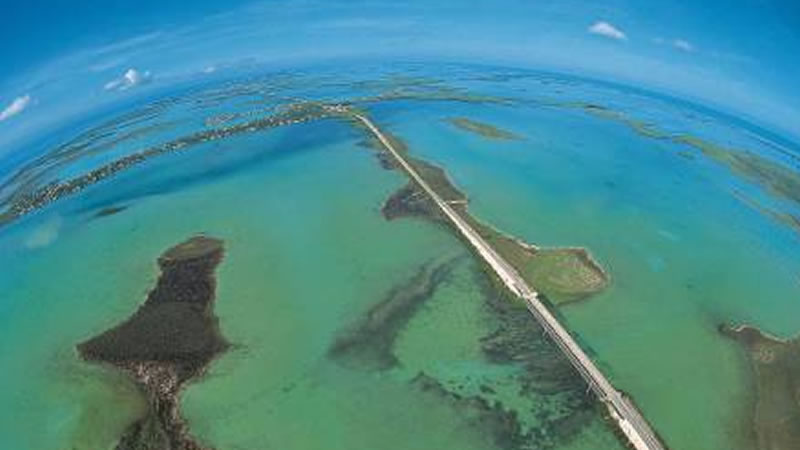 a. If you are looking for the MECCA of all things Saltwater, you have to visit the Florida Keys. This saltwater paradise is the ultimate vacation destination. While you are there, take a break from the resort and soak up the sun on a fishing charter of a lifetime.
b. Inshore fishing consists of several styles and tactics. When people think of fishing in the Keys, one species comes to mind the most, Tarpon. Tarpon fishing is a large draw, especially during the migration. As well, you have fly fishing for Tarpon or Permit, Bonefish, Snook, Trout and more on the Flats. Flats fishing charters are a fun, stealthy way to catch some big fish. Backcountry fishing is another amazing way to experience inshore fishing. Cruise the backwaters along the mangrove lines and islands for hard-fighting inshore species.
c. Offshore fishing is another spectacular way to enjoy the Florida Keys. You may still have to travel some distance but once you get to your spot with your local expert, the action is on. Enjoy catches from Sailfish, Swordfish, Dolphin, Tuna, Wahoo, Kingfish, and so much more. You can also drop a bait deep and catch Grouper, Snapper, Amberjack, and more as well.
Saltwater Fishing in Florida is endless. When you adventure out on a Florida Saltwater Fishing Charter, you know that you are in great hands. Our local experts have spent most of their life determining and mastering techniques to get their clients on the best fish possible. When you step aboard our fishing vessels, you can be confident you are with a professional on a clean fishing vessel. Don't worry about anything on our fishing trips as everything is taken care of for you. All you have to worry about is getting that trophy dream fish to the boat.
We look forward to seeing you on the water next time!
Your Adventure Starts Today while Visiting Florida.
If you enjoyed this post about Florida Fishing, you might also enjoy our Fishing Blogs.
Don't forget to follow us on Facebook, YouTube, Twitter and Instagram.