February Amelia Island Fishing Report
Amelia Island is a destination tucked away in the north region of Florida where most travelers look over when visiting Florida. The salt air consumes this quiet, sheltered destination making it one of the top spots to visit. If you have never been to Amelia Island, it is one place to most certainly put on your travel list. When doing so, make sure to explore what the great outdoors has to offer. February Amelia Island Fishing is one of the greatest ways to adventure out and experience something magical.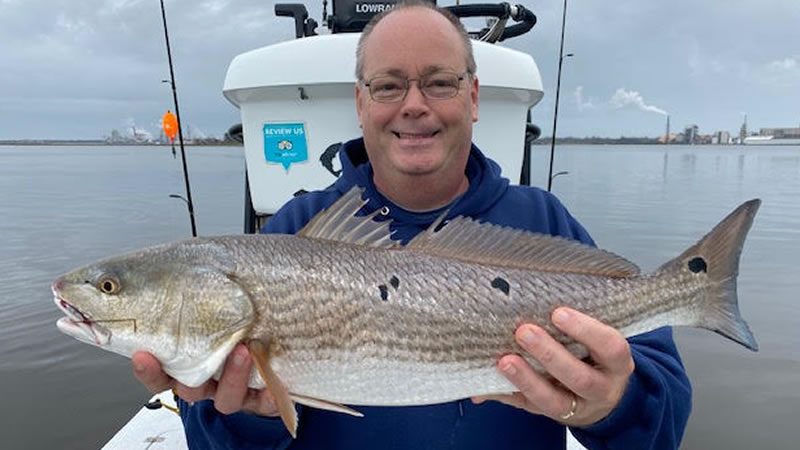 The cool weather of February really gets the inshore fishing fired up. Backwater and intercoastal canals are teeming with life and an abundance of fish. Take a cruise out on the water while soaking up the Florida sun. Cast a line and get hooked up into some quality inshore species with our local experts.
When it comes to Amelia Island Inshore Fishing, two species stick out the most: Redfish and Trout. These may be the top two species to catch but you can have a blast reeling in a wide variety of species on your fishing trip. If you are looking for a hard-fighting catch and non-stop action, now is the time to visit Amelia Island.
Our local experts have years of fishing experience to help land you some beautiful fish on your fishing trip. The backwaters are endless and you can easily get lost. When you embark on an adventure with one of our local experts, they can most certainly get you on the fish of a lifetime. Be sure to customize your trip to your fishing needs.
February Amelia Island Fishing has consisted of catching endless species in the main river, intercoastal, and inlet areas. During this time of year, the Amelia River is teaming with life. You can catch a lot of different species. The best species to catch during this month is Trout, Redfish, Black Drum, Flounder, and Sheepshead.
As mentioned above, Redfish and Trout are the best-targeted species to catch when looking to have success catching fish. Captain Brian Soucy put several of his clients on some beautiful fish all trip long. The best bait to use according to Captain Brian was live shrimp under a cork. If you want the best action and bite, live bait is generally the best way to go.
Float or drift some live shrimp around pilings near docks and hold on for a strong bite from a redfish that will fight endlessly on the other end of the line. Oyster bars and rocks are additional structures to focus your fishing on. Your local expert will take you right to where the fish are and be able to help you land that big fish you are looking for.
Captain Brian Soucy is an exceptional guide in Amelia Island with years of a great experience. As a result, you can get the full experience when visiting this breathtaking destination in North Florida. You never know what you will catch and every trip is truly unique!
We hope to get the chance to explore this beautiful destination on your next visit to Florida. Bring your whole family for an unforgettable tour of what Amelia Island is all about. You never know what you will hook into and every trip is exciting for all those aboard.
Quick Summary: 
Species Caught: Redfish, Trout, Flounder, Black Drum, Sheepshead
Location: Amelia Island
Areas to Fish: Main River, Intercoastal, Inlet
Bait choice: Live Shrimp under a cork
Structure to Focus on: Oyster Bars, Rocks, Pilings, Docks
Captain Brian Soucy
Your Adventure Starts Today while Visiting Florida.
If you enjoyed this post about Florida Fishing, you might also enjoy our Fishing Blogs.
Don't forget to follow us on Facebook, YouTube, Twitter and Instagram.