Best Grub for Bottom Fishing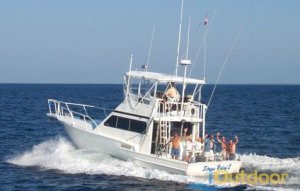 First of all, bottom fishing is not about fishing for bottoms. Rather, it refers to fishing the bottom of a body of water. Bottom fishing can be done in freshwater bodies such as lakes or in saltwater such as the sea. In Florida, the most popular type of bottom fishing is saltwater bottom fishing.
What Types of Fish can be Caught?
This is where bottom fishing differs from trolling in Saltwater. In trolling, fishermen will often catch barracuda, tuna, sailfish, or even shark, those that usually swim in higher depths underwater. Bottom fishing will get fishermen catches such as red snapper or grouper, typical fishes that feed at the bottom of the water.
Artificial and Natural Bait
There is no argument in the choice of using artificial grub or natural bait when it comes to bottom fishing. Bottom feeders are attracted to natural bait. These baits may not be whole, living fish, as long as they are natural.
Live bait plays an important role in fishing. Good baits for saltwater bottom fishing include sea worms, eels, crabs, shrimp, squids, and cut baits. Any caught fish can be used to make cut bait, and for best results, the fish must be a prep to leave the scale on. The success of bottom fishing also lies in knowing what types of fish are attracted to which type of bait. Sea trout, bluefish, and sailfish are some of the fishes that are attracted to cut bait. The shrimp may deliver a higher success rate as bait than others because shrimp is the favorite meal of saltwater fish. The trick is preparing shrimp for bait is that it has to be hooked so that it remains life.
In Conclusion
The best bait does not lie in its being expensive, rather the success of bait depends on how it is baited and prepared for bottom fishing. It is also important to remember that in some states, there are regulations on which types of baits are allowed. Some baits are not allowed because to do so might ruin the general fishing population already present; this especially applies to freshwater bottom fishing.