December Florida Fishing Report 2019
It's the last month of the decade and the fishing here in Florida has been incredible. From freshwater to saltwater, across the whole state, you can explore an outdoor adventure worth remembering. This December Florida Fishing Report for 2019 will give you an insight into not only what you can experience this holiday season but what is to come in 2020.
Whether you are an experienced angler or looking to acquire more knowledge, a fishing charter is a great option. Local experts across the whole state will provide you with insightful tips to help you land more fish.
Florida Inshore Fishing, Deep Sea Fishing, and Bass Fishing happen to be one of the BEST ways to get outside here in Florida. We hope that one day you get to be touched with the gift of fishing. Enjoy this report and action from across the whole state!
December Freshwater Fishing Report: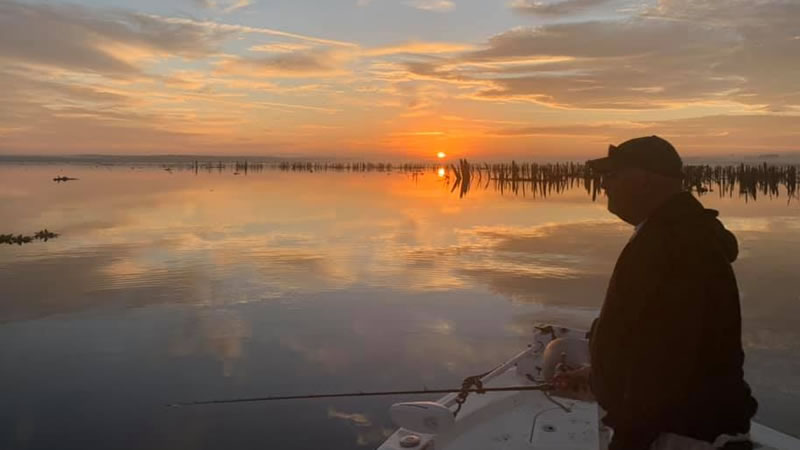 North Florida has been a hot spot for largemouth bass fishing in December. If you are looking for numbers of quality bass, this is your destination. The top fishery to catch bass this time of year is the Rodman Reservoir located just outside the Rodman Reservoir.
Currently, this fishery is experiencing the Rodman Reservoir Drawdown. It is a period of time where water management drops the water levels for ecological reasons. As a result, the scenery that you get to fish is absolutely world-class.
"The bass fishing is really heating up. I had the pleasure of fishing with Mike Richmon as he was traveling from Virginia. One of his favorite places to fish is the Rodman Reservoir. We spend several 8-hour trips on the water together every year and I am always looking forward to seeing what can happen on each adventure.
Mike caught over 20 largemouth bass on these trips. He also caught a mix of other species including alligator gar and bowfin.
Every time Mike comes out fishing, quality bass is guaranteed. Mike caught a beautiful largemouth weighing 6 pounds 8 ounces. All the bass caught were noticeably healthy with full guts.
It is great to see a healthy fishery and its signs of amazing things to come. I am looking forward to fishing with Mike again soon" – Captain Ken Walker
"I had the opportunity to fish with Tim. He was traveling from Jacksonville, FL looking to land some big bass. After researching the Rodman Reservoir, it was a must experience especially so close to home.
What a beautiful day in the Rodman Reservoir. The sun was shining and Tim was catching bass all trip long. He caught right around 10 bass in his quick 4-hour fishing trip.
The biggest bass on this fishing trip weighed in at 5 pounds. Tim is already looking to get back out soon for another chance at a trophy-sized fish.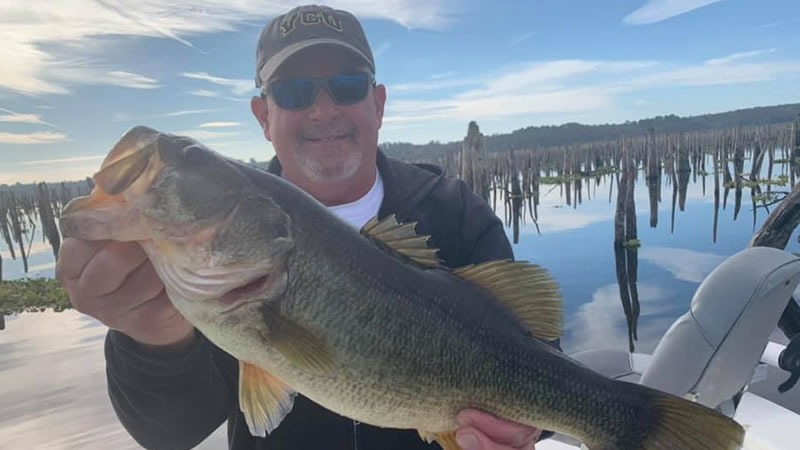 I am looking forward to my next opportunity to help Tim land that fish of a lifetime!" – Captain David Lang
South Florida Fishing for Peacock Bass and Largemouth Bass
South Florida is home to some beautiful beaches and destinations to visit. Every corner of this amazing place will give you a unique feel like no other. Getting in the outdoors is a must and freshwater fishing is a great option, which will be highlighted in this December Florida Fishing Report.
Several hot locations are picking up this time of year. December South Florida fishing consists of largemouth bass and peacock bass. The best place to catch largemouth bass is on Lake Okeechobee on the south end of the lake out of Belle Glade or Clewiston, FL.
As well, if you want to catch a colorful peacock bass, Miami, FL would be the best place to explore.
Lake Okeechobee Bass Fishing out of Clewiston, FL with Captain Mark Shepard:
"I had the pleasure of fishing with a long-time repeat client of mine, Charlie. In the past, we have caught some big beautiful fish on Lake Okeechobee. Clewiston, FL is really picking up and I am starting to see signs of a great life.
Charlie helped out scouting out new areas to catch bass. He loves to throw light tackle artificial baits, especially the Wow Factor Fishing crankbaits.
The action was steady all trip long with some quality 4-5 pound bass in the boat. Just the right moon phase had the males and females moving in off the main lake.
During the next several moon phases after this one in December will really kick start the spawn. Be sure to plan your trips around those phases as it can help land you the fish you are after.
I had a really good time fishing with Charlie and know he will be back for more action soon while Lake Okeechobee bass fishing!" – Captain Mark Shepard
Miami Peacock Bass Fishing with Captain Robert Miley on Airport Lakes
"I had the pleasure of fishing with Harrison and his new bride Caitlin traveling from San Antonio, Texas. Catching a Miami peacock bass was something they always wanted to do. While on their honeymoon and vacation, they planned an adventure.
Miami Airport Lakes was a great option for them. Great weather helped produce a strong bite on this fishing trip. Harrison caught a 5-pound trophy peacock bass on his first cast. After that, they moved around and picked away at a number of quality fish.
Live bait was the preferred method for catching bass on this fishing trip. The moon phase was just right for the fish to get up shallow and begin a spawning phase. This is the perfect time to pick away at bass all trip long, with great chances at catching a big one.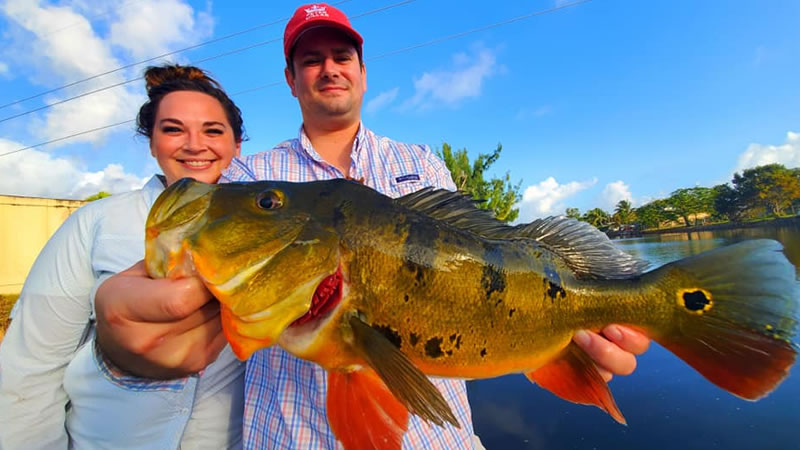 Harrison and Caitlin had a fantastic time while fishing in Miami. I loved watching their faces light up with every catch. I am looking forward to getting back out on the water again with them soon!" – Captain Robert Miley
Central Florida Fishing near Kenansville and Kissimmee, FL
Central Florida bass fishing is heating up. Several locations are producing some exceptional fishing. Largemouth bass are about to begin their spawn and when they do, the big bass will begin to be caught.
Kenansville Lake in Central Florida is a wonderful place to explore for quality largemouth bass. As big bass season roars on, you will have the opportunity to catch some beautiful fish on this lake in this December Florida Fishing Report.
Fishing with Captain Brent Nelson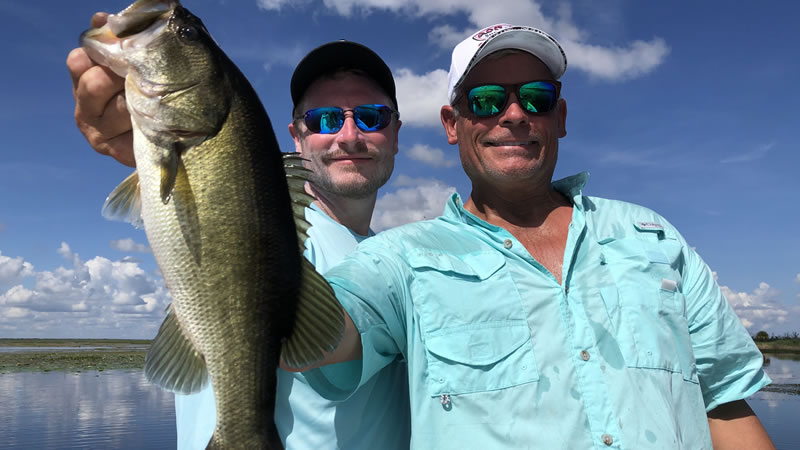 "I had the pleasure of fishing Ronald. He was traveling from Chicago looking to catch some bass in Central Florida. Kenansville Lake was on his mind, so we went out to explore it.
Unfortunately, the conditions were not perfect on this fishing trip. Warm and clear skies with no wind shut the bite down a bit. After making a couple of moves and figuring out the bass, I found some fish.
Ronald had a blast catching over 15 largemouth bass on this fishing trip. The biggest weighed in the 5-pound class. Also, he caught several bass in the 3-pound class.
Ronald had a great time and is looking forward to coming back during the prime season. I am looking forward to our next adventure as well." – Captain Brent Nelson
Fishing with Captain John Leech:
"I had the pleasure of fishing with Jason and his loved one. They are two great people traveling from Indiana looking to cash in on some bass fishing on Lake Toho. Luckily, the fish were stacked up and ready to eat.
Jason and his loved one caught over 30 largemouth bass on this fishing trip. Originally, they did not want to fish with shiners. After a while, they caved him helping them land their biggest bass of the day weighing in at 5 pounds.
Anything over 3 pounds they got excited about. They also caught several bass on artificial baits as well. Unfortunately, they broke the one fish off that they really wanted.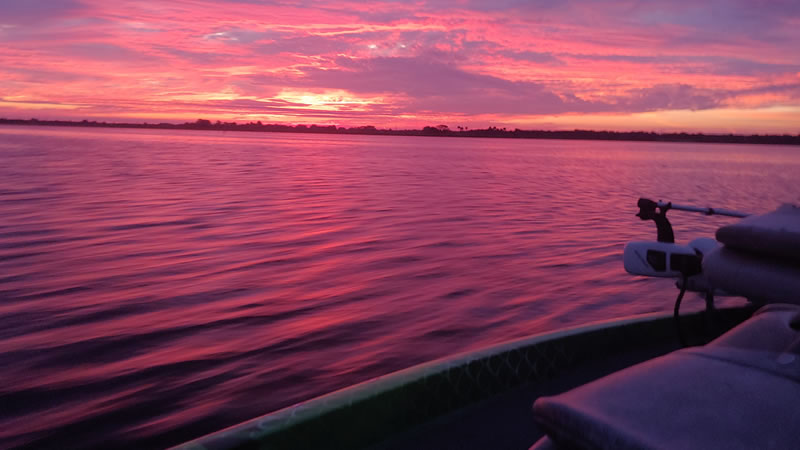 All-in-all, Jason and his loved one had a great time on the water. I am looking forward to getting them out again soon in Kissimmee, FL!" – Captain John Leech
December Saltwater Fishing Report:
Inshor