Ultimate South Florida Fishing Adventure
Have you ever wondered what it was like to catch the fish of your dreams? Florida Fishing can truly provide you with the best fishing experience. Each destination you visit here in Florida from freshwater to saltwater will have you experiencing something unique. The endless amount of species you can target will have you dreaming about your next trophy catch. South Florida is hub for some of the BEST saltwater and freshwater fishing. While visiting the many South Florida attractions, take a short cruise to our many fishing destinations. Enjoy setting the hooking into the ultimate South Florida fishing adventure.
It takes a very special fisherman to share his passion with those that love the sport as well. The story ahead contains why anglers become professional captains and guides to those that travel the world to come fish this amazing state. Each individual has their own reason but it is adventures like this that drive them for the rest of their life. You just never know what you will encounter fishing here in sunny South Florida.
Miami Peacock Bass Fishing with Captain Joe Gruny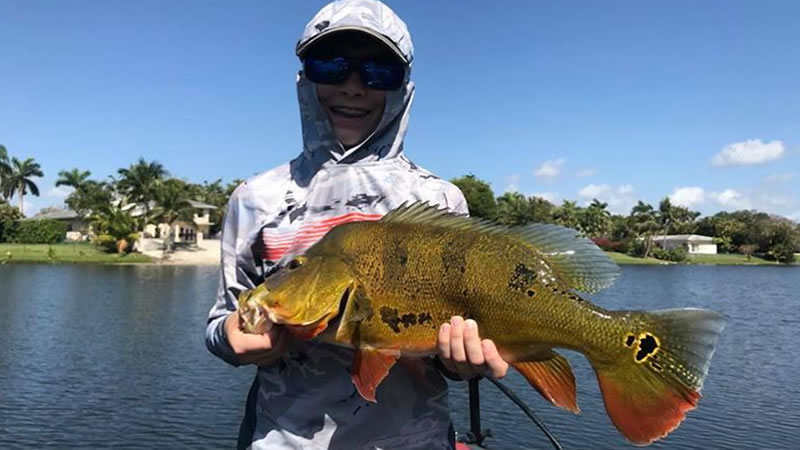 Our journey begins at the crack of dawn on a Saturday morning on a warm April day in Miami. We were going to adventure out into the urban jungle to catch the elusive peacock bass. These hard fighting, colorful and majestic species of bass allow for the most remarkable freshwater fishing experience. Louke and his family arrived at the meeting location excited as ever to see what this fishing charter had to offer. They had no idea what was in-store for them.
Louke was 12-years old and loved to fish. It was not his first time bass fishing but the young man never caught a peacock bass before. Traveling to South Florida from Fort Worth, Texas was a dream of his so he can adventure out to catch this elusive species. Miami was the best location to visit in order to accomplish his goal.
There is most certainly a thrill to put your boat in the water here in Miami. The Miami Falls Canal System can truly bless you with the most incredible Florida peacock bass fishing. Louke and his family hopped aboard Captain Joe Gruny's Ranger bass boat and off they went winding through the urban canal system. Taking their time to respect the residents of this beautiful South Florida fishing destination, they were able to experience the abundance of wildlife present. Iguanas and birds of all shapes and sizes filled the banks throughout the system.
Arriving to our fishing location was one of the best feelings for Louke. Captain Joe reached deep in his rod locker to pull out a very special rod for him. It was a Berkley Lighting Rod with an Abu Garcia Pro Max spinning reel that was sure to land him a fish of a lifetime if it bites. In order to keep our spots preserved and primed, they trolling motored to their location.
At our first Fishing Charter location, Louke got a big bite. It was a species we were not targeting but excited to still catch. Louke fought and landed a 6.75 largemouth bass. They were truly amazed at how healthy this fish was. After catching this incredible largemouth, they moved to a location that Captain Joe knew was a gold mine for peacock bass. Stealthy motion was preceded bringing them to their final destination that they fished for the rest of the charter.
On one of Louke's first cast under a dock, something took a hold of his domestic shiner and sent his drag screaming. It peeled off 40 yards of line before the fight began. They knew whatever was on the other end of the line was big. After precise and careful fighting allowing this fish to do all the work, Louke brings it to the boat. They could not believe their eyes what they just caught. It was a Trophy Florida Peacock Bass, the species they came all this way to catch. Legendary fish like this do not come all too often. Louke landed a 7.89 pound peacock bass and could not have been more ecstatic at what was just done. Captain Joe, Louke and his family were all lost for words.
After a legendary morning of fishing, they cruised back to the boat ramp rehydrating for their next epic fishing adventure in Fort Lauderdale. Most would stop their but Louke and his family were going to take full advantage of the Florida Fishing. One of the many things on their list was an Inshore Saltwater night fishing trip.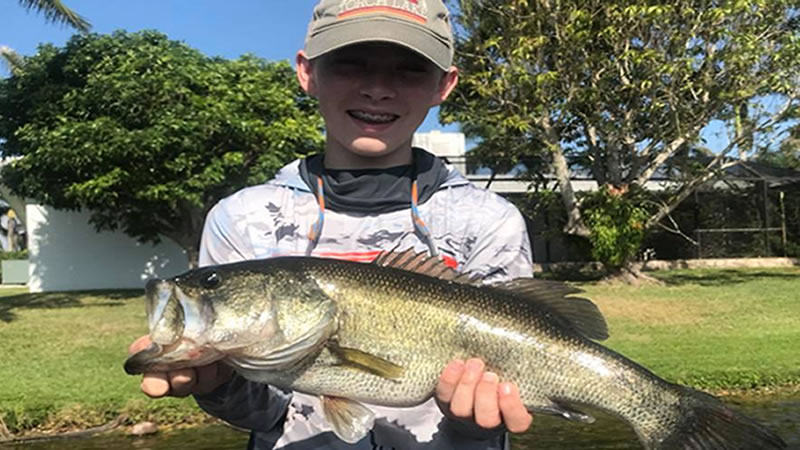 Inshore Night Fishing in Fort Lauderdale with Captain Brian Leibowitz
Fishing with us here at iOutdoor, you are 100% guaranteed the most professional and knowledgeable fishing captains you can get here in Florida. Captain Brian Leibowitz is an South Florida Inshore expert covering waters from Fort Lauderdale to Miami. If you are looking to land your bucket list inshore fish in South Florida, Captain Brian can make it happen.
Louke and his family continued their Fishing Adventure in Fort Lauderdale. After finishing up their legendary freshwater fishing trip, they traveled north to explore what an evening trip had to offer them. It was a warm Saturday night as they pulled up to the 15th Street boat ramp where they would meet Captain Brian. The conditions were yet again perfect for a magical fishing trip.
Louke knew what he was after. The waters of Fort Lauderdale were filled with Snook, Tarpon, Sea Trout and Jack Crevalle. You just never know what will bite the end of your line when you go out South Florida Fishing. As the sun was setting behind the beautiful city line of Fort Lauderdale to the West, everything suddenly changed.
It was not long until the action began and Louke hooks into something of great size. When the fish busted the surface and launched itself from the depths, we knew what we were in-store for. It was a healthy Florida Tarpon weighing roughly 80 pounds. From then, it was a fight of a lifetime. Tarpon are a hard fighting species as well that love to run and do whatever they can to get off the line. Louke held on for the rid as it dragged the boat around as we chased it through bridges and pilings. Big smiles ran across everyone's face as the drag was screaming.
Captain Brian is an expert as he was able to maneuver and make sure Louke brought this fish to the boat. The local expert was able to get himself and his boat out of tight situations that proven themselves very difficult. Captain Brian lives for these moments where you can watch the joy come across the soul of a young man as they fight their dream fish. As Louke fought this amazing fish to the boat, Captain Brian leader touched and released this incredible Florida Tarpon.
There is nothing like being part of the Best Day of an Anglers Life on the Water. It was a long 45 minute fight that Louke will remember for a lifetime!
Florida Everglades Bass Fishing on Alligator Alley with Captain Joe Gruny
On the final fishing day South Florida Fishing, Louke and his family scheduled a Miami Peacock Bass Fishing trip again. The only issue was that Florida rain storms were going to roll through on this day. One of the down falls of the Falls Canal System is that there were not places to hide and wait out the storms. Captain Joe Gruny recommended that they visit the Florida Everglades as there was protection from the rain under bridges if it got bad.
Louke and his family decided that the Florida Everglades was the right choice especially for something different. They adventured out on Alligator Alley to Mile Marker 35 for another trip of a lifetime catching Florida Largemouth Bass. It was a morning fishing trip which was perfect for a great bite.
If you love bass fishing, get up early and experience the crack of dawn bite that will have you addicted for life. Conditions were excellent for another great day on the water. Everyone was involved on this fishing trip. They caught the most fish they had ever seen. The family of 3 boated over 150 Florida Largemouth Bass.
Everglades Bass Fishing is red hot and will continue to be on fire as long as the water levels remain low. All the fish pour into the main canals off the back flats. A variety of baits work extremely well this time of year. Early in the morning, you should throw a Heddon Spook, Bango Lure or KVD PopX. These top water baits are highly effective to putting big numbers in the boat all trip as well. If you do not like to throw top water baits including wacky senko worms and flukes can help put some great fish in the boat.
South Florida Fishing Experience:
Destinations across the whole state of Florida can provide you with exceptional Fishing experiences. From fresh to saltwater, you can catch the species you have been always searching for. Florida is by far the best location to visit to get out and enjoy the Outdoors. Our Outdoor Fishing is legendary and can provide you with memories worth a lifetime. South Florida Fishing is a great way to experience something unique and soak up the sun. Enjoy a boat ride, the abundance of wildlife, incredible views and a fight worth capturing with family or loved ones. Don't miss out on your adventure next time Visiting South Florida!
Your Adventure Starts Today with Captain Joe Gruny and Captain Brian Leibowitz in Fort Lauderdale or Miami.
If you enjoyed this post about South Florida Fishing, you might also enjoy our Fishing Blogs.
Don't forget to follow us on Facebook, YouTube, Twitter and Instagram.