Renting a boat is as easy as…
Boat Rentals throughout the United States, Florida, Georgia, Mississippi, Pennsylvania
We are the premier boat rental destination to the nations most popular lakes, like Lake Ida, Lake Osborne, Lake Erie, and Lake Okeechobee! We have been serving these metro areas in Florida for over 20 years. Our fleet has grown to over 6 states and 150 boats.
We Rent Everything from Pontoons, Party Boats, Bass boats and Kayaks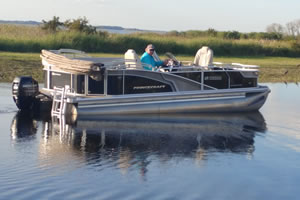 There is no better way to enjoy the many Florida lakes, streams, and ocean than BY BOAT! Check out the iOutdoors fleet of rentals that is sure to please any boating palate. Rent a super fast Power or Jetboat. Take a leisure stroll on our Sailboats, Canoes or Kayaks. It's always a blast to rent out the latest and fastest Bass boat and Kayak. You can also rent a fully furnished houseboat to cruise the St Johns River or Lake Okeechobee. Rent a boat to go fishing, sightseeing, skiing, wakeboarding, or a party boat for a cruise.
Consider Something different?
If you've never considered a houseboat rental over a hotel room you don't know what you're missing! Your group can cruise at your own – swim, dive, fish, and snorkel all from your living room! All of the iOutdoor watercraft can be rented by the hour, day, and half-day or by the week! Whether you want to wear the captain's hat, or you decide to have your rental captained by one of the iOutdoors certified guides; there are numerous ways to enjoy Florida's waves!
Call iOutdoor now to start planning your boat rental excursion NOW! 1-888-412-1117
There are thousands of different rental boats, making countless different styles and sizes of boats. Which will be the right boat rental for you? That depends entirely on how many people will be attending and what activities you'd like to partake in. If you think water skiing looks like a blast, then ski boat rentals should top your list. Don't settle for a non-ski boat. But if you've always wanted to try fishing, then don't get a ski boat, you probably need to ask yourself "what will mainly use this boat for?" Remember that some types of boats, like fish-and-ski models, are great for multiple uses. But some others, such as bowrider, are a bit more specific in what they're used for.
Important factors to Renting Boats
One important factor you should consider prior to renting a boat is its the year and make of the rental boat. What's the condition and what kind of reviews does that rental company have. Some rental company boats are known to be used hard and if you rent from an outfit that doesn't stay on top of issues like maintenance and repairs, your day on the water will be ruined by mechanical breakdowns. This is often renting boats that live in a saltwater environment and less of an issue with freshwater boat rentals. You should always do a bit of investigating prior to making a decision about what rental company you are using.
Buyer be where – boat rental by owners are known to have poor results and standards of service. It is another option some people may want to consider, especially in areas with little to no options. Again, note that you may encounter boats in varying conditions and take the time to read user reviews, which should be available on the web site of the rental service.
Editor's Note: Thinking about renting a boat for the summer, may for the kid's birthday? During the age of coronavirus, boating is one of the best forms of a safe. An outdoor recreational activity you can do with close friends and family and do it safely. But when renting a boat or joining a boat club, there are some new factors to keep in mind to ensure your experience is fun and safe. What to Know During COVID-19?
What you don't know:
Maybe you haven't decided what type of boat to buy despite spending hours on the web. Maybe the cost of boat ownership is forcing you to wait before buying, or maybe you're just don't have the storage for your own boat yet and you want to rent one to save time and hassle of the boating lifestyle. Whatever the reason may be, a boat rental will allow you to enjoy the life-changing things that happen on the water, without taking on the burdens that come with owning a boat.
Fortunately, boat rentals are becoming more and more popular, you can find boat rental services near any body of water. Whether you're thinking about a fishing boat rental, a pontoon boat rental, or anything in-between, you'll help you find the boat and navigate that process with our experience through our FAQ section below.
This is decided state by state, in almost all cases you'll need to be at least 18 years old to consider a boat rental. In some others you may need to be 21 or even 25; the rental companies set their own policies and they may vary a bit from one to the next. Age requirements may be more flexible for a fishing charter boat rental since charters generally come with a captain who's responsible for running the boat (other than "bareboat" charters).
Boat rental pricing varies from one end of the spectrum to the other. A motorboat rental tends to cost more than a non-motorized boat. The larger the boat, the more they rent for; fishing boat rentals cost less than renting luxury cruisers. You'll find that vacation boat rentals in popular tourist destinations cost significantly less than in less-traveled waterways.
You can save a bit on hourly rates by renting over a longer period of time. Renting by the hour is the most expensive option when you look at the per-hour cost. Full day rates bring that down, weekend boat rentals result paying even more per hour because of prime days of the week. When you look at the big picture, on an hourly basis, comparatively it is much cheaper than owning your own boat.
Food & Drinks
Water Toys
Fishing Rods
Fuel
When it comes to food and drink, remember that more is better. Especially when it comes to hydrating fluids, if you don't pack enough it can ruin a day on the water. And of course, you'll want to bring along whatever extra equipment you want whether that means hauling a wakeboard along for that pontoon boat rental or taking fishing rods to go with your bass boat rental.
Fortunately, fuel is one thing you don't have to worry about since rental services generally supply the boat fully tanked up and ready to go. You may, however, need to be prepared to refuel the boat at the end of the rental period. Some outfits consider refills (and paying for them) to be part of the renter's responsibility.
Why iOutdoor?

We have EVERY type of boat you can imagine. For those of you who choose to captain your own boat, safety instructions will be thoroughly and completely reviewed prior to your departure. If you choose a guided adventure, iOutdoor captains are the best in the business! All of our Captains are Coast Guard Certified.

All of our boats are new models, meticulously maintained to meet Coast Guard standards for safety. Our fleet of boats is equipped with the required onboard Coast Guard safety gear. No worries, you WILL have a safe and enjoyable time.

Get your Boating adventure started NOW! Simply fill out the form on this page or call 1-888-412-1117. iOutdoor friendly and knowledgeable staff will answer any questions you may have; including where to stay if overnight is necessary, what Boating areas will yield the results you are looking for, appropriate boat size, etc. Whatever your needs may be, iOutdoors will make it happen!
Interesting and fun with a great leader and nice traveling companions in a destination with beautiful people and countryside
– Vincent Garcia, Italy
What to bring:
It is recommended that you bring sunglasses, a hat, long sleeve shirt, a light jacket for cool mornings, and sunscreen! Anything you think you may need to protect you from long hours in the outdoors. And most importantly, don't forget the camera and/or video recorder!
You will need to provide your own food and drinks, so bring a cooler!
If you are planning to fish on your boating adventure, and have a favorite lure or rod you would like to use; please bring it with!
Sea Sickness Policy:
Please note that any charters that are forced to end early due to seasickness will not be refunded. If you are prone to seasickness, please take the necessary precautions. Some helpful tips to avoid seasickness include limited alcoholic drinking the night before, eat breakfast, stay hydrated, and take the seasickness medication (if needed) per the instructions BEFORE launch. It is generally recognized that taking seasickness medication AFTER you become ill is not going to work for most boaters.
Pricing & Availability
Pricing and availability are a function of region, type of boat rental or charter, number of participants, etc. iOutdoors will help you select a boating experience that is perfect for your needs and budget. Make no mistake, these are completely different than an Airboat ride. Call us now to start creating the best boating adventure possible! 1-888-412-1117