Central Florida Fishing Charters
Central Florida is home to some of the most incredible bass fishing in the nation. All year long the action is red hot and ready for you to set the hook. Many travelers come to Central Florida for the theme parks but never get the chance to explore all that it has to offer. Central Florida Bass Fishing will most certainly give you the opportunity to have an outdoor adventure of a lifetime!
Fishing may not be the first thing on your radar when it comes to the outdoors. Many of our clients and anglers have never fished before. We are here to let you know that when you step aboard our fishing vessels, everything is taken care of for you. You will never have to touch bait or your fish on your trip if you don't want to. Bass fishing with our local experts is truly a unique adventure every time you go out. Bring your families along for something worth remembering.
Our local experts have years of experience bass fishing in Central Florida. The top lakes to catch big bass on in Central Florida is Johns Lake, Kenansville Lake, Lake Toho, and the Butler Chain of Lakes. This fishing report is going to cover how the fishing has been on each of these fisheries. Our local expert and professional fishing Captain Brent Nelson can get you on some quality bass at whichever fishery you desire.
Here is your Central Florida Bass Fishing Update:
Captain Brent Nelson had the pleasure of fishing with Rodney, his son Alec and their friends Jack and Chase. They were traveling to Central Florida strictly to catch trophy largemouth bass. If you are looking for a giant, this is the place to visit. There's not too many days and fishing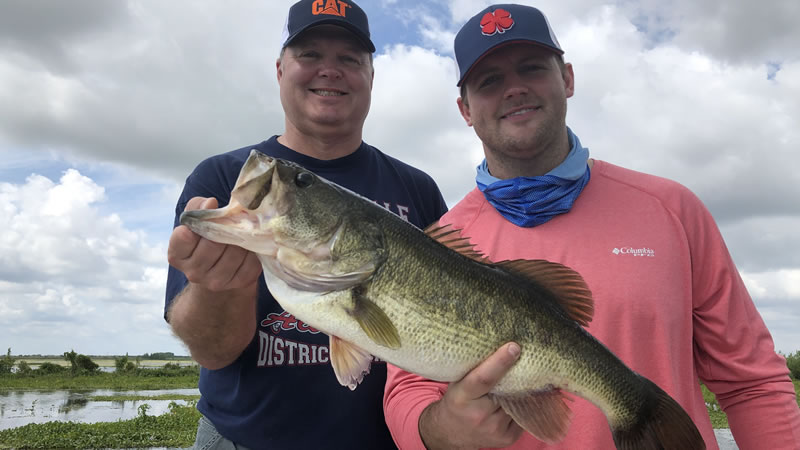 trips that produce like this one. Captain Brent explored the waters of Kenansville Lake with these anglers.
What a day on the water for these fishermen. Rodney, Alec, Jack, and Chase caught over 50 Florida largemouth bass in their quick 6-hour fishing trip. This was a split fishing charter with half the day spent with live bait and a half with artificial baits. Most of the bass were caught with live bait. Two of the largemouth bass that were caught weighed over 8-pounds. Numbers of quality bass were caught and the whole group had a great time reeling them in.
This is what Central Florida Fishing Charters are all about. Captain Brent is looking forward to fishing with these guys again in the near future!
It was not long after this fishing trip that Captain Brent was back out on the water. This time, he changed it up while fishing Johns Lake. Captain Brent had the pleasure of fishing with Jeff and his two sons Copper and Connor. They were traveling from Texas looking to cash in on some largemouth bass fishing so they went out on a quick 6-hour fishing trip to see what they can get themselves into.
The action was strong and steady the whole fishing trip. Early on, the bass were biting the shiners and these anglers were bringing in some quality fish. Once all the bait was used up, Jeff and his sons switched it up and threw artificial baits. They also landed some quality fish on chatter baits, rattletraps, swim baits, flukes, and sencos.
Jeff, Cooper, and Connor enjoyed catching largemouth bass up to 5-pounds. Captain Brent is looking forward to the next opportunity to fish with these guys again!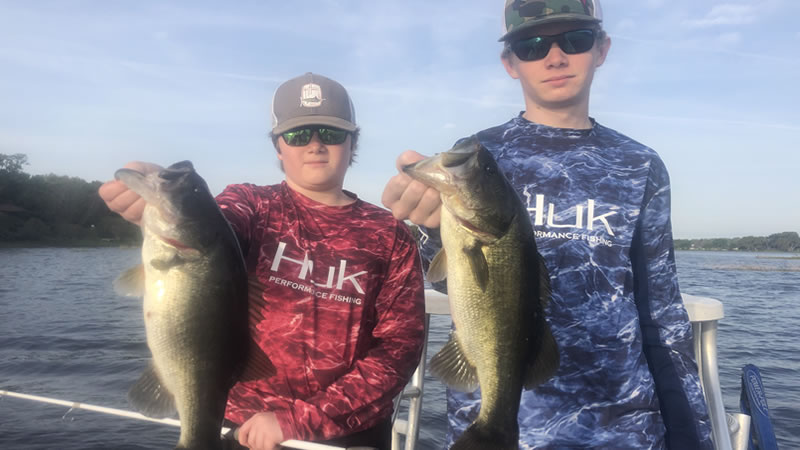 Just shortly after this fishing trip, Captain Brent had the pleasure of fishing with Jerome and his son RJ on beautiful Lake Toho. Kissimmee, FL is a playground for big bass fishing. Even though the fishing conditions were tougher than normal, Captain Brent got them on some quality bass. High winds and high pressure make the bass act funny.
Jerome and RJ caught great numbers of largemouth bass weighing up to 5 pounds. Wild-caught live shiners were the most effective bait on this fishing trip. They also caught them on spinnerbaits and soft-plastic worms. This father-son duo had a blast catching bass and are looking forward to their next adventure in the near future!
The final update on this report was also with Captain Brent Nelson, who had the pleasure of fishing on the Butler Chain of Lakes with Peggy and her family. They were traveling to Central Florida near Orlando for a vacation from South Carolina. While here, they wanted to explore what Florida Bass Fishing was all about.
The Butler Chain of Lakes is a fishery known to have some incredible fishing action all summer long. Warm waters get the fish active and ready to bite. Peggy and her family caught over 35 Florida largemouth bass on wild-caught live shiners. The main structure was submerged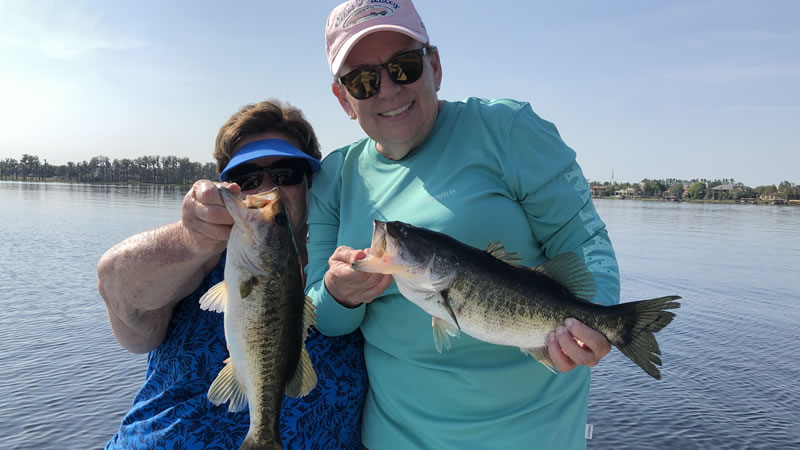 vegetation and the largest fish caught weighed in at 4 pounds. It was a great trip for everyone aboard.
Captain Brent is looking forward to fishing with Peggy and her family again in the near future on our Central Florida Fishing Charters!
Now is the time to cash in on some Central Florida Bass Fishing action. The bass are biting and will only continue to bite as the summer months roll on. Bring your family along for a fishing trip you will not forget. Central Florida is filled with wildlife and beautiful fishing. We look forward to seeing you on the water next time!
Your Adventure Starts Today while Visiting Florida.
If you enjoyed this post about Florida Fishing, you might also enjoy our Fishing Blogs.
Don't forget to follow us on Facebook, YouTube, Twitter and Instagram.
If you are interested in Saltwater Fishing in Florida, we can provide it!