October Bass Fishing Report
Are you wondering: What can I do when traveling to Central Florida? This is a very common question. Most families spend time at the theme parks or attractions that are local but there is so much to experience. When traveling to Central Florida, don't overlook what an outdoor fishing experience can provide. Our local experts work hard at making your visit something memorable. This October Bass Fishing Report will help you gain some insight into how the bass are biting!
Bass Fishing in Florida is one of the most rewarding experiences you can embark on. From the first step onto the boat to the last, it will be action-packed with knowledge and nature. When looking to completely unplug from reality and the stresses of life, get a rod in your hand on our Central Florida bass fishing tours. Sit back and relax while setting the hook into a beautiful largemouth bass that could be your personal best.
Central Florida is a vast place with great opportunities to get out in the outdoors. If you are wondering what the highlight is, it has to be fishing. The vast amount of freshwater lakes abundant with wildlife and fish species makes it almost irresistible. You just have to embark on the journey and adventure and let our local experts take care of everything else!
Our local experts come equipped with everything you are going to need for your fishing trip. The most important part of any fishing trip is knowledge and experience. When hiring a Captain or guide, be sure to check out their reviews. Pair yourself up with a service and guide that will be able to provide you with exactly what you need. Our local experts come prepared to adjust to your skill level and set you on the way to becoming a better angler.
Enjoy this October Bass Fishing Report in Central Florida!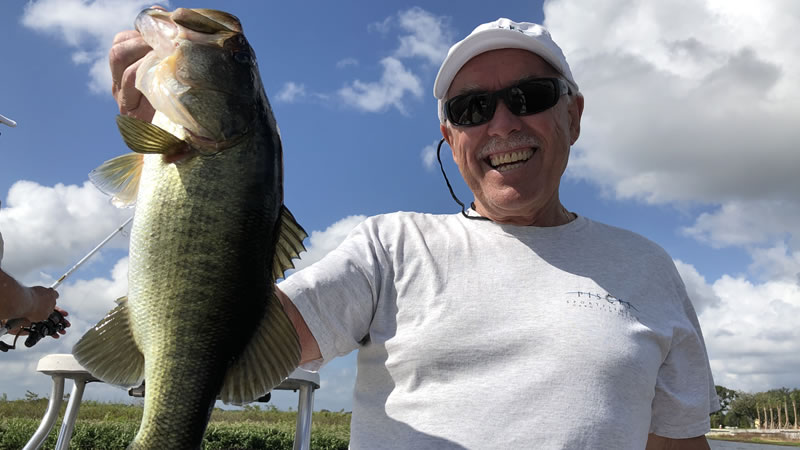 Captain Brent Nelson had the pleasure of fishing with Thomas and Dan. They were traveling to Central Florida to enjoy a day of bass fishing from Fort Walton Beach, FL. One of their top choices was Lake Toho in Kissimmee, FL. The October bass fishing has been red hot and these guys had a great time on the boat. Captain Brent got them around some quality largemouth bass.
When it comes to Lake Toho Bass Fishing, one fundamental structure produces fish: grass. Submerged grass or hydrilla creates a safe haven for both baitfish and larger prey. As a result, it builds a feeding ground for hungry largemouth bass.
Thomas and Dan caught 32 largemouth bass on this fishing trip. Most of the fish ranged from 1.5 pounds up to 5 pounds. For the month of October, you can't really beat that action. Most of the fish came on wild-caught live shiners which made for some great action. As well, they caught bass on artificial baits consisting of trick worms and sencos around the grass lines.
Fishing conditions were cloudy and windy which helped with the bite. Thomas and Dan had a blast catching fish all trip long. Captain Brent is looking forward to their next fishing adventure soon!
It was not long after this fishing trip that Captain Brent was back out on Lake Toho. This trip was slightly different and so was the action. Captain Brent had the pleasure of fishing with Markus, who was traveling from Frankfurt, Germany to set the hook into a Central Florida bass.
Central Florida Fishing Trips are the highlight for many travelers' experiences in Florida. Markus was really excited to get out on the water and make something happen. The bite was productive but not as strong as the last trip.
Markus wanted to use only artificial baits and Captain Brent came through strong. He caught over 20 Florida largemouth bass on this fishing trip. All the bass were taken on zoom trick worms, senco style worms, and zoom super flukes. Markus's biggest bass weighed in at 4 pounds.
Yet again, the most productive areas were around submerged vegetation and grass lines. If you can find these structures that also have access to deeper waters, you will find some quality fish. Windy conditions helped push bait into key areas that also helped the bite.
Markus could not have been more ecstatic about his fishing experience here in Central Florida. Captain Brent is looking forward to getting back out on the water soon!
Come Catch Yours TODAY! 
It is not every day that you get the chance to travel to Florida. When doing so, make sure to check out what freshwater fishing has to offer. If freshwater fishing isn't your thing, here at iOutdoor, we also have saltwater fishing available. When looking to get in the outdoors, don't overlook what Florida has to offer.
Fresh air could be a massive remedy and addition to your family vacation. We have fishing vessels and local experts that can accommodate the whole family. Whether you want to set the hook or just explore the beautiful nature of Central Florida, you can.
We hope that you consider an outdoor adventure with some of the best local experts in the business. We look forward to seeing you on the water next time!
Your Adventure Starts Today while Visiting Florida.
If you enjoyed this post about Florida Fishing, you might also enjoy our Fishing Blogs.
Don't forget to follow us on Facebook, YouTube, Twitter and Instagram.