Central Florida Fishing Report
It is not every day that you get the chance to go on vacation or even fishing. You are traveling down to Central Florida and a thought pops in your head: how's the fishing doing? Central Florida Fishing in September has already been fantastic and is only getting better. Below we provide you an inside look at how the bite is and where it is going. Our local experts are your eyes on the water and we want to help you plan that adventure you are after. We hope this September Central Florida Fishing Report helps you along the way.
Whether you want to explore freshwater fishing or saltwater fishing in Florida, our local experts are the way to go. Fishing in Florida, in general, is an activity everyone can partake in but it's not an activity everyone has success in. What many anglers fail to realize is that in order to have daily success on the water, you have to be on the water daily. So, when you are traveling to Central Florida and want to go fishing, make sure you get out with an expert that is dialed in on the action.
Before getting into the fishing report and Florida fishing update for this month, we would like to break down your opportunities. When it comes to Central Florida Fishing, you have several different options. You can embark on a freshwater fishing adventure or a saltwater fishing adventure. Freshwater fishing consists of largemouth bass fishing on the Butler Chain of Lakes or the Kissimmee Chain of Lakes. Both of these locations are fantastic all year long. You also have saltwater fishing options on the east and west coast. The closest location would be the east coast out of Cape Canaveral but you can access the west coast as well out of Tampa, FL.
One of the best parts about adventuring with our professionals and service is what we strive to provide you the best experience. We do not want to put you in a destination that will not meet your needs or your families needs. Most of our captains, guides, and experts are flexible not only with their time but where they fish. Our hopes are that when planning your next vacation, this could be a guide for you at picking your next adventure!
A yearly phenomenon is occurring as we speak along the east coast of Florida. It is something called the Mullet Run. Whether you love inshore fishing or offshore fishing, mullet is a great sign. Inshore Fishing in Florida is where it truly shines. The mullet run the beach and get inside the inlets providing some exceptional visual fishing for snook and tarpon among other species. If you want to hit the mullet run and have a great time, now is the time to go fishing!
Central Florida Inshore Fishing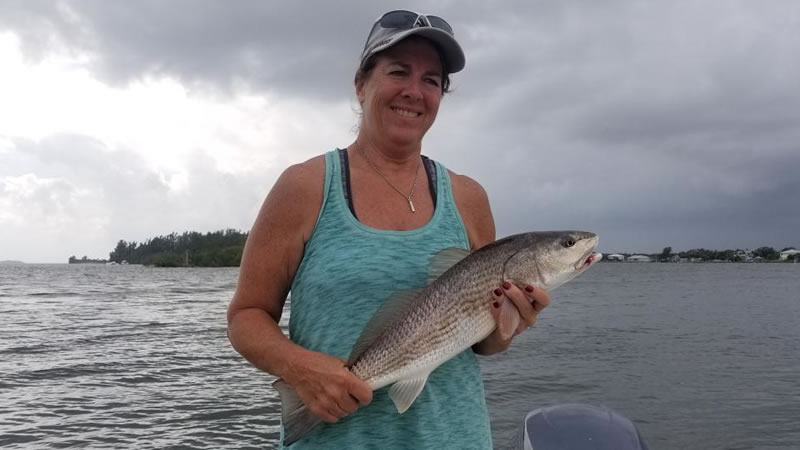 According to Local Expert and Professional Captain Devin Dickerson, saltwater fishing on the east coast has been on fire. The intercoastal waterways along with bridges have been attracting a variety of different species. Cape Canaveral Inshore Fishing is great for new anglers and those looking to catch numbers of fish. This destination will also challenge the experienced angler that is dialed in. Every fishing trip and charter should be a learning experience and a test on your knowledge. Luckily, you have an expert there present to help you along the way.
Are you one that gets seasick or don't even want to take the chance? Inshore fishing is an exceptional option for you as you will never have to worry about seasickness. The calm nature of the inshore waters allows you to sit back and enjoy a day on the water with no worries. This is why when looking for a relaxing saltwater environment, inshore fishing is there for you. Inshore fishing also is a great opportunity to learn a new technique or catch a different species. You never know what passion comes from catch Snook, Redfish, Tarpon, Snapper, Flounder, and more on your fishing trip.
Captain Devin Dickerson has been taking out several clients and travelers inshore fishing out of Cape Canaveral. We are seeing great catches from mangrove snapper and flounder. As the mullet continue to get strong, big catches from Tarpon, Snook, and even Trout will pick up. Early September is just the start of some excellent late summer fishing. The upcoming months are going to be prime to land a hard-fighting inshore species in this Central Florida Fishing Report.
September is a great month to go inshore fishing for many reasons. Snook Season is most certainly one of them. September 1st opened up harvest season for Snook Fishing in Florida. You are allowed to keep 1 fish per day within 28-32" on the east coast with a valid Snook stamp and license. Go to myFWC.com to find out more information on the rules and regulations of fishing before embarking on your adventure. When you hop on board, your local expert will know all the regulations as well. Feel free to ask any questions. Please support conservation by purchasing the proper licenses along with abiding by the laws.
Central Florida Fishing Report for Offshore/Deep Sea Fishing
If you're the one that wants to cruise offshore and into the deep blue sea, Cape Canaveral Deep Sea Fishing is a great way to do so. When it comes to Offshore Fishing in Cape Canaveral, you have two different styles of fishing: Bottom Fishing and Trolling. These two different styles yield different action and species. Deep-Sea Fishing can be fun as you can change it up and catch a multitude of species on one trip. If you can bear the seas, spend as much time as possible on the water.
Deep-Sea Fishing provide a unique perspective of Central Florida. It is amazing to be able to travel offshore and catch fish with the sight of land. This style of fishing can provide some delicious species to catch-and-cook. After finalizing your reservation to go deep-sea fishing, make sure to contact your local expert and discuss your fishing goals. They will make sure to make the right decisions to help get you on the species you are after.
Right now, both bottom fishing and trolling are red hot. We want to highlight the bottom fishing for red snapper during this month. One cool part about fishing Cape Canaveral is that you don't have to run super far to get on fish. Wrecks and Reefs close to Cape Canaveral has allowed for exciting fishing and action within a short distance.
Our Local Expert and Captain Mark Gay is an exceptional guide for inshore and deep-sea fishing. He reports that the bottom fishing for red snapper is exceptional right now. After by-catching hungry sharks on the wrecks, Captain Mark started hooking into some really nice snapper. The whole month of September will be a great month for bottom fishing here in Central Florida.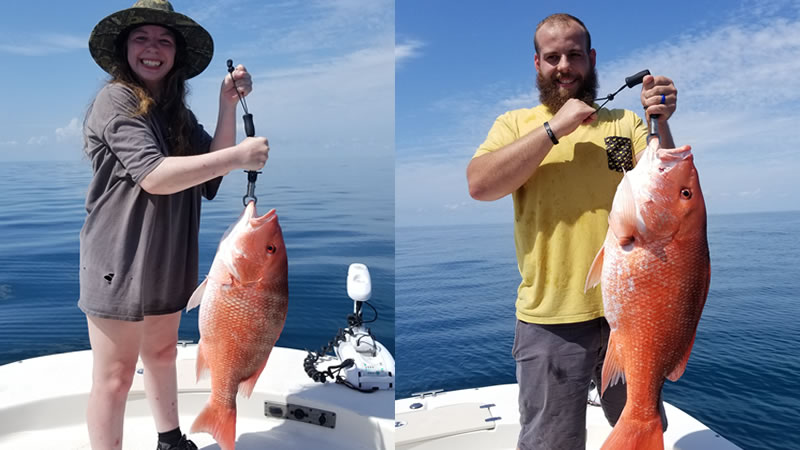 When the seas are calm, Captain Mark travels out to local and close-to-shore reefs that hold some awesome fishing. Summertime is a great time to go offshore because most of the time, the seas are calm. Winds are light and the breeze keeps the day cooler than it would be without wind. Luckily, when this happens Captain Mark can get offshore to his local spots for monster Red Snapper. As a result, he can put you on some awesome fish.
If you want to stay constantly moving, trolling may be a great bet for you. Late summer months like this one, call for sight-fishing offshore. Cruise out with Local Expert and Professional Captain Jacob Weston to get on some healthy offshore or deep-sea species. Right now is a slower month for offshore trolling but you can have fun catching King Mackerel and Bonita. Don't be afraid to ask to drop a bait on a wreck or reef further offshore for some Amberjack and more.
Factors that Increase Success Deep Sea Fishing:
A constant variable to having success when trolling or sight-fishing is that you have to find one of two things: Structure or Birds. In order to capitalize on your trolling trip, you have to be on the lookout for structure. The structure can include floating wood or debris, sargasm lines, or anything that will attract fish. This structure naturally provides a place for smaller fish to hide and feed, which makes the bigger fish attracted to it. If you spot something like this in the distance, be sure to shut down super early and get everything ready before pursuing further. Luckily, your local expert will know exactly what to do.
Another offshore or deep sea variable to success is birds. Birds will give you clues to where the bait is. Bait is an integral factor in having success. If you find the bait, you will find the fish. See what happens is the fish push the bait to the surface and the birds push the bait down and as a result, you get a feeding frenzy. Throw cut bait, live bait, lures, a troll by it, etc for success during this frenzy.
Deep-Sea Fishing is a great option for those looking for the largest catch possible. During the right times of the year, you can have a lot of success catching some big fish. September is a transition period and it would be best to talk directly with a local expert to determine if going far offshore is the right option for you. Don't forget, here at iOutdoor, we strive to put you on the best trip for your needs and your families needs.
Central Florida Bass Fishing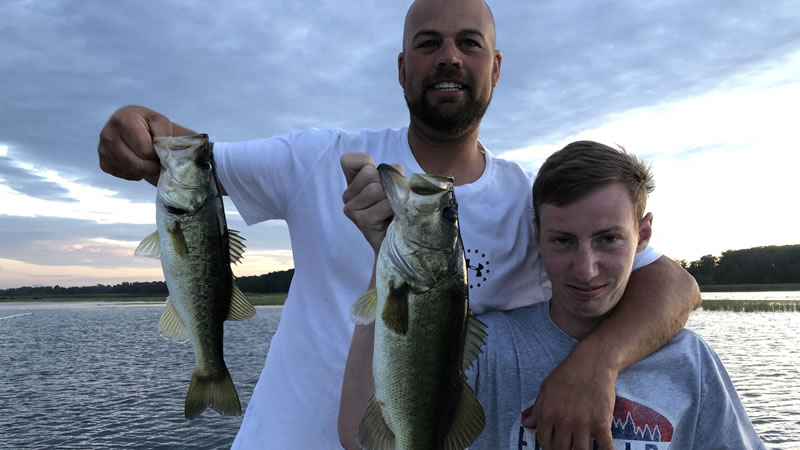 Now if you are looking for the most incredible outdoor experience in Central Florida, don't look any further than Freshwater Bass Fishing. Central Florida is home to a massive amount of freshwater lake systems that hold beyond exceptional fishing all year long. Big or small, urban or remote, Central Florida is your destination for bass fishing in Florida.
The top 2 bass fishing destinations in Central Florida is the Kissimmee Chain of Lakes along with the Butler Chain of Lakes in this Central Florida Fishing Report. These two locations can bring you great success when looking for Florida largemouth bass. Each time of the year will bring about different fishing conditions and every year they change, which is one of the many reasons that a local expert is essential.
Our local experts and professional Captains have over 20 years of fishing right here in Central Florida. Captain John Leech and Captain Steve Niemoeller are both two exceptional guides to get you on the fish of a lifetime. As well, Captain Devin and Captain Mark also fish for largemouth bass on our fisheries. We have you covered when it comes to fishing here in Central Florida. Collectively, they all work together to put some beautiful fish in the boat for you.
The key benefit to freshwater fishing is that very rarely do you have conditions that impede your fishing trip. Florida weather passes rather quickly. Never let rain come in the way from a great day on the water. Most of your local experts will have rain gear on board for you. Windy conditions can play a different factor but many of our fisheries have areas with protected cover. Light winds will help push bait into pockets which will get the fish schooled up.
So, let's talk fishing! The Butler Chain of Lakes is a truly unique fishery from the rest. This urban chain of lakes is surrounded by multi-million dollar homes that really enhance your fishing experience. As well, the Butler Chain has numbers of different birds and wildlife that you will get the opportunity to see. Butler is not characterized by trophy largemouth bass but count it out for producing some nice catches.
<