Fort Pierce Fishing
Have you ever heard of Cabela's? If you are born and raised in Florida, Cabela's probably isn't on your radar. Cabela's, the World's Foremost Outfitter of hunting, fishing and outdoor gear is a fantastic store to experience. If you do live in Florida and love the outdoors, Bass Pro Shops is something that you recognize. Back in September of 2017, Bass Pro Shops made an acquisition deal to buy Cabela's combining the two world leaders in outdoor lifestyle and equipment. As a result, Cabela's goes Fort Pierce Fishing with our Local Experts.
Fort Pierce is a beautiful city tucked in on the east coast of Florida. It is not every day that you get the chance to explore what these destinations have to offer. Whether it is fishing, beaches, surfing or exploring the Fort Pierce Inlet Park, every traveler has the chance to experience something unique. Fort Pierce Inshore Fishing happens to be a massive highlight. Many factors are involved but the ability to catch a wide range of species makes the fishing trip exciting.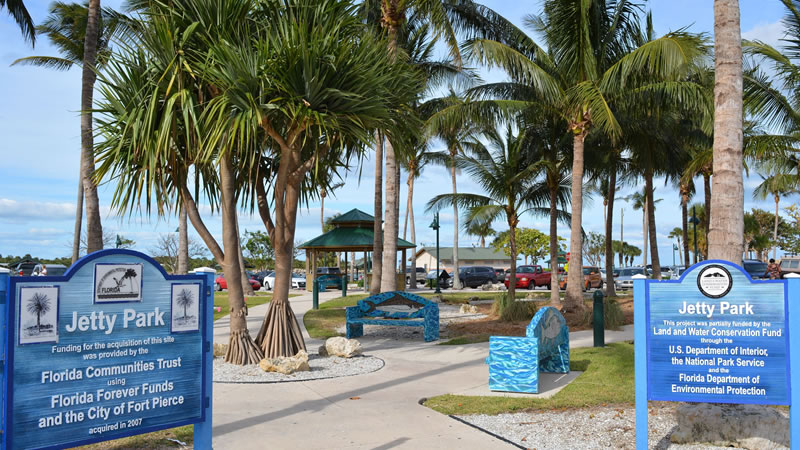 Whether you have a large family or want to just relax with your loved one, inshore fishing is a great option. Most days on the water are calm and you never have to worry about getting seasick. Constant action all trip long will have everyone excited and having fun. Inshore fishing in Florida is a great way to get your loved ones addicted to fishing.
Subsequently, when it comes to inshore fishing in Fort Pierce, a local expert is essential. Every structure, bank, jetty, and beach all look like very productive spots to catch fish. The reality is that not every location will produce the bite or species you desire. A local expert can cut your time in half. They can make sure that you are on the fish as soon as possible. Our local expert and professional Captain Devin Dickerson have the ability to read the water and show you an amazing time along the saltwater coast of Central Florida.
Here is your Fort Pierce Inshore Fishing Report with Cabela's:
Brent and his wife Lisa were traveling to Vero Beach, FL looking to spend some time on vacation. They were traveling from Canada in celebration of their 20th Wedding Anniversary. Firstly, we wanted to congratulate this couple on their long, happy marriage. it is not something you see all to often in people anymore. There was no better way to celebrate than going out on an inshore fishing trip.
Captain Devin Dickerson had the pleasure of fishing with Brent and Lisa. They wanted to explore Saltwater Fishing here in Florida for the first time. Captain Devin showed them a great time on the water with constant action all trip long.
Brent is the Director of Retail Operations at Cabela's with over 20 years of experience in the business. His ability to effectively lead and develop talented teams allowed him to expand the retail market for Cabela's. It was an honor to have Brent and Lisa out on the water creating memories we all won't forget. Taking a break from the passion for your work and getting into the great outdoors is almost always the answer.
The fishing trip was absolutely incredible. Lisa had a blast catching over 25 Mangrove, Lane, and Mutton Snappers. The constant action had everyone on board excited to see what we coming next. Brent cashed in on the action as well. He had 4 different occasions where big Florida Snook would eat his bait and send his drag screaming. Unfortunately, each time, the snook would get into the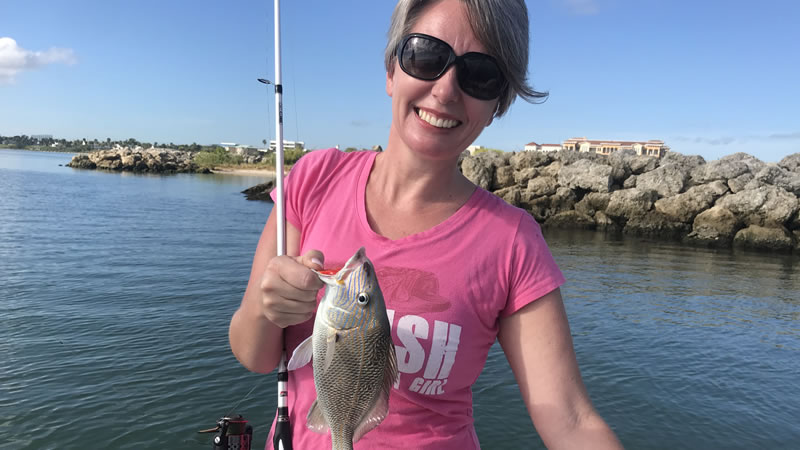 rocks and cut off.
Snook Fishing in Florida can most certainly be frustrating. These fish are smart and large. Snook are a fierce species that will do anything to get off the line. Fishing is Fishing and that just is the name of the game. It is why we continue to go out and try to perfect our passion so that we can get on more fish next time.
So consequently, you know that you had a successful fishing trip when all the anglers on board are tired. Brent and Lisa were worn out after this fishing trip. Catching 30-40 fish with a wide range of different species will create a fun-filled day on the water. A nice breeze kept the day cool and the fish biting.
Brent and Lisa had a fantastic time Fort Pierce Fishing for inshore species. Captain Devin is eager and excited to see them back on the water as soon as possible for more drag screaming action!
Explore what Fort Pierce, FL has to offer for yourself!
As you can see, Central Florida and more specifically the east coast has an abundance of different species that can really show you a great time. Therefore, whether freshwater fishing or saltwater fishing, Central Florida has it for you. The great outdoors holds a lot of potential for anglers and travelers looking to experience something new. Every year, we get the chance to share our passion for these activities and destinations with travelers across the globe.
If you are wondering what the best things to do when visiting Central Florida, don't overlook fishing. It can really help bring a lot of great memories for your loved ones and family. If you are wondering how to experience it or where, contact us and we can get you in touch with a local expert. Also, explore your local Bass Pro Shops and Cabela's as they will always have guidance in ways to explore the outdoors.
We hope to see you on the water next time!
Your Adventure Starts Today while Visiting Florida.
If you enjoyed this post about Florida Fishing, you might also enjoy our Fishing Blogs.
Don't forget to follow us on Facebook, YouTube, Twitter and Instagram.