Downtown Tampa Fishing Charters
Are you visiting the west coast of Florida? Are you looking out over Tampa Bay wanting to explore it? Tampa, Florida is a prime destination to discover all that Florida has to offer. You have endless activities you can encounter but Tampa Inshore Fishing is one of the best. Hop on board with our local experts and explore a Downtown Tampa fishing charters worth remembering!
Tampa, Florida is located on Tampa Bay giving it access to water all year long. It may be a major business center but it also has a productive ecosystem for fishing. Take a break from the museums, Busch Gardens, or Ybor City and explore the inshore waters of Tampa. Our local expert and Professional Fishing Captain Max Rowe grew up on these waters and can show you an amazing time!
Here is a Tampa Florida Fishing Update:
Captain Max Rowe had the pleasure of fishing with Lauhri and her son in Downtown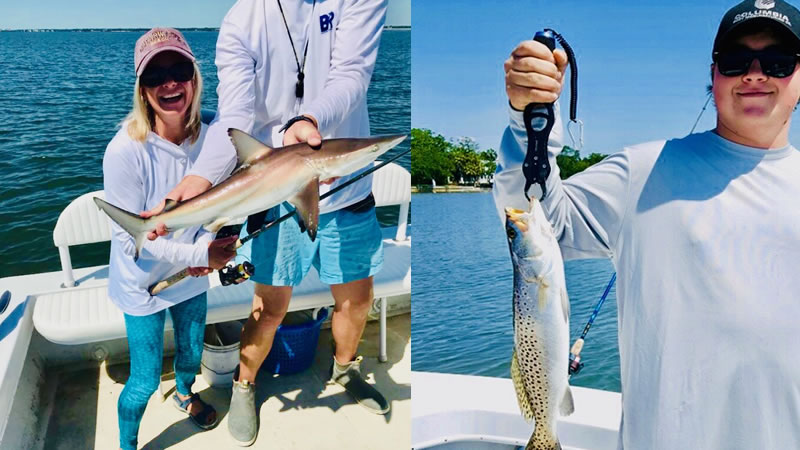 Tampa. They wanted to get the full experience while visiting Tampa on business. A quick inshore fishing trip is all you need to break up the day and get the creative juices flowing. You never know what you will catch on your fishing trip.
Captain Max got up early to get the day started. He cruised around the bay hours before Lauhri and her son made their way to the meeting location. Captain Max was in search of bait. Live bait is key when it comes to catching numbers of inshore species. He had the cast net out and ready for the pod of threadfins that were lurking in the shadows. After a couple of throws and loading the live wells, back to the ramp to meet his clients.
When you embark on a fishing adventure with iOutdoor, you can expect the most professional Captain, equipment, boat, and experience. Lauhri and her husband were ready when Captain Max arrive and they hop aboard for the adventure that was ahead.
It was not long after this that Captain Max set them up on their first spot. Within 5 minutes of live bait being in the water, they started to get some bite. The first spot produced steady action from Sea Trout, Spanish Mackerel, and Jack Crevalle. Small Black Tips were also being caught. All of these species were caught within the first 60 minutes of the fishing charter.
Downtown Tampa Fishing Charters allow you to access some incredible water quickly. Lauhri and her son were in-store for even better action at the next stop. Captain Max cruised to some different structure at a different water depth. The mangrove lines in the early afternoon hold some great action, especially with live bait.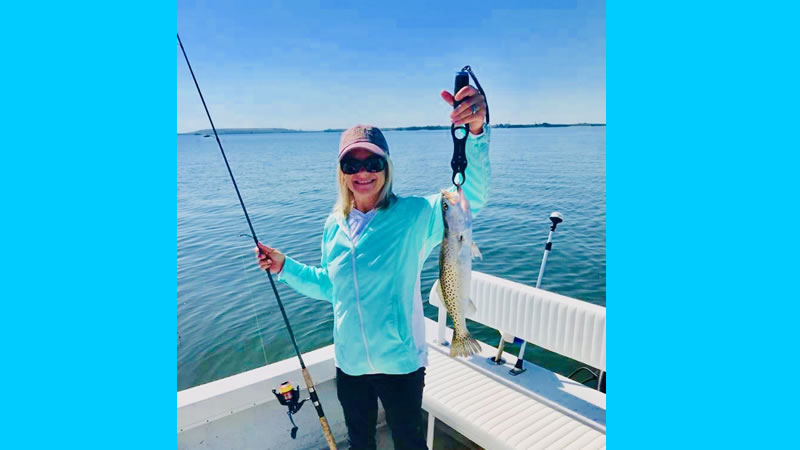 Lauhri and her son began to set the hook and fight some quality Snook. They caught over 5 nice ones with a 30 inch Snook in the boat. When you are looking for an inshore fishing experience, Tampa has everything to offer. This couple had a great time catching fish all trip long.
Captain Max is looking forward to their next fishing adventure in the near future while Snook Fishing in Florida!
Whether you are coming to Tampa, FL for a family outing or business, you must explore all that there is to offer. Inshore fishing is a great way to get a different view of Tampa. While you are on the water, you will also be setting the hook into a number of quality species. Action is only picking up and will get better as the summer months continue. Saltwater Fishing in Florida is a great way to introduce your family to the outdoors. We look forward to seeing you on our next Tampa Fishing Charter!
Your Adventure Starts Today while Visiting Florida.
If you enjoyed this post about Florida Fishing, you might also enjoy our Fishing Blogs.
Don't forget to follow us on Facebook, YouTube, Twitter and Instagram.