Marco Island Inshore Charters
Have you ever traveled to the Paradise Coast of Florida? The Paradise Coast is located in West Florida along the Gulf of Mexico. One of the most incredible places to visit along this coast is Marco Island. While visiting, you have to experience what an outdoor adventure can create for you. Fishing is one of the BEST ways to explore Florida and inshore fishing dominates around Marco Island. Hop on board for our Marco Island Inshore Charters for a fishing adventure of a lifetime!
Marco Island is a short ride from the Florida Everglades and Naples, FL. This island is part of a large chain of islands and happens to be the largest and developed land along Florida's Ten Thousand Islands. Marco Island offers endless luxury resorts, beautiful beaches, and incredible inshore fishing.
Bring your family out on an adventure that they will never forget while Saltwater Fishing. When you explore the waters of this beautiful destination with us, you can expect to be with a local expert. Our local experts have years of experience and will get you on the fish all trip long. Inshore fishing is red hot all year and you can have a lot of fun catching Redfish, Trout, Snook, Sharks and an abundance of other species.
Captain Rick Mitchell is our local expert for Marco Island Inshore Fishing. He had the pleasure of spending some time in Marco for some fishing action with several different clients. The first set was a boat full. He had 4 customers on his boat that had very little fishing skills. Luckily, one of the perks about being a fishing guide is the ability to teach and get his clients on numbers of fish.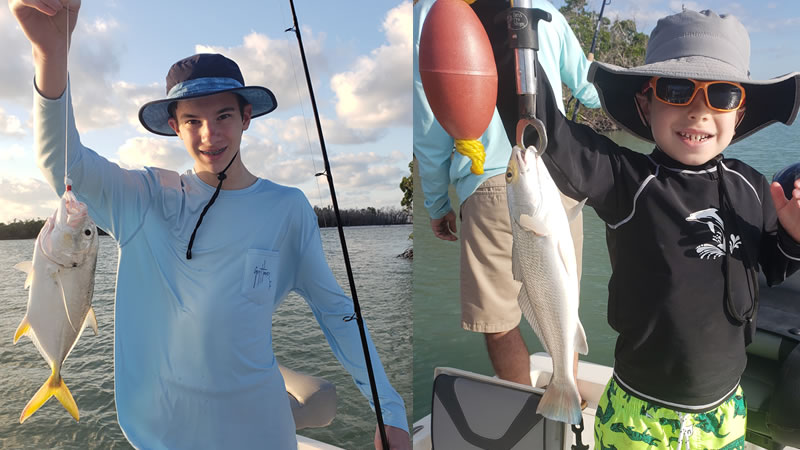 Captain Rick showed them how to work different baits. One of the most successful methods of catching fish along the mangrove lines and the flats are with live shrimp. You can put live shrimp on the bottom or you can free-line them as well. Another successful technique is with a popping cork. The clients on the first trip had a blast catching an abundance of fish with all of these methods. They caught 9 Redfish, 1 Snook, a Bonnethead Shark, Catfish, and several Jack Crevalle.
Another set of clients came on Captain Rick's inshore fishing vessel to enjoy a day in the sun. While soaking up all the beautiful outdoor scenery in Marco Island, they caught a whole boatload of fish. The action has been incredible here in Southwest Florida. This family caught 10 different species of fish. They landed 12 Redfish, 10 Jack Crevalle, several Sea Trout, Sheepshead, Mangrove Snappers, and so much more!
The action won't stop and each trip brings about another awesome experience. Captain Rick had the pleasure of fishing with LeeAnne and her boyfriend on the next fishing charter out of Marco Island. LeeAnne is an excellent fisherwoman that wanted to explore the backwaters of Marco Island. While doing so, she caught numbers of species as well. They had a great time landing 7 Spotted Sea Trout, 2 nice Redfish, 6 Grey or Mangrove Snapper, Ladyfish, Catfish, Sheephead and more.
Captain Rick is looking forward to the next adventure with all of his clients in the near future!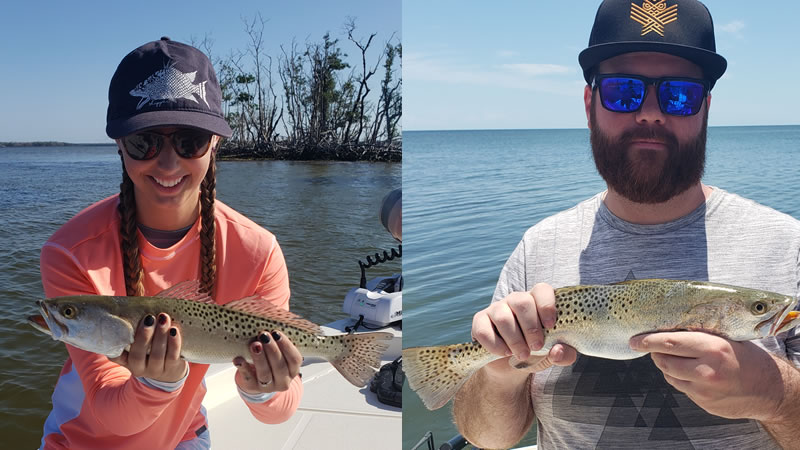 Marco Island is a hidden gem in Florida. If you are looking for somewhere new to travel to, this is your destination. Whether you want to land big numbers of fish or quality, our local experts can make it happen. You never know what you will get yourself into a fishing adventure with our experienced Captains. One thing is certain, we look forward to getting you on the water next time!
Your Adventure Starts Today while Visiting Florida.
If you enjoyed this post about Florida Fishing, you might also enjoy our Fishing Blogs.
Don't forget to follow us on Facebook, YouTube, Twitter and Instagram.