Miami Tarpon Fishing Charter
Did you know that Miami, Florida is one of the state's and the world's most popular travel and vacation spots? One of the main reasons is that it has a diverse amount of activities and things to do. When you are visiting Florida, getting into the outdoors is a must. Enjoy a day on the beach, a round of golf, or a day on the water. A Miami tarpon fishing charter can allow you to not only experience Miami is a new way but create a memory that will last a lifetime!
Miami Inshore Fishing has to be one of the most exciting ways to explore this beautiful destination. When you hop on board with your local expert, they will allow you to see Miami in a whole new perspective. While you cruise out of Crandon Park, you will get the ability to see multi-million dollar homes, large skyrises, cruise ships, and endless wildlife.
Our local experts have years of experience fishing in Miami. Inshore fishing is a lot of fun and action-packed. All trip long you will be catching a variety of different species. Captain Jack Diaz is our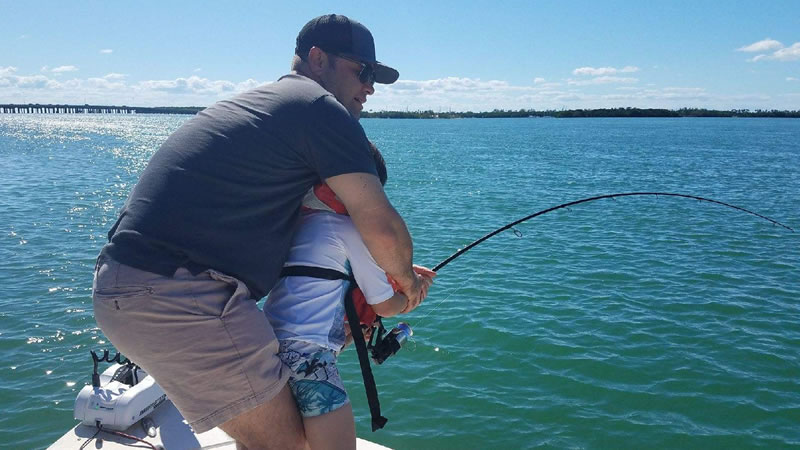 local expert and can get you on Tarpon, Snook, Jack Crevalle, Trout and so much more. Whether you want to fish Biscayne Bay or Government's Cut, Captain Jack can get you on the fish.
Captain Jack had the pleasure of exploring Miami with Diego and his three daughters. They were traveling from Mexico looking for some family time in South Florida. His daughters were 4, 6, and 8. No matter what the age is our guides can get you on the fish. Inshore fishing is a great opportunity to get everyone on the boat. You will never have to worry about getting seasick.
Diego and his daughters enjoyed their day catching a variety of different species in Biscayne Bay and Government's Cut. The fishing is absolutely incredible this time of year. So many different species are biting. Captain Jack put this wonderful family on Jack Crevalle in the Bay. These drag screaming species are some of the most exciting species to catch. They will make you laugh with excitement from the time you set the hook to the time you land this awesome fish.
This was a quick 4-hour fishing adventure jam-packed with a lot of great fishing. The main target species on this fishing trip was the mighty silver king. In Florida, the Tarpon is known as the Silver King. Diego had a blast catching a beautiful Tarpon on this Miami Beach Inshore Fishing Charter. It was caught on a 12-pound test and took over 35 minutes to land and release. Diego also let his young daughter get the chance to experience the power of this amazing fish while Saltwater Fishing in Florida.
The best method to catch Tarpon, Jacks and the inshore species of Miami is live bait. An effective bait of choice, especially on this fishing trip, was live sardines. Both species were caught on live bait. The Tarpon slurped down the sardine right out of Government's Cut leading to a great time and fight.
Inshore fishing is most certainly an excellent way to experience Miami. Diego will be traveling back to Mexico with his family with a memory that he will never forget. Captain Jack is looking forward to the next opportunity to help him land another incredible catch!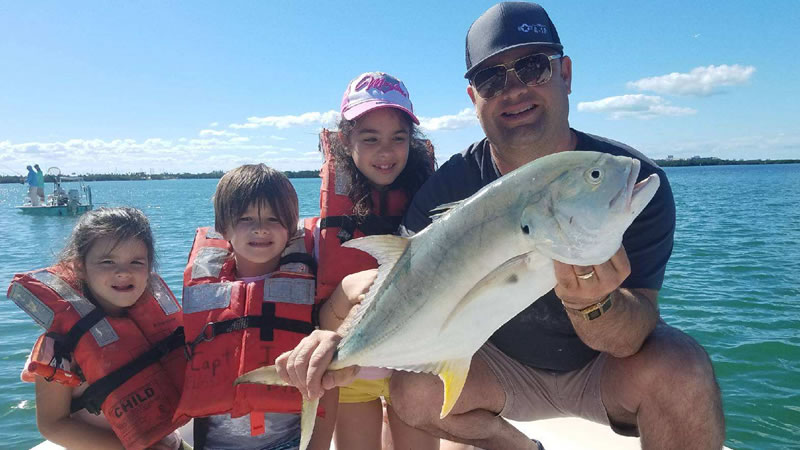 If you are wondering how to spend a day right here in sunny South Florida, hop on board with one of our local experts. They will show you something unique, new, and amazing. We hope to help create a travel and vacation memory like no other. We look forward to seeing you on the water next time!
Your Adventure Starts Today while Visiting Florida.
If you enjoyed this post about Florida Fishing, you might also enjoy our Fishing Blogs.
Don't forget to follow us on Facebook, YouTube, Twitter and Instagram.