First Florida Bass Fishing Charter
Every day and every year people travel from across the world to experience Central Florida. One of the main attractions when visiting is the theme parks. After several days of these awesome parks, you may wonder what else can you experience. Central Florida is home to some of the BEST bass fishing in the world. It also happens to be one amazing way to get in the outdoors and soak up the Florida sun with the family. Enjoy a day on your first Florida bass fishing charter on your next visit to Central Florida.
Freshwater fishing is all around you when you are traveling to Central Florida. The largemouth bass is the number one game fish species in the state. Our local experts have mastered how to catch them and how to show you how to catch more bass. The goal of our fishing charters is to make you a better angler while accomplishing your dreams. Big bass can be caught in Central Florida and many are looking for the fish of a lifetime!
Several amazing lakes are here for you to experience. Our local experts have knowledge of all of them. When you are visiting the parks, you will be in a short distance of each location. The Butler Chain of Lakes is closest to the city of Orlando. If you are in Kissimmee, FL, then beautiful Lake Toho is the best for you. When looking to get away from civilization but still be close to your hotel or resort, Lake Jackson will allow you to truly explore the great outdoors. Central Florida will allow you to get on some big bass and some big numbers.
Check out these updates from Captain Brent Nelson, one of the BEST in Central Florida: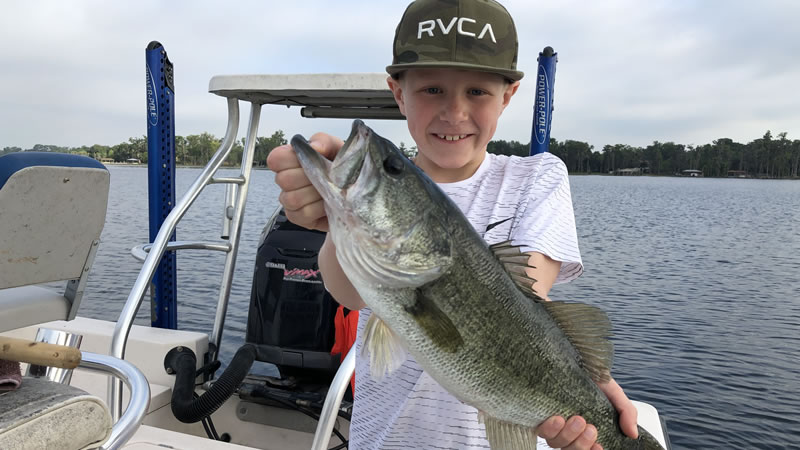 Captain Brent had the pleasure of fishing with Chad and his son Wynn. They were traveling to Orlando and wanted to change some things up and explore the Butler Chain of Lakes. This clear body of water is absolutely gorgeous. Once you board the vessel with Captain Brent, you will idle out into a chain of lakes that have multi-million dollar homes and big numbers of bass.
The most productive technique for young children is wild-caught live shiners. Live bait really brings the bass to the boat. They caught over 20 largemouth bass in their quick 4-hour fishing charter. The biggest bass weighed 4 pounds over submerged hydrilla. Wynn was 9-years-old and looked like a seasoned veteran while catching his first largemouth bass.
It is trips like this that make Captain Brent's job a true pleasure. Chad and Wynn got to share an experience they will never forget. They also got to learn a new technique that can foster a passion for fishing forever. Captain Brent is looking forward to fishing with them in the near future!
Shortly after this fishing trip, Captain Brent was back on the water on Lake Jackson. This fishery is a hidden paradise for largemouth bass fishing. Captain Brent had the pleasure of fishing with Mike Watson and his brother Chris. The action was off the chain and was beyond what they expected. Lake Jackson is a magical place where you can go to catch more bass than your arms can handle.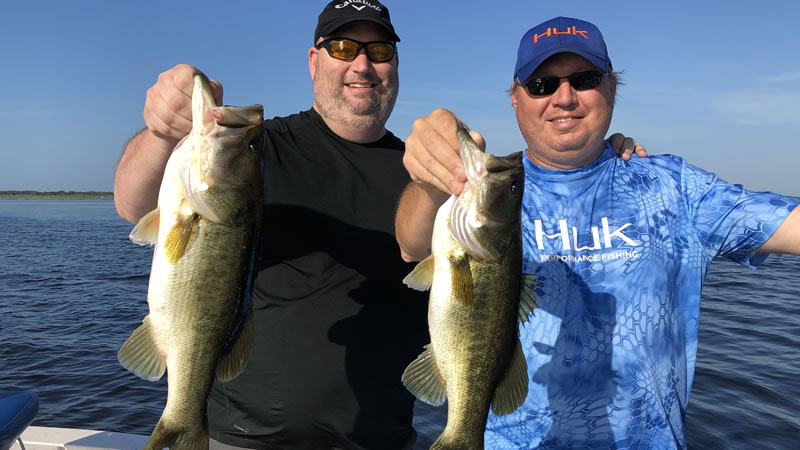 Mike and his brother Chris had an absolute blast on this fishing adventure. They caught 60 Florida largemouth bass. The biggest fish weighed 5.5 pounds. It was non-stop action from start to finish on their quick 4-hour fishing trip. They went through 8 dozen shiners and the water levels were low stacking the fish up.
Mike and Chris couldn't be more excited to get back in Central Florida and catch more bass. Captain Brent is looking forward to their next fishing adventure in the near future!
It was not after this fishing trip that Captain Brent was back on the water. This time, his adventures took him to Kissimmee, FL. Captain Brent had the pleasure of fishing with Luke Anthony traveled all the way from the United Kingdom. It was a fun morning for Luke as it was his first-time bass fishing. Lake Toho Bass Fishing is a great introductory fishery to experience something new!
Not only did Luke catch his first largemouth bass but also his personal best. Luke landed a beautiful 6-pound largemouth on this fishing trip with topped the 18 bass caught. This wasn't the largest fish though. Luke got to experience another cool species, the bowfin. He landed an 8-pound mudfish that always put up a great fight.
Luke had an awesome time catching bass on both live shiners and artificial baits. The most productive artificial baits were zoom super flukes and soft-plastic worms. Captain Brent is looking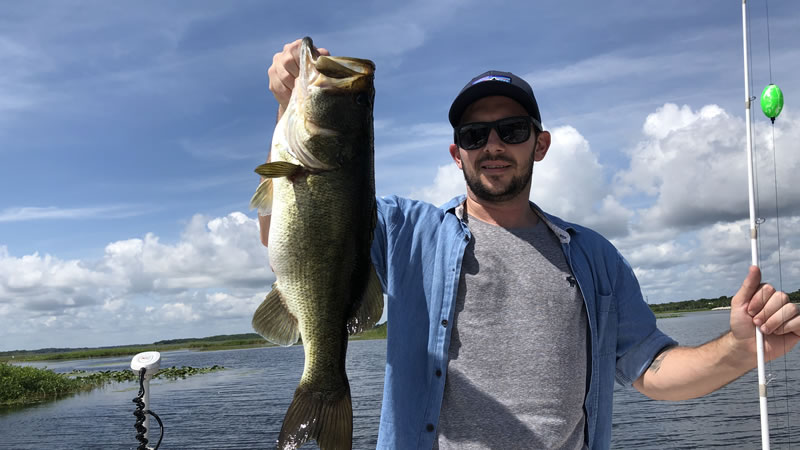 forward to getting Luke back on the water again on his next visit to Central Florida!
Central Florida Bass Fishing is absolutely fantastic this time of year. All of these lakes will continue to produce and show you potentially the trip of a lifetime. Largemouth bass are a species you can target whenever you visit. Our local experts work every day to make sure that when you are ready, you have the chance to catch the biggest fish of your life. We hope to get the opportunity to share a fishing experience with you while you explore all that there is to offer right here
Your Adventure Starts Today while Visiting Florida.
If you enjoyed this post about Florida Fishing, you might also enjoy our Fishing Blogs.
Don't forget to follow us on Facebook, YouTube, Twitter and Instagram.