Windsurfing – So Much Fun!
With its long stretches of white sand beaches, it is no wonder that Florida is a haven for water frolickers. A growing number of tourists in the coastal state want to take the adventure directly into the water, and among one of the thousand possibilities for fun is windsurfing!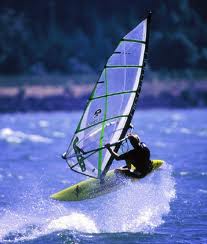 Windsurfing is quite a unique activity, being a blend of both surfing and sailing. A windsurfer can perform more freestyle maneuvers compared to one who is simply sailing and can ride more seemingly insurmountable, bigger waves in contrast to a normal surfer. As the wind blows to allow the sail to glide through the waves, a windsurfer would usually feel both the excitement of surfing and the peace intimacy of water and wind of sailing at the same time.
South Florida is the perfect place to learn windsurfing. Not only does the state's coastal area have the widest practice playground for windsurfing, but it is also teeming with windsurfing schools. Schools offering windsurfing classes offer instructions that range from beginner level to advanced level. Classes offered also range from private to group clinics, including kid's windsurfing camps. Most of these schools also own shops where you can buy or rent on an hourly to weekly basis, top windsurfing equipment, gears, and accessories. In choosing the best Florida windsurfing school though, make it sure that it is certified by a reputable organization.
The best thing about windsurfing is that it has no age limit! Anyone from the age of 8 and above will surely enjoy gliding through calm waters or jumping above waves. If you are a beginner, do not be intimidated. With further practice, you will soon find yourself performing freestyle moves from simple jumps to spinning and inverted loops.
There is no mistake that Florida is one of the best places in the world to go windsurfing. Not only is its coastal area dotted with hotels and establishments for tourists' convenience, but it also has a beach lifestyle that is perfect for laidback people. Top that with an endless number of windsurfing spots to choose from like Cocoa Beach, Satellite Beach, Daytona Beach, Jacksonville Beach and the Florida's Space Coast area. Next time you embark on a Floridian vacation, get that adrenaline rushing, and discover and enjoy the art of windsurfing!