What is a Boga Grip?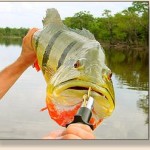 The Boga Grip is a landing, handling and weighing tool used in both freshwater and saltwater fishing. Designed for anglers who practice catch and release. It can grip a fish by encircling its lower jawbone. So that despite wiggling, spinning, and flopping, it can't getaway. However, the Boga Grip does not rub off the protective layer of the fish or harm its scales or flesh in any way. It is then a hassle-free way of keeping tabs on your trophy-worthy catch. Allowing and taking that souvenir photo before releasing the fish back into the water.
This patented tool is so easy to use and can be operated with the use of one hand only. Not only can it be used on most species of fish, but its stainless steel body is also built for durability being rust and salt-water resistant. Due to the extended handle, anglers using the Boga Grip could land a fish at a safe distance. It also has a rubberized grip so that users will always maintain a firm grasp. The device is also compact enough to be conveniently used by surf or wade fishermen.
The Boga Grip's precision scales are not only durable but are also very accurate as certified by the IGFA (International Game Fish Association). It can handle fish double its capacity, and comes in three models:
315 Model: This model is 9 inches in length and 9 ounces in weight, and can weigh fish up to 15 pounds.
130 Model: This model is 10 ¾ inches in length and 1 pound in weight, and can weigh fish up to 30 pounds.
260 Model: This model is 15 inches in length and 1.5 pounds in weight, and can weigh fish up to 60 pounds.
ABOUT US
 The BogaGrip is the original time tested – saltwater tough fish landing, handling, and weighing tool. It is designed for the sport fisherman who practices catch and release. The BogaGrip's Accurate and durable scales have been used to certify the weight of over 3,400 IGFA World Record Fish. The BogaGrip has been the top IGFA scale for the last several years.
15, 30, and 60-pound models available.