Best 2020 Florida Bass Fishing Destinations
Are you planning a vacation to Florida in 2020? If so, be sure to open your horizon on what you can experience in this amazing destination. From North to South, you can explore some of the best outdoor activities that are perfect for the whole family. Our Top 2020 Florida Bass Fishing Destinations will show you all the remarkable locations and fish you can catch on one of our tours.
It is 2020 and now is the time to explore what Florida bass fishing has to offer. The largemouth bass is Florida's number one sought after game fish. All across the state, you can find Florida strain bass. Whether you are looking for numbers or trophy-sized fish, our fisheries are the best to explore for it.
Even though largemouth bass is a heavily targeted species, our bass fishing trips also highlight the Florida peacock bass as well. This exotic species originated in South America but many anglers use South Florida as an introductory destination to catch them. You can find some hard-fighting and trophy fish in the urban systems of Miami-Dade County, Broward County, and Palm Beach County, FL.
When you embark on a fishing adventure, charter, and trip with iOutdoor, you can be certain that you are getting the best local experts. Our local experts are highly professional and knowledgeable of their destinations and fisheries. Whether you want to catch bass on live bait or with artificial baits, we can make it happen for you.
Let's dive right into this report with our local experts to help show you what is to come and what is happening right now starting from North to South Florida!
2020 Florida Bass Fishing Report
North Florida Bass Fishing on the Rodman Reservoir
Fishing with Captain Ken Walker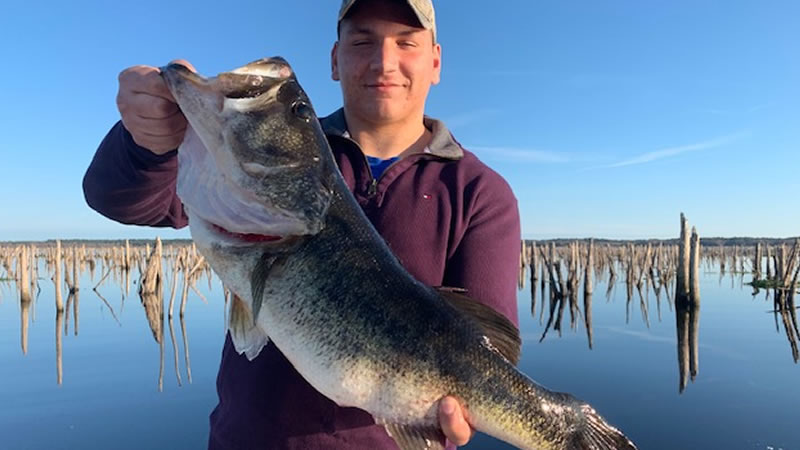 "The Rodman Reservoir has to be my favorite place to fish and guide. On this trip, I had the pleasure of fishing with Don, his son Dan, and grandsons Ryan, and Austin. There is nothing like a family trip on the water especially when the bass are fired up.
Being Florida natives and a repeat client of iOutdoor, I had to make sure to show his family a great time. During this trip, the largemouth bass were stacked up in key areas. As of current, the drawdown is still in effect and certain areas are more productive than others.
Don and his family caught a total of 26 largemouth bass on this fishing trip. Dan came in strong with the biggest bass of the trip weighing in at 8 pounds 11 ounces. A true Rodman Reservoir monster!
His son Ryan also caught a big beautiful largemouth bass weighing in at 8 pounds 4 ounces. 3 out of the 4 anglers caught their new personal best largemouth bass with numbers of fish in the 3-6 pound range.
The action is red hot and I am looking forward to fishing with Don and his family again in the near future!" – Captain Ken Walker
When looking to travel to this destination, you can access it from two cities. Palatka, FL is the closest and Gainesville is the most intricate with access to a variety of different locations we offer. Feel free to reach out and let us know if you have any questions!
North Central Bass Fishing Charter on the Harris Chain of Lakes
Fishing with Captain Gino Losi
"Clearwater, big bass, and great artificial bait fishing is what the Harris Chain of Lakes is all about. I had the pleasure of fishing with repeat client Rebecca and Treves on this trip. They were traveling from South Carolina just to fish the Harris Chain.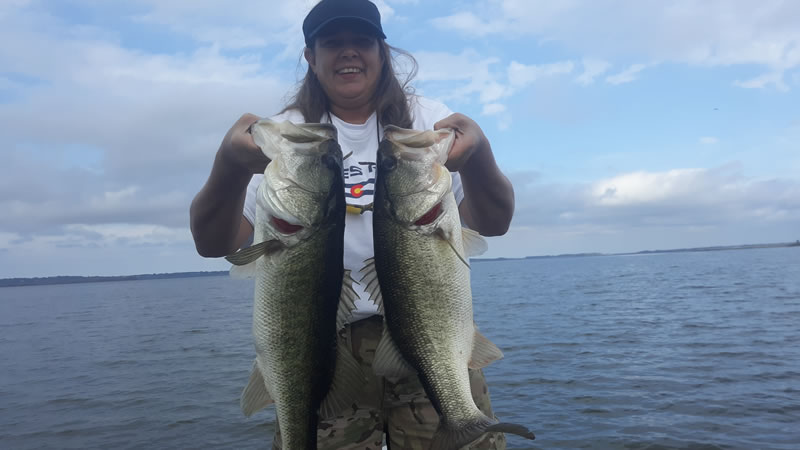 When fishing in this chain, you can explore it in many different ways. We started the day fishing offshore structure with artificial baits. Lake Griffin, especially on the south end, was on fire.
The most productive baits for this trip were crankbaits and magnum-sized soft plastic worms. Several nice fish were caught this way and they had a blast with every bite. Underwater structures like submerged hydrilla really congregate the bass into key locations.
After the artificial bite slowed down, Rebecca and Treves switched over to live bait. Giant wild caught live shiners put some really quality fish in the boat. Hydrilla was the main focus and helped them land some beautiful fish up to 5 pounds.
I am looking forward to fishing with them again soon as they are already planning their next trip! Everyone on board had a blast reeling in the quality of Florida largemouth." – Captain Gino Losi
The Harris Chain of Lakes can best be accessed from several cities. You can hop in the car and have a quick ride from Ocala, FL, and Orlando, FL. The most convenient location to visit from would be The Villages!
Central Florida Fishing Report out of Kissimmee, FL:
Fishing with Captain Brent Nelson:
"Lake Toho Bass Fishing is an excellent family outdoor activity to experience when visiting Central Florida. I had the pleasure of fishing with Kevin, Brendon, Josie, and Maggie. They were traveling from Minnesota looking to cash in on some Florida bass fishing and they hit it just right.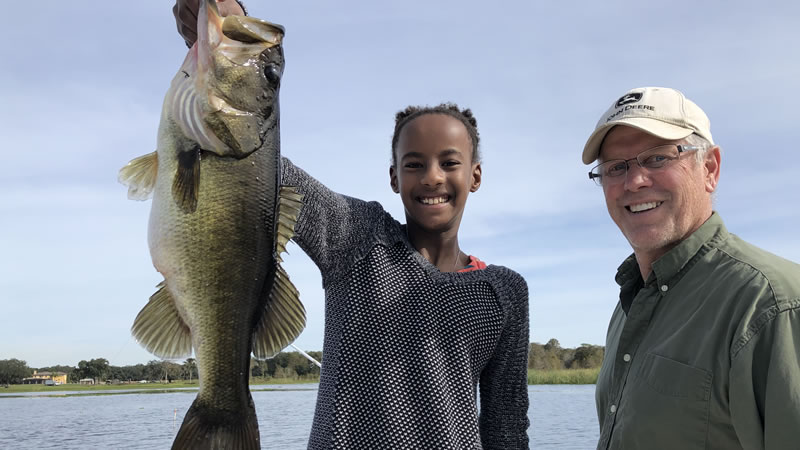 Most of the fishing trip was spent throwing live bait. As this quick 4-hour afternoon fishing trip went on, they also threw some artificial baits. The Bjorge family caught over 20 Florida largemouth bass on their fishing trip with the biggest bass weighing in at 4.5 pounds.
The bite was steady for pretty much the whole fishing trip. As the sun began to go down, the bite did taper off making for a great end to the day. This family had a fantastic time landing bass after bass.
I am looking forward to fishing with this wonderful family again in the future!" – Captain Brent Nelson
Kissimmee, Florida is easily accessible from all the major theme parks including Disney, Sea World, and so much more. When bringing the family out to the parks, be sure to take them on a fishing trip. We can fit the whole family on our bass fishing trips, especially on our pontoon fishing vessel!
West Central Florida Fishing Report on Lake Tarpon
Fishing with Captain Bill Goudy Jr:
"Select times throughout the year, Lake Tarpon Bass Fishing is incredibly productive for big bass. During this trip, the big bass were biting and everyone on board caught some giant fish.
I had the pleasure of fishing with Bucky and his wife Sharon. They were traveling from Montana looking to catch some largemouth bass near Tampa, Florida.
Lake Tarpon is located in Tarpon Springs, FL, just north of Tampa. This clearwater lake provides the perfect freshwater getaway for catching big bass. Bucky and Sharon will be the first people to tell you the potential this lake can have.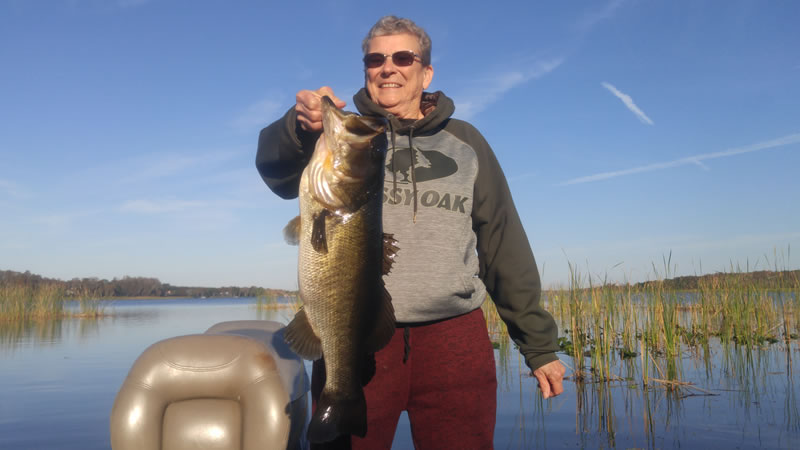 They caught over 20 largemouth bass on this fishing trip. The best 5 fish weighed in over 26 pounds, which is a monster bag. Days like this are what anglers live for, especially when your two biggest bass weighed-in at 7 and 6 pounds.
Sunny and breezy weather made for an even better day. Nothing like catching big bass and enjoying beautiful weather. The most productive bait on this trip was live wild-caught shiners. Live bait really helps our clients and anglers cash in on some quality fish all trip long.
Bucky and Sharon had a blast catching all these fish. It was a true pleasure fishing with them and I know it won't be long until they are back out on the water soon!" – Captain Bill Goudy Jr
When looking to explore Lake Tarpon, the closest major city is Tampa, FL. You can also stay where it is located in Tarpon Springs, FL, a beautiful destination with a lot to do!
Lake Okeechobee Bass Fishing Report out of Clewiston, FL:
Fishing with Captain Mark Shepard:
"Most days on Lake Okeechobee are interesting and keep you on your toes. This trip was a great one and super fun for all involved. I had the great pleasure of fishing with Yousuo and his friend Rei. Originally from China, they now live in Washington State. On vacation here in Florida, exploring Florida freshwater bass fishing was a must.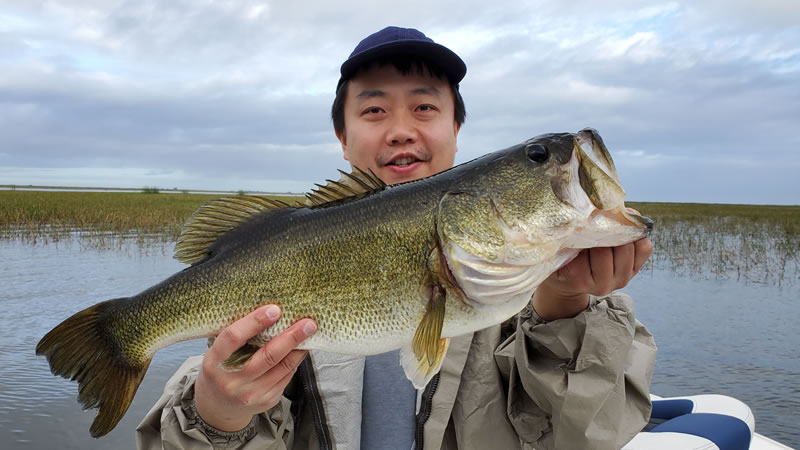 There is no better place to explore than Lake Okeechobee. While visiting Clewiston, they explored the waters of the southwest corner of the Big O. It is always a pleasure to share a boat with anglers that are passionate about fishing. Learning new techniques was their main goal of this fishing trip.
Fishing conditions paired up well to help Yousuo and Rei land some good numbers. Yousuo caught his personal best and a giant Florida bass weighing close to 8 pounds. A mix of artificial baits and live bait really made for a great day on the water.
Water levels are rising giving anglers more areas to fish. As a result, big fish are moving into shallow water and getting ready to spawn. Each moon phase, you will continue to see bigger and bigger fish caught.
The season is here and now is your time to plan those bass fishing trips on Lake Okeechobee. Yousuo and Rei had a wonderful time on the Big O and I am looking forward to our next adventure!" – Captain Mark Shepard
Clewiston, Florida is the perfect location for a Lake Okeechobee Bass Fishing getaway tucked in on the southwest side of the lake. They have numbers of quality accommodations for families and anglers.
South Florida Peacock Bass Fishing
Fishing with Captain Joe Gruny on the Lake Ida Chain of Lakes
The Lake Ida Chain of Lakes is an exceptional peacock bass fishery for those traveling to Fort Lauderdale, FL or Palm Beach, FL. When looking to catch exotics, you can have a blast exploring this urban fishery. The fishing has been red hot and is only going to get better as the weather stabilizes.
"I had the pleasure of fishing with Kathy and Russ on a Lake Ida fishing trip. They were traveling from Connecticut looking to spend some time in the Florida sunshine. While doing so, a peacock bass fishing adventure was on the menu.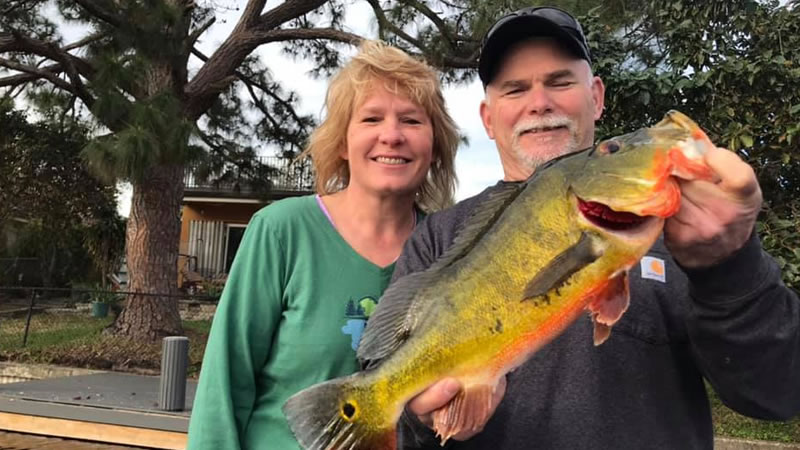 Lake Ida could be a very temperamental destination when it comes to cooler weather. Fortunately enough for this trip, the cool air temperatures did not stop the peacock bass from biting. Kathy and Russ had a fantastic time reeling in numbers of peacock bass on live bait.
Once the sun came out and got strong, the bite fired up. Kathy and Russ caught over 16 peacock bass on their quick trip along with several largemouth bass. It was a blast to watch and help them land so many quality fish. The biggest bass weighed right around 3.5 pounds.
There is nothing like having customers on the boat that you can laugh and share stories with. Trips like these are cherished and fly by. I am looking forward to getting back out on the water with them again soon!" – Captain Joe Gruny
Fishing with Captain Robert Miley on the Miami Airport Lakes
Miami is home to the BEST peacock bass fishing in the United States. There is no other destination that can support this species other than South Florida. This exotic species is a hard-fighter and grows large right in these waters.
"I had the great pleasure of fishing with Shaw and Camila traveling from South Carolina. They embarked on a quick afternoon 4-hour fishing trip on Miami Airport Lakes. It was a trip that they will remember for a lifetime.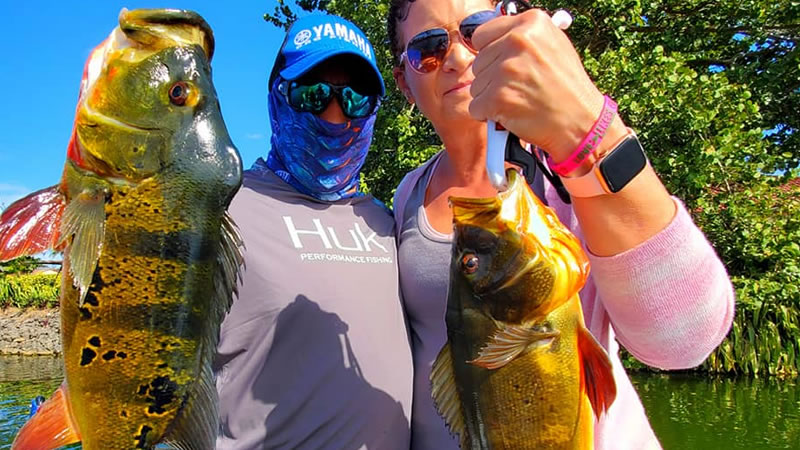 It was a windy day in Miami but that played to our advantage. After spending an hour waiting for the prime feed to kick on, we picked away at some smaller peacock bass. Prior trips made me realize that the peacock bass were going to be in warmer water during this time of year.
We picked up and moved to an area within Miami Airport Lakes that had perfect conditions. From the first bait in the water to the last, they were catching trophy-sized peacock bass.
The bite was on fire and they caught 5 peacock bass over 5 pounds with the biggest fish weighing in at 6.5 pounds. This was Camila's first time fishing and it was safe to say she got addicted quickly, especially with all this big fish action.
Nothing beats catching big peacock bass that runs hard and gives a great fight. Shaw and Camila had a fantastic time on the water and I am looking forward to fishing with them again soon!" – Captain Robert Miley
Fishing with Captain Nick Pasquarello in the Florida Everglades along Alligator Alley:
The Florida Everglades is one of the BEST destinations to explore for both largemouth bass and peacock bass. You can catch an outrageous amount of bass in a short period of time when visiting South Florida.
"I had the pleasure of fishing with Mark and his good friend who were Florida natives looking to explore the Everglades. Man, did they pick the right day to go out fishing with artificial and live bait.
The Florida peacock bass and largemouth bass were fired up all trip long. It was a super half or 6-hour fishing trip of non-stop catching action. Live bait was the most productive method to catch bass on this fishing trip, especially the peacock bass. Throwing soft plastic baits including worms and flukes also helped out.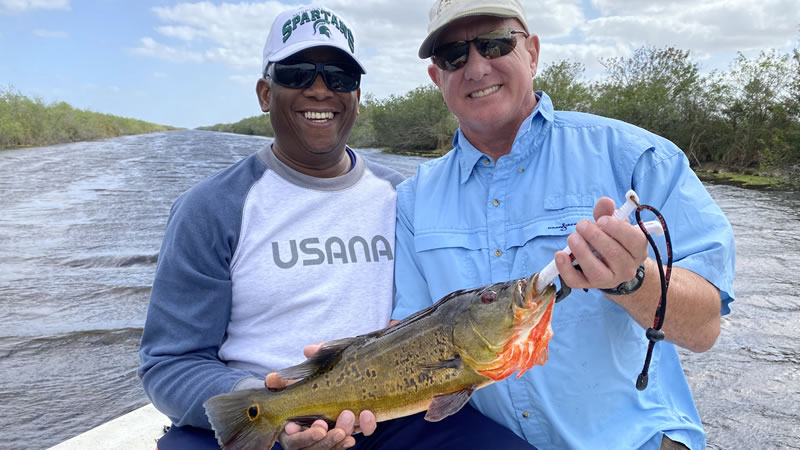 Mark and his good friend caught over 70 fish on this trip. It was an incredible day for both of them. Sunny and windy conditions helped keep the day cool and the fish biting. One of the coolest parts about the Everglades is that the peacock bass made it through the canal systems and flourished at this destination.
Alligator Alley is the most productive place to land peacock bass in the Everglades. Mark and his good friend had a blast catching all those fish. I am looking forward to seeing them back out on the water again soon!" – Captain Nick Pasquarello
The Florida Everglades, especially along Alligator Alley can be accessed from Fort Lauderdale, FL or Naples, FL. This makes it one easily accessible bass fishing haven!
Come Explore and Visit Florida while Catching the Fish of a Lifetime!
If there is one thing for certain, exploring the Florida waters on a fishing adventure can really enhance your vacation experience. Every trip and destination has its own unique perspective. Through this report, we hope you found something you can see yourself exploring.
Our local experts are the most professional in the business. Every year and day, they are on the water dialing in on methods and techniques to help you land the fish of a lifetime. Fishing is our passion and we want to share that with you. The fishing has been different here in Florida from 2019 and we hope you enjoyed this new update from our local experts!
We hope to see you on the water next time!
Your Adventure Starts Today while Visiting Florida.
If you enjoyed this post about Florida Fishing, you might also enjoy our Fishing Blogs.
Don't forget to follow us on Facebook, YouTube, Twitter and Instagram.